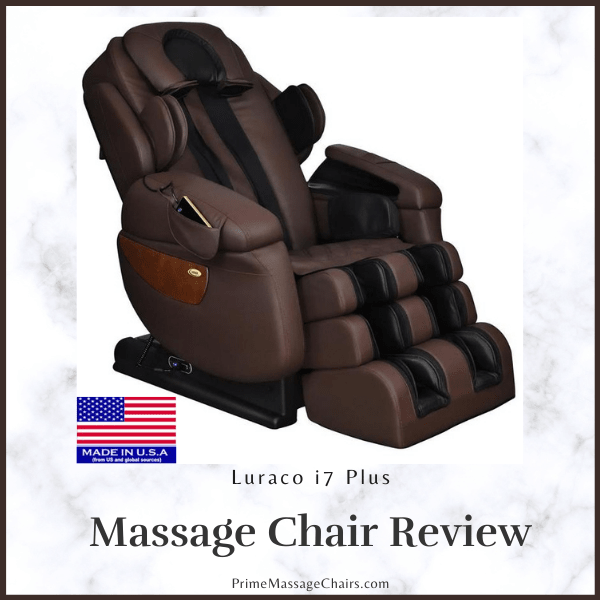 Massage Chair Review: Luraco i7 Plus
Luraco is based in Texas and they're known for excellent quality and effective design which is evident in their top of the line massage chair, the Luraco i7 Plus. The i7 Plus will allow you to take your massage sessions to a whole new level of relaxation while in the comfort of your home.
We get a lot of interest in this chair and our customers seem to really enjoy it, so we figured it was time for a Luraco i7 Plus massage chair review.
Let's take a look at some of the best features and benefits that make this chair a customer favorite.
Top Luraco i7 Plus Massage Chair Features: 
Made in the USA 
Luraco is the first company to get the "Made in USA" seal on their massage chairs. See below for further information on their processes:  
Researched & Developed in the U.S.A

Leather and structural hardware made in Taiwan. 

Electronic Hardware made in the U.S.A

Software made in the U.S.A

Final Assembly in the U.S.A

The sales support staff and the customer service team are all located in the USA.
Genuine Leather
Another very popular feature of the i7 Plus is the Real Genuine Leather at the touch surfaces (head, shoulders, arms, & feet). Some customers prefer leather, some don't care as long as the fabric will last.
Zero Gravity Reclining
This NASA-inspired technology is integrated into this model to improve the overall experience. It positions you in a posture that lifts your knees slightly above your chest.
Your body weight is placed on the back of the chair, offering you a smoother and more powerful message. Most massage chairs come with zero gravity positioning and customers seem to really appreciate this feature.
S-Shaped Massage Roller Track
This model features an S-Track that allows the built-in quad rollers to match your spine's natural curve. The S-track is known for its durability and comfort as it starts at your neck and goes down to your lower back. 
Body Scanning
The i7 Plus comes with a body scanning feature that lets the unit scan your back and change its rollers to fit your body. You still have the option to make any manual changes yourself. Please do not use the remote while the body scan is in process.
3D Massage Technology 
The Luraco i7 plus offers an advanced and true 3D robotic system. This massage chair provides superior lower back, neck, and shoulder massage techniques by using the latest control techniques. 
Heat Therapy
The i7 Plus comes equipped with heat in the Back, Seat, & Feet areas with 5 levels of intensity. Heat is known to amplify the pleasure of the massage as well as loosen up tense muscles. To put it more simply, heated massage is just better.
Multiple Massage Settings
You also have the option of selecting specific areas you want to be massaged and five intensity levels: 
Neck

Upper Back

Lower Back

Arms

Calves

Feet
Pre-Programmed Massage
If you want to bypass the initial setup and go straight to a massage, you can select from the following pre-programmed massage options: 
Quick: Combines all the best features of all the massage modes and performs a quick 10-minute full body massage.
Health: When you start the chair this is the default mode. It is designed to relieve muscle strain, improve blood flow, ease anxiety, and help to relieve depression.
Sport: Designed for those that participate in sporting activities to help prevent or treat injuries. Focus on areas that tend to be overused and stressed. Promotes flexibility, reduces fatigue, improves endurance, and reduces muscle soreness. 
Soft: Performs a soft and gentle massage throughout the whole body. Great at relieving headaches, muscle strains and improves sleep.
Morning: Focuses on energizing the body by providing stretching, mobilizing joints, and promoting flexibility. 
Night: Focuses on relieving postural stress, anxiety, depression, and headaches.
TV Mode: Places the chair in a comfortable position ideal for watching TV.
Stretch: Promotes mobility by stretching. Helps relax muscles, enhance muscular coordination, improve posture/flexibility and well-being.
Shiatsu: This is a high-intensity and point-based massage with varied and rhythmic pressure. Designed to relieve tension in the muscles and connecting tissues.
Touchscreen Controller
The i7 Plus features a user-friendly, touchscreen controller that's intuitive and easy to use as well as easy to see at night.
Bluetooth Capability

The i7 Plus offers Bluetooth and is equipped with a high powered speaker system. There is an audio out port located on the side panel of the chair if you prefer to use headphones.
Start/Stop Feature
This button starts and stops the massage chair. The default timer for each massage session is 20 minutes. Pressing this button a second time will put the chair back to its initial position automatically. When time is up, if the sleep setting is checked, the chair maintains its position to avoid sleep disruption. 
Voice Response
This chair is equipped with a human response setting that recognizes seven languages: English, Vietnamese, Spanish, German, French, Japanese, and Korean. This chair confirms the commands you give it.
When Bluetooth is connected, the chairs voice response features will be muted.


Luraco i7 Plus Pros & Cons:
Pros:
Made in the USA
Quiet massage session thanks to noise control technologies 
Human Voice Response (several languages)

Touchscreen controller

100 Airbags

Foot Rollers

Genuine Leather at all the touch surfaces

Heated Feet, Seat, & Back with 5 intensity levels

Zero Gravity positioning

9 Auto Programs

Bluetooth Speakers

Easy to Assemble

User height range of 4'7" - 6'7"
Maximum weight capacity of 300 pounds
Cons:
Can be considered expensive

No space-saving feature
The Luraco i7 Plus is one of our favorite high end chairs and is ideal for a large range of body shapes and sizes.
Summary
If you're looking to invest in a high-quality massage chair, you can't get much better than the Luraco i7 Plus, especially if you like the Made in the USA status and Genuine Leather at the touch surfaces.
This is a chair that we recommend often because it suites a wide range of body types, gives a nice massage, and is backed by a great company.
If you have any pre-existing medical conditions it's always best to consult with your doctor before using any massage chair.
If you'd like to talk to us about the i7 Plus, you can reach us via Live Chat or you can call us at 800-566-2798. Thank you for reading!