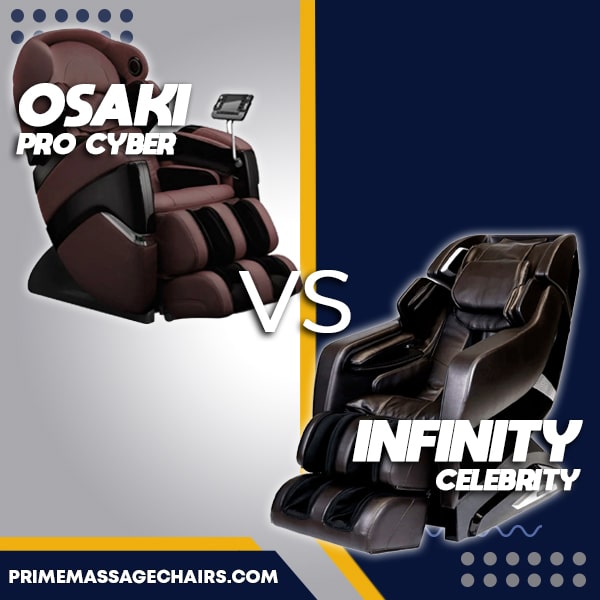 Massage Chair Comparison: Osaki Pro Cyber vs Infinity Celebrity
The Osaki Pro Cyber massage chair features 3D massage rollers and an innovative S-track design that offers maximum comfort at a great price. The Infinity Celebrity massage chair also features 3D massage rollers, and an L-track design.
Osaki and Infinity are two of the most well-known brands in the industry and they know how to design an effective massage chair.
Below is a comparison of both massage chair models to help you make an informed buying decision, should you decide to purchase one of these chairs.
Osaki OS Pro Cyber Massage Chair Benefits
3D Massage Technology
The Osaki Pro Cyber includes 3D massage rollers with adjustable width and intensity.
This flexibility is important because over time the body can get used to a certain strength and and you may want to adjust the massage roller intensity.
Automatic Body Scan
The Osaki OS 3D Pro Cyber chair performs an automatic body scan at the beginning of each therapy session to ensure a custom massage experience.
We're all built differently and the body scanning plays a very important role in making sure the rollers are massaging the right areas.
Ergonomic S-Track Design
The Cyber includes an ergonomic S-track system that keeps the 3D massage roller assembly in continuous contact with your body, from your neck to your lower back.
Two-Stage Zero Gravity Operation
Elevating your feet above your heart is great for your body's circulation, and the reclined position takes a lot of stress off your bones and joints.
The Osaki Pro Cyber offers two zero gravity settings to help you decompress your spine and improve your blood flow.
Airbag Massage
The massage chair includes acupressure airbags that inflate and deflate to add another dimension of therapy to each massage session. The airbags and massage rollers combine to mimic the sensation of actual human touch.
Squeeze & Twist Feature
The upper portion of the chair is designed to gently twist and stretch the body to stimulate your core muscle groups.
Arm Massager
The armrests have airbags that will apply stimulating compression therapy to your forearms and hands.
Extendable Massaging Footrest
The massage chair can accommodate users from 5 feet 2 inches to 6 feet 4 inches in height and features an automatic, adjustable footrest that will adjust to the user's height.
Spinning Reflexology Massagers
Reflexology is an ancient healing art that helps to improve organ functionality by stimulating pressure points on the feet. You'll enjoy two rows of spinning foot massagers underneath your feet to stimulate natural reflexology pressure points.
Lumbar Heat
The Osaki Pro Cyber includes two heating pads to deliver gentle and even heating to your lumbar region.
Heat is a nice compliment to massage, as the heat helps to relax and loosen tense or tired muscles.
Chromotherapy Lighting
Soothing LED lighting adds another level of sensory stimulation to your massage experience. This can help set a relaxing mood in a darker setting as you drift off and enjoy a massage.
Audio Connection
The OS-3D Pro Cyber includes a built-in MP3 connection so that you can enjoy your favorite music or ambient audio as you relax.
LCD Display Remote
The Osaki Pro Cyber includes a 5-inch LCD remote so that you can select your massage programs and adjust settings. You can use your remote to control your airbags independently and also to adjust massage intensity, pressure, and speed.
Osaki OS 3D Pro Cyber Massage Program Options
The Osaki Pro Cyber includes your choice of multiple manual massage settings, and you can choose between kneading, tapping, shiatsu, rolling massage, and several other manual controls. You also have your choice of automatic programs designed to energize, relax, and stimulate the body.
One neat feature of the Osaki Cyber is the music sync program that can coordinate the rhythm of the massage with your favorite music.
Osaki Pro Cyber Pros and Cons
Pros:
Body scanning technology
Multiple zero gravity recline positions
LED chromotherapy lighting
3D massage rollers
Full body air massage
Foot rollers
Ergonomic s-track design
Speakers with MP3 connection capability
Squeeze and twist feature
Lumbar heat therapy
LCD remote
Extendable footrest
User Height Range: 5'2" - 6'4"
Maximum User Weight: 270 lbs.
Cons:
No bluetooth capability (mp3 only)
Takes approximately 1 hour to assemble
User cannot be taller than 6'4" or shorter than 5'2"
Cannot accommodate users over 270 pounds
Infinity Celebrity Massage Chair Benefits
49-Inch L-track Design
The Infinity Celebrity massage chair includes an ergonomic 49-inch L-track that guides the quad roller assembly along your spine's natural contours, from your head down to your thighs.
Automatic Body Scanning
The Infinity Celebrity uses body scanning technology to ensure a custom fit for users from 4 feet 6 inches to 6 feet 4 inches in height. The chair will detect your body's natural dimensions and position the massage rollers to target your body's key pressure points.
3D Massage
You can adjust the width, length, and depth of your massage for a custom massage experience during every session.
As mentioned earlier, we think you'll appreciate the ability to adjust the rollers as your body gets used to a certain pressure.
The Celebrity includes compression airbags that inflate and deflate and combine with the massage rollers to provide an ultra-relaxing massage experience.
Automatic Adjustable Footrest
The Celebrity includes an adjustable footrest that extends automatically for a comfortable fit. This is important because each user's legs will typically be different lengths.
Rocking Therapy
Think rocking chair. The Celebrity includes a special rocking therapy feature that soothes you and rocks you gently, and you may even fall asleep.
Zero Gravity Setting
The chair can elevate your knees above your heart to provide the sensation of weightlessness and to improve your body's circulation and blood flow.
Reflexology Foot Rollers
If you're one that's typically on your feet all day, the foot rollers can help ease away built up stress and help loosen tense muscles in your feet. The Celebrity's foot rollers use targeted reflexology to stimulate pressure points.
Lumbar Heat Therapy
The Celebrity features lumbar heating pads to potentially improve your circulation and ease muscular tension.
Bluetooth Technology
The Celebrity massage chair includes built-in Bluetooth connectivity compatible with your Apple or Android smartphone. You can enjoy fully immersive audio and listen to your favorite music or podcast as you relax.
App Functionality
The Celebrity features a downloadable app so that you can control the chair directly from your Apple or Android device.
Which Programs Come With the Infinity Celebrity Massage Chair?
The Infinity Celebrity massage chair include several automatic massage presets for your comfort and relaxation.
Sports Refresh
Extension
Rest & Sleep
Working Relief
Waist & Spine
Deep Shiatsu
Healthy Breath
Massage Extend
Infinity Celebrity Pros and Cons
Pros:
3D massage technology
L-track design
Airbag massage
Lumbar heating
Body-scan technology
Rocking technology
Zero gravity reclining
Bluetooth capable speakers
Reflexology foot rollers
Automatic footrest extension
Apple & android app functionality
User Height Range: 4'6" - 6'4"
Maximum User Weight: 300 lbs.
Cons:
Only 2 colors to choose from
Takes approximately an hour to assemble
User cannot be taller than 6'4" or shorter than 4'6"
Cannot accommodate user that is more than 300 lbs.

Conclusion
The Osaki Pro Cyber and Infinity Celebrity are two nice massage chair models that offer a lot of features at a budget price point. Both chairs offer a lot of value for consumers who want to enjoy a massage on demand, but you should carefully review the features of both models before making your final decision.
Both chairs feature body scanning technology and combine massage rollers and airbags for comfort and relaxation. The Osaki Cyber offers LED chromotherapy lighting package and two zero gravity presets but cannot accommodate users over 270 pounds. The Infinity Celebrity only offers one zero-gravity preset, but it can accommodate a larger-sized user than the Cyber.
The Celebrity's rocking feature is a unique feature that will definitely appeal to users who enjoy the experience of rocking in a hammock or a front porch swing. Both chairs offer a refined look that is sure to enhance your living area.
We hope you've enjoyed this comparison and found it useful. If you have any questions feel free to give us a call at 800-566-2798. Thank you for reading!