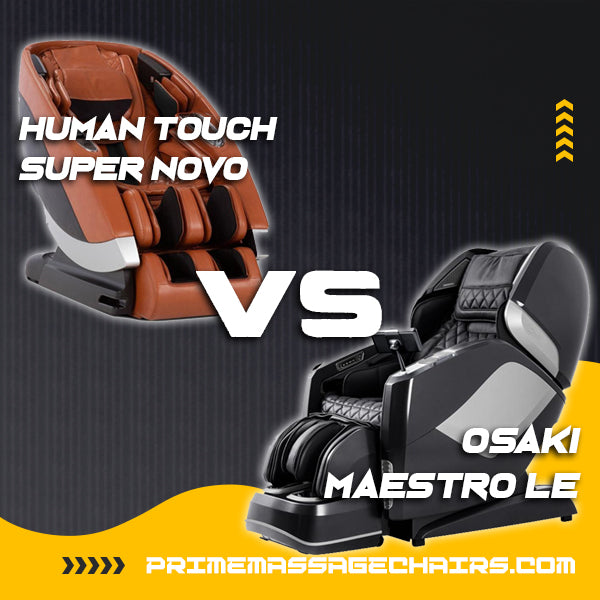 Massage Chair Comparison: Osaki Maestro LE vs Human Touch Super Novo
The Osaki Maestro LE massage chair offers several improvements over the original Maestro, and the Human Touch Super Novo massage chair offers next-generation technology to personalize your massage experience. You can't go wrong with either model, but you definitely owe it to yourself to do your research and make an informed decision before buying. Here's a head-to-head comparison of both models.
Overview of the Osaki Maestro LE Massage Chair
The Osaki Maestro massage chair has been a top seller, and the Osaki Maestro LE presents a number of exciting improvements and upgrades. You will enjoy sleek new styling and numerous enhancements to create a smoother and more realistic massage experience. Here's a look at all of the features you'll experience with the Maestro LE:
The massage rollers on the Maestro LE move up and down and in and out. You can also make roller speed adjustments to customize your massage experience.
Full-Body Air Massage
The Maestro LE features airbags for the shoulders, arms, waist, pelvis, and calf areas. The airbags apply firm and even pressure for a full-body massage experience.
Heated Massage Rollers
The Maestro LE applies heat from the neck all the way down to the hamstrings.
SL-Track Rollers
The Maestro features an SL-track design engineered to better fit the body's curvature. The track extends from your neck to your thighs in a comfortable ergonomic design.
Body-Scan Technology
The next-generation body-scan technology maps the key areas of the neck and back for a custom fit. The 4D technology can adapt to height ranges from five foot to six foot three inches.
Zero Gravity
The Maestro LE features two different zero gravity settings. This will help improve blood flow and increase relaxation.
Auto Leg Scan and Leg Extension
The ottoman extends in and out and can be adjusted automatically or by remote control.
Foot and Calf Kneading
The Maestro LE features a combination of rollers and airbags to massage the feet and calves.
The built-in Bluetooth speakers won't require you to wear uncomfortable earbuds.
New Touch Screen Remote
You can control all of your features and functions from an easy-to-read tablet and keep it handy with the magnetic holder when it's not in use.
Wireless Smartphone Charger
Your smartphone will charge while you relax, and you won't have to hunt around for a cable.
iPhone & Android App
You can't take your massage chair everywhere you go, but you can always program it remotely from your smartphone or mobile device.
Programs Available
The Maestro LE from Osaki offers eight automatic massage programs:
Demo: Browse through all of the programs and pick your favorite.
Relax: This delivers a lighter pressure to help you quietly unwind at the end of your day.
Swing: The chair can swing gently to rock you to sleep.
Stretch: This function makes it so the Maestro LE automatically stretches your body.
Scraping: The gentle scraping motion feels great and improves blood flow.
Shiatsu: The stimulating shiatsu technique incorporates a traditional mix of back and pressure-point massage.
Gentle relief: The gentle relief session offers a combination of light kneading and tapping motions.
Rejuvenate: Rejuvenate offers a deeper tissue massage. The stronger pressure helps to stimulate blood flow and invigorate the body.
Don't see an automatic setting that sounds right for you? The Maestro LE also offers manual operation. You can combine different styles of massage and direct the chair to focus on specific areas of the body.
Osaki Maestro LE Pros and Cons
Pros:
4D massage
Heated massage rollers
Body scan technology
zero gravity positioning
Foot and calf kneading
Space saving technology
Bluetooth capable HD speakers
Touch screen remote control
Wireless smartphone charger
Comes with USB port
User Height Range: 5'0" - 6'3"
Maximum User Weight: 260 lbs.
Cons:
User cannot be taller than 6'3" and shorter than 5'0" 
Takes approx. 1 hour to assemble
User cannot weigh more than 260 lbs.
Overview of the Human Touch Super Novo Massage Chair
By offering the innovative Alexa-enabled Virtual Therapist, the Human Touch Super Novo massage chair is the first chair of its kind. It offers a combination of great styling and sophisticated technology. Here are some of the features this chair offers:
Virtual Therapist
Just like an actual massage therapist, your Virtual Therapist will ask you some questions about your trouble areas and focus on those spots. You can also store your preferences and change them at any time. All you have to do is tell Alexa what you want.
SL-Track Massage
Just like the Maestro LE, the Human Touch Super Novo features an SL-track to match the natural curvature of your body.
Extending and Heated Foot, Calf, and Knee Massage
The Super Novo from Human Touch offers a heated extendable leg rest with underfoot rollers. The leg rest offers complete massage from the knees to the feet and adjustable intensity settings.
You can place the remote control in the magnetic dock to keep it within easy reach, even if you're fully reclined.
3D and 4D Massage Programs
The Human Touch Super Novo features innovative 4D technology to simulate the feel of real human hands or conventional 3D technology for gentle relaxation.
Premium Altec Lansing Sound System
You can use the Bluetooth connectivity feature to enjoy the immersive sounds of nature or your favorite music via the Altec Lansing speaker system while you relax.
Space-Saving Technology
The Human Touch Super Novo only requires two inches of clearance from the wall, even from its fully reclined position.
Human Touch Super Novo Pros and Cons
Pros:
Virtual therapist for Alexa-Enabled control
3D and 4D massage
Space saving technology
Dual lumbar heat
Zero gravity positioning
Premium altec lansing sound
Bluetooth capable speakers
Comes with built-in USB port
Easy to use remote control
User Height Range: 5'0" - 6'5"
Maximum User Weight: 285 lbs.
Cons:
User cannot be taller than 6'5" and shorter than 5'0"
User cannot weigh more than 285 lbs.
Programs Available
The Human Touch Super Novo features a total of thirty-eight programs to choose from. Your Virtual Therapist will help you select the perfect program based on your preferences each time you use your massage chair. Every day is different, but your Super Novo will learn more about your preferences the more you use it.
Conclusion
The Maestro LE and Super Novo massage chairs both offer a premium massage experience with advanced 4D technology. The Super Novo offers a few more features than the Maestro LE at a slightly higher price.

The Super Novo's Virtual Therapist is an innovative feature that makes using this chair even more easy. If you like a more hands-on approach to choosing massage programs, the Maestro LE may be the choice for you. Make sure you look at all of the features for each chair before deciding which is the right one for you.
We hope you enjoyed this comparison and found it helpful. If you have any questions feel free to call us at 800-566-2798. Thank you for reading!