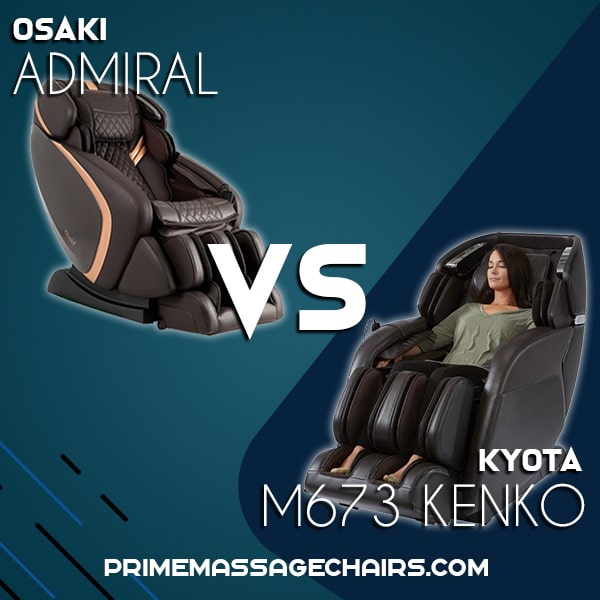 Massage Chair Comparison: Osaki Admiral vs Kyota M673 Kenko
You are lying on your sofa and trying to relax after a hard day at work. Your head is pounding, and your body screams "massage." How great would it be to have a massage chair right now? With a massage chair, you would be able to relax as the chair helped relieve your sore muscles.

There are a lot of massage chairs out there, but two stand out. The Osaki Admiral and Kyota M673 Kenko massage chairs offer a lot of benefits, but which one should you choose? Both have their own sets of features and amenities that you'll want to consider before you make your decision.
Osaki Admiral Massage Chair Features
The Admiral is one of the most popular Osaki massage chairs and comes with many features that will give you complete control of your massage experience.
Auto Body Scan
The Osaki Admiral can perform a full-body scan of your neck and back to make sure you get the right amount of pressure applied to those areas. Once the scan completes, you can recalibrate based on the height of your shoulders.
Full-Body Airbag Massage
The Osaki Admiral has twenty-four airbags, giving you a full-body massage experience. If you need to get rid of tension and/or pain, the compression from the airbags will do this. The airbags are at the lower back, feet, calf areas, arms, and shoulders.
Zero Gravity Mode
This feature gives the highest level of comfort to your back and thighs. When you are in this position, the total weight of your back has support by the backrest.
L-Track Massage
The L-Track massage begins at the neck, travels to the lower back, and then continues to the glutes and upper hamstrings.
Foot Roller Massage
The Osaki Admiral has three spinning massage rollers at the bottom of the feet. The spinning rollers stimulate acupuncture points while providing gentle soothing and rubbing to your feet. Applying pressure to your feet will also benefit other parts of your body.
Fifteen Auto Massage Programs
The Osaki Admiral has fifteen massage programs to make your massage even more enjoyable. They are Lady, AM Routine, Midday Nap, Shape n Tone, Office Pro, Men's Fitness, Elderly Health, Text-Neck, Relax, Rejuvenate, Stretch, Recover, Gentle Relief, Thai, and Re-Energize.
Six Massage Styles
There are also six massage styles that allow you to pinpoint a specific area on your body you would like to massage. These styles are K&T, Shiatsu, Kneading, Rolling, Tapping, and Clapping.
Enhanced Sounds
The preset audio on the Osaki assists with your relaxation and revitalization experience.
Easy-to-Use LCD Remote
The LCD remote comes with an easy-to-view screen showing you the active function of the chair.
Multi-Language Support
This feature allows you to select either Chinese or English.
Osaki Admiral Pros and Cons
Pros:
Auto body scan
L-Track 3D massage rollers
Heated lumbar
Foot rollers
Comes with twenty-four airbags
Zero gravity positioning
Multiple massage programs
Space saving technology
Adjustable leg components with remote
Bluetooth speakers
USB charging port
LCD remote
User Height Range: 5'0" - 6'3"
Maximum User Weight: 220 lbs.
Cons:
Takes approximately one hour to assemble
User cannot be taller than 6'3" and shorter than 5'0"
User cannot weigh more than 220 lbs.
Kyota M673 Kenko Features
The M673 Kenko massage chair by Kyota has 3D technology, and its design will allow you to use it daily. There's no need to leave home to get a great massage when the Kyota's engineering has everything you need for a head-to-toe massage experience. It has twenty-two placed airbags to imitate human hands.
Full-Body Scanning
Sit back and relax as the M673 scans your entire body to customize your massage experience exclusively to you.
Air Compression Massage
The Kenko contains twenty-two air bags throughout the chair. They inflate and deflate on your arms, palms, shoulders, calves, and feet to simulate the touch of human hands.
True Zero Gravity Recline
You will get an enhanced massage session with this technology. Your cardiovascular system will no longer feel stress, and you'll get relief from any pressure on your spine.
Forty-Nine-Inch L-Track Design
The M673's high-performing L-Track is forty-nine inches to give you massage coverage from your neck down to your glutes and hamstring muscles.
The Art of Reflexology
Treat your feet to the best with reflexology foot rollers on the soles of your feet. If you have been on your feet all day, you are sure to get the massage experience of your life, giving your feet maximum relief.
Nine Auto Control Programs
The Kyota M673 Kenko has nine auto control programs that will allow you to adjust your chair to give you the ultimate massage experience.
Lumbar Heat
You can loosen your sore muscles with this feature, making them amenable to massage therapy.
Space-Saving Technology
The Kyota M673 Kenko only needs four inches from the wall to fully recline.
Accu-Shoulder Compression
You will receive upper-body revitalization with this feature, which relieves tired, sore shoulder muscles.
Arm Massage Compression Therapy
Engineered to imitate the feel of human hands, the arm compression therapy feature relieves the stress and tension of your arms, wrists, and hands.
Easy-to-Use Remote
Customize your massage for maximum therapy and relief with this advanced, user-friendly remote, which has many functions.
Kyota M673 Kenko Pros and Cons
Pros:
3D massage technology
Offers a full-body scan, ensuring your massage hits all your pressure points
Lumbar heat
Zero gravity positioning
Space saving technology
Bluetooth speakers let you listen to your favorite music during your massage
Comes with an easy-to-use remote with a digital screen and clear buttons
Reflexology foot roller massage
Accu-shoulder compression
User Height Range: 4'10" - 6'4"
Maximum User Weight: 300 lbs.
Cons:
Requires approx. 1 hour assembly
User cannot be taller than 6'4" and shorter than 4'10"
User cannot weigh more than 300 lbs.
Conclusion
As you can see from the information above, both chairs offer great features, but there are some differences between the two chairs.

The Osaki Admiral has USB capability for your devices whereas the Kyota M673 Kenko does not. The weight limit on the Osaki is only 220 pounds while the M673's is 300.
The Osaki comes in many colors, but you can only get the M673 in black and brown. The M673 has nine auto control programs, but the Osaki has fifteen Both chairs need assembly of approximately one hour. Both chairs have high customer review ratings between 4 and 5 stars.
Both the Osaki Admiral and the Kyota M673 Kenko massage chairs offer great features and a superior massage experience. Review the information above and the features not listed, and then decide which chair is best for you.
We hope you enjoyed this comparison and found it useful. If you have any questions feel free to call us at 800-566-2798. Thank you for reading!