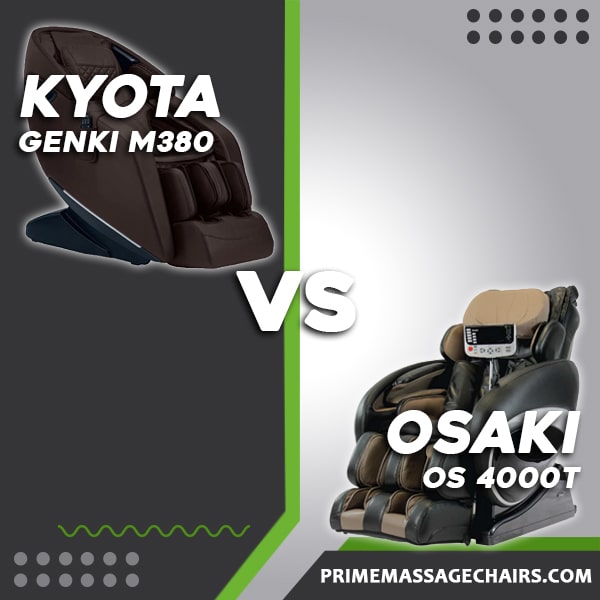 Massage Chair Comparison: Kyota Genki M380 vs Osaki OS 4000T
If you're in the market for a new massage chair but don't want to spend a fortune you're in luck. Today we're comparing the Kyota Genki M380 and Osaki OS 4000T massage chairs. These two massage chairs are packed with useful features and are very well priced for budget-minded consumers.
Below we'll get into the details of some of the best features of each chair as well as some of the pros and cons of each chair. With that being said let's get into today's massage chair comparison.
Kyota Genki M380 Massage Chair
The Kyota Genki M380 not only boasts a stunning look, but it also comes packed with features that include space-saving technology, chromotherapy lighting, Bluetooth-compatible speakers, voice control, total sole reflexology foot rollers, lumbar heat, calf oscillators and zero gravity. The M380 also contains 11 auto programs to enhance your massage experience.
Space-Saving Technology
The Kyota Genki M380 massage chair will fit in almost any room in most homes, but you'll still want to measure your door widths to be certain. This chair comes designed with space-saving technology that helps to maximize your living space. The Kyota Genki M380 only requires 2" from the backrest to the wall and 14" clearance in front of the footrest to fully recline.
Chromotherapy Lighting
Chromotherapy lighting is thought to help promote physical, spiritual and mental healing. Chromotherapy lighting is great for enhancing any massage session as it may make you feel renewed in mind, body and spirit.
Bluetooth-Compatible Speakers
While having your massage, you can jam out to your favorite tunes or listen to relaxing spa music through the chair's Bluetooth-compatible speakers. Just pair the speakers with your Bluetooth device, such as your phone or tablet.
Voice Control
While many massage chairs require you to use a remote to control their features, this is not so with the Kyota Genki M380 massage chair. The Kyota Genki M380 offers voice control that allows you to control some of the chair's features just by speaking to it. You can enjoy an optimal, hands-free experience.
Total Sole Reflexology Foot Rollers
The total sole reflexology foot rollers combine triple shiatsu rollers and air pressure to provide full-body reflexology relief. The foot rollers help to relax your feet after a tiresome day.
Lumbar Heat
The M380 is equipped with lumbar heat which can help to loosen tense, tired, or sore muscles and also adds to the overall enjoyment of the massage session.
Calf Oscillators
Calf oscillators are normally seen in chairs much more expensive than the Kyota Genki M380 massage chair. The Kyota Genki has calf oscillators that combine air cell compression with a kneading and oscillation motor to soothe sore calves.
Zero Gravity
Zero gravity enables your spine to decompress so you can enjoy the full effect of the massage. With zero gravity, you will experience a feeling of near-weightlessness.
Kyota Genki M380 Pros and Cons
Pros:
L-track
Space Saver
Arrives almost completely assembled
Voice Command
Bluetooth-compatibility
Chromotherapy lighting
Zero gravity recline
Lumbar heat
Calf oscillators
Total sole reflexology foot rollers
User Height Range: 4'8" - 6'5"
Maximum User Weight: 330 lbs.
Cons:
2D massage rollers
Only 2 colors to choose from
Osaki OS 4000T Massage Chair
The Osaki OS 4000T massage chair contains a wide array of features at a good price.
Computerized Body Scan Technology
The Osaki OS 4000T massage chair includes computerized body scan technology designed to enable the massage rollers to map out the shape of your back. Body scanning is a necessary feature because every person has a different back shape, and this technology allows for a more accurate massage.
Massage Rollers
While both models include massage rollers, they function differently depending on the chair. In the Osaki 4000T model, the massage rollers will go from the neck to the lower back, and you can adjust the width and speed of the massage rollers.
Heat Therapy
The Osaki OS 4000T is equipped with lower back heat. The heat is nice for helping to sooth sore muscles and warming up after being outside on a chilly winter day. Not to mention, the heat is thought to promote a state of relaxation.
Zero Gravity Feature
The Osaki 4000T has a zero-gravity recline feature. The difference between the two models is that the Osaki 4000T has zero gravity that you can set in two positions.
Airbag Massage
In the Osaki OS 4000T, you'll have 46 airbags strategically placed throughout the chair to provide for an enjoyable massage experience. You can even customize your massage by changing the airbag's intensity.
Arm Airbag Massage
In the Osaki OS 4000T massage chair, you can relax your arms and look forward to relieving of tension from your arm muscles. Your arms will receive a compression massage by the airbags inflating.
Squeezing the Shoulders, Lumbar and Hips
The Osaki's upper and middle parts have airbags that inflate and deflate at different times to cause your body to twist and stretch from your shoulders down through your thighs.
Seat Vibration Massage
When you activate this feature, the seat of the chair vibrates. Use the seat vibration massage feature to massage the backs of your thighs.
Automatic Leg Scan
The Osaki OS 4000T massage chair has an automatic leg scan that allows you to adjust the chair according to the length of the legs of those who will use it. Once the massage begins, the chair will extend, and then it will retract.
When the chair reaches the user's desired length, all the user must do is press the toes down firmly, and the chair will stop. Having the proper length allows for your feet and your calves to receive an effective and efficient massage.
Osaki OS 4000T Pros and Cons
Pros:
Best Seller
S-track
Automatic leg scanning
Computerized body scanning technology
Two zero gravity recline positions
Airbag massage
Heated lower back
Full-size controller and wireless remote control
Foot massage rollers
User height range: 5'2" - 6'2"
Maximum weight capacity: 260 lbs.
Cons:
No space-saving technology
No bluetooth technology
Takes approximately one hour to assemble
User cannot weigh more than 260 lbs.
Conclusion
As you can see, both massage chairs are nicely equipped. The Osaki OS 4000T does not have space-saving technology, but if you have the room that's not really an issue. While you can't control the Osaki OS 4000T massage chair by voice, it does boast a wireless remote along with a full-sized control that is easy to see. The Osaki OS 4000T massage chair also does not contain Bluetooth-compatible speakers and chromotherapy lighting.
The Kyota Genki M380 obviously comes with some desirable features that the 4000T lacks, as mentioned previously, but the 4000T has been one of our best sellers and has been well-received by our customers. We like the looks of both of these models and would recommend either chair.
Both the Kyota Genki M380 massage chair and the Osaki OS 4000T massage chair are feature-rich and affordable for most people.
We hope you enjoyed this comparison and if you have any questions feel free to call us at 800-566-2798. If you've just recently started looking into purchasing a massage chair or if you'd like to do more research you may want to check out our massage chair buying guide. Thank you for reading!