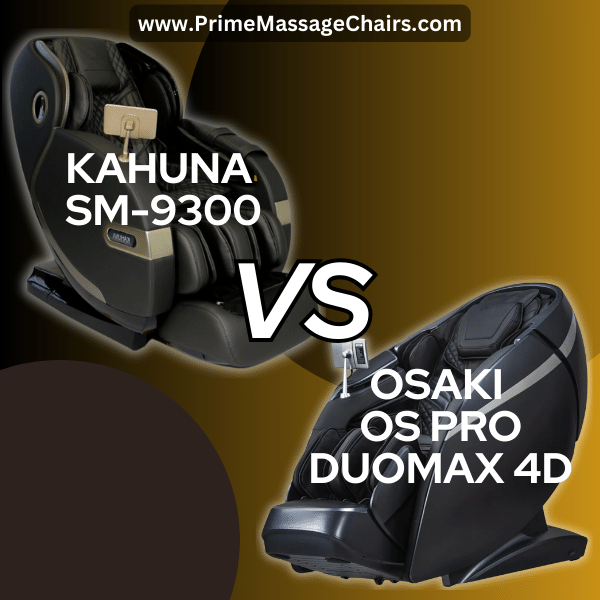 Massage Chair Comparison: Kahuna SM-9300 vs Osaki OS Pro DuoMax 4D
Welcome to our comparison of two leading massage chairs in the market: the Kahuna SM-9300 and Osaki OS Pro DuoMax 4D.
These high-end chairs are packed with innovative features designed to provide the most relaxing and therapeutic massage experience right in the comfort of your home.
Read on to learn more about the specific features, similarities, and differences of these two exceptional massage chairs. 
Top Features of Kahuna SM-9300
8 Rollers included with Infrared Ray Heating Mechanism
The Kahuna SM-9300 massage chair is more than a chair, it's a wellness tool. It has eight rollers and a special heating feature.
This feature uses infrared rays for what they call "ONDOL Therapy." These rays can stimulate acupuncture points on your body, just like a professional massage.
The heat also helps to improve your blood flow. This can help your body feel more relaxed and healthy.
The Kahuna SM-9300 is a great choice if you're looking for a massage chair that offers high-tech features and the benefits of heat therapy.
4D Massage
4D massage rollers are a top feature in massage chairs. They give you the power to adjust your massage to fit your needs.
You can change the pressure and speed of the rollers. This means you can have a light, relaxing massage one day and a deep, intense massage the next. It's all up to you.
Multiple Zero Gravity Recline Positions
The SM-9300 chair offers multiple zero gravity reclining positions. This feature lets you recline in a way that kind of feels like you're floating.
Many people find this to be the most comfortable way to sit. You can adjust the chair to find the perfect position for you.
Space-Saving Technology 
The SM-9300 chair is not just comfy, it's also smart about space. It has a special feature called space-saving technology.
This means when you recline the chair, it only needs a few inches from the wall. Even in a small room, you can still enjoy a full recline.
This is great if your space is tight. But even if you have a big room, it's still nice to save space. The SM-9300 is a great choice if you want a chair that gives you a great massage and also fits nicely in your home.
Music Therapy & Bluetooth Speakers
The SM-9300 chair comes with a fun feature: music therapy. It has Bluetooth speakers built in. You can play your favorite songs right from the chair.
But that's not all. The chair can sync your massage to your music. Imagine a massage that moves to the beat of your favorite song.
It's a whole new way to enjoy music and relax at the same time. With the SM-9300, you can turn your massage time into a personal concert.
It's a great way to make your relaxation time even more enjoyable.
Pros and Cons of Kahuna SM-9300
Pros:
4D Massage
Auto Body Scan
ONDOL Therapy
Multiple Zero Gravity Positions
Space-Saving Technology
Full Body Airbag Massage
Music Therapy & Bluetooth Speakers
Voice Recognition
Auto Leg Extension
Arm Massage
Removable Headrest
Heated Foot Roller Massage
Cons:
Only 2 colors available (black or grey)
User cannot be taller 6'3" than or shorter 5' 1" than
Maximum user weight is under 350 lbs.
Max. User Foot Size: US Men's Size 13
Top Features of Osaki Pro DuoMax 4D
Dual 4D Massage Mechanism
The Dual 4D Massage Mechanism offers a unique massage experience. It uses advanced technology to mimic human touch.
This system has precision rollers that can change their speed and depth. This feature lets it give a precise and powerful massage.
This mechanism offers a variety of massage techniques. It's like having your personal masseuse at home, ready to give you a relaxing massage anytime you need it.
SL Flex Track
The DuoMax's SL Flex Track is an upgrade from the usual SL track. It introduces a new level of flexibility, not seen in standard models.
The unique feature of the SL Flex Track is that it can stay at a steady angle in relation to the backrest. This means it can adjust to your body's shape and needs.
The SL Flex Track makes the DuoMax stand out among other massage chairs, making it a top choice for those seeking the ultimate relaxation experience at home.
Heat Therapy
The DuoMax uses a gentle heat therapy that warms and soothes the lower back area. This can potentially help reduce discomfort and soreness.
The DuoMax also focuses on the chest and stomach area. It does this through a special heating shawl. This shawl spreads warmth across these areas, helping to relax and soothe them.
Intelligent Health Detection
The DuoMax chair is not just a massage chair, it's also a smart health monitor. It can check your heart rate, blood oxygen levels, and how tired you are.
The chair uses AI technology to understand these health details. Based on this data, it can customize your massage.
If you're really tired, it might give you a gentle massage. If your heart rate is high, it might give you a calming massage.
The DuoMax chair is a great way to relax and keep an eye on your health at the same time.
Specialized Foot Rollers
The DuoMax has specialized Foot Rollers for a fantastic foot massage. These rollers press on special spots on your feet known as acupuncture points.
The design of the rollers is based on science and the study of reflexology. Each foot gets two rollers.
These rollers massage your feet from your heels to your toes. It's like getting a foot massage from a professional, right in your own home.
Top Features of Osaki OS Pro DuoMax 4D
Pros: 
Intelligent Health Detection
Dual 4D Massage Mechanism
2 Heating Cores
SL Flex Track
Piano Key Massage
Smart Voice Control
36 Air Cells Massage
Zero Gravity Reclining
Space-Saving Technology
Body Heat Therapy
20 Auto Massage Modes
11 Manual Massage Modes
Deep Calf Kneading
Automatic Extendable Footrest
Specialized Foot Rollers
Negative Oxygen Ions
Removable Headrest
Side Control Panel
Wireless Charging
LED Lighting
USB Charging
HD Bluetooth Surround Speakers
Cons:
Only 3 colors available (black, brown, or taupe)
User cannot be taller than 

6'5"

or shorter than 

5'0"

User cannot weigh more than 300 lbs.
Max. User Foot Size: US Men's Size 13
Similarities and Differences
The Osaki OS Pro DuoMax 4D and Kahuna SM-9300 4D massage chairs share several similarities.
Both chairs are equipped with 4D massage rollers, offering a highly customizable and immersive massage experience. They also feature multiple zero gravity positions for ultimate comfort and relaxation.
However, they also have distinct features that set them apart. The DuoMax is designed with an SL Flex Track and intelligent health detection, providing a personalized massage based on your body's current condition.
On the other hand, the SM-9300 features ONDOL Therapy, a unique thermal heat therapy that stimulates acupuncture points and improves blood circulation.
The SM9300 also offers a music synchronization feature, allowing you to enjoy a massage that moves to the beat of your favorite song.
Both chairs are top-of-the-line, but their unique features cater to different individual needs and preferences.
User Height Range and Max Weight Capacity
The Osaki OS Pro DuoMax 4D caters to users between 5'0" and 6'5" in height and can support up to 300 lbs.
On the other hand, the Kahuna SM-9300 4D is suitable for users from 5'1" to 6'3" in height and can handle a maximum weight of under 350 lb.
Both chairs are designed to accommodate a wide range of users.
Conclusion
In conclusion, both the Osaki OS Pro DuoMax 4D and the Kahuna SM-9300 4D massage chairs offer an exceptional blend of comfort, technology, and therapeutic benefits.

Both chairs provide 4D massage rollers and multiple zero gravity positions, ensuring a customizable and comfortable massage experience.
They also cater to a wide range of users in terms of height and weight, making them suitable for various body types.

The choice between the two ultimately depends on your specific needs and preferences. Either way, you're guaranteed a top-notch relaxation experience with these high-end massage chairs.
You can also see our massage chair black friday deals to see what else is available to you, as well as any discounts.
Thank you for reading this massage chair comparison and we hope you've found it helpful. If you have questions about the Kahuna SM-9300 or Osaki DuoMax give us a call at 800-566-2798.