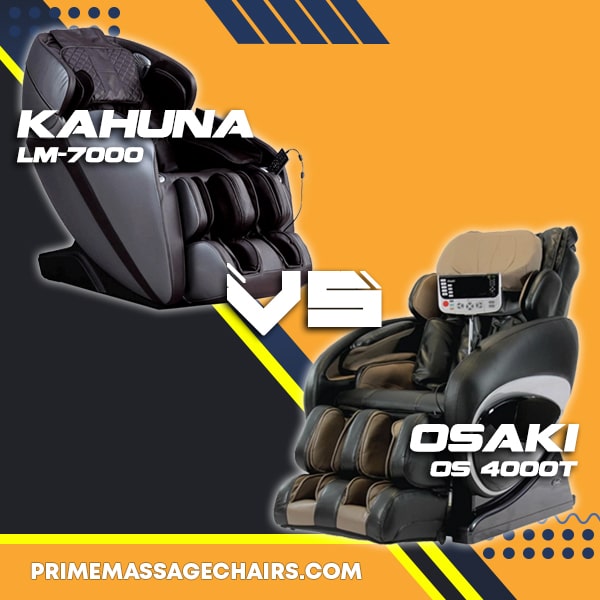 Massage Chair Comparison: Kahuna LM-7000 vs Osaki OS 4000T
A home massage chair can be an exceptional purchase for anyone in need of a soothing massage. It can be deeply relaxing and potentially therapeutic but can also be expensive.
Therefore, it's vital that you do some research to ensure you purchase the right chair the first time. In this article we're going to take a look at two of our budget-friendly massage chairs, the Kahuna LM-7000 and the Osaki OS 4000T.
What are some Top Features of the Kahuna LM-7000?
The Kahuna LM-7000 massage chair is a fantastic chair, and one that comes with many benefits.
Arrives Fully Assembled
The LM-7000 arrives fully assembled. All you have to do is open the box and find the spot in your home where you want to put it.

This means there is no struggling and no paying anyone else to set the chair up. Just open it, plug it in, and you are good to go.
Zero Gravity
There are three zero gravity reclining positions on this chair, all of which can be automatically adjusted for your comfort.
Modern Technological Options
The chair comes with built-in Bluetooth speakers that you can pair with your phone or any electronic device, thus ensuring that you can listen to whatever you want while you are getting your massage.

It also comes with voice control, meaning all you have to do is tell the chair where to massage and what kind of massage you want in fixed SPOT target manual massage.
Automated Programs
The Kahuna LM-7000 comes with twelve built-in massage programs. Each of these is built for certain needs, ensuring that you will get the massage you need based on your mood. This includes anti-stress, recovery, sleep aid, and more.
Massage Techniques
The Kahuna features massage techniques that allow you to customize your experience. You can choose from kneading, kneading and knocking, Shiatsu, tapping, knocking, and rolling.
Kahuna LM-7000 Pros and Cons
Pros:
Arrives fully assembled
Body scanning technology
Has three stages of zero gravity positions
Comes with built-in Bluetooth speakers
Offers heated massage
Comes with cell phone holder with USB Charging station
Has back massage and foot massage rollers
Features airbags for your arms and feet
Highly customizable options, ensuring that you can select the massage program that works best for you
Comes with twelve built-in programs
4 colors to choose from
User Height Range: 5'1" to 6'2"
Maximum User Weight: 280 lbs.
Cons:
User cannot be taller than 6'2" or shorter than 5'1"
User cannot weigh more than 280 lbs.
What are some Top Features of the Osaki OS 4000T?
The Osaki OS 4000T massage chair offers an array of programs and services that you may find very useful.
Massage Rollers
The back massage rollers start in the neck area and work their way down to your lower back.
Body-Scanning Technology
One of the biggest benefits of the 4000T is its ability to scan your back, using its proprietary software. This feature ensures that the rollers are adjusted appropriately, giving you a highly personalized, custom massage.
In addition, the automatic leg scan will adapt to your leg length and modify the space available for your feet and legs. This ensures that the massage you get is ideal for you.
Zero Gravity Options
The Osaki comes with two zero gravity options, allowing you to recline in a position that many find to be extremely comfortable.
At the conclusion of the massage, the chair will reset to the normal upright position.
Airbag Massage Options
There are forty-six airbags that come with the chair, and there are specific airbags for your arms and shoulders, legs, feet, lumbar area, and hips. You can also adjust the intensity of the airbags to your liking.
Vibration Options
You can set the chair to provide a vibrating massage to the back of your thighs, creating a pleasant soothing feeling.
Foot Massage
The customization of the Osaki OS 4000T extends to your feet as well. Airbags hold your feet that are then massaged by two rows of rollers. In addition, the Osaki OS 4000T foot rollers offer reflexology, providing deep relaxation to your entire body through the acupuncture points in your feet.
Multiple Massage Techniques
For your massage, the Osaki lets you choose between a number of different techniques. This allows you to pick the type of massage you need depending on the day you had and what relief you need. Options include rolling, kneading, clapping, tapping, Shiatsu, Swedish, and combo.
Full-Size Controller
The Osaki comes with a controller that lets you adjust your massage. It controls your massage type, speed, intensity, and location. Since this controller is on the larger side, it's easy for anyone to use. If you want a smaller option, there's also a wireless remote that you can use to control your massage session.
Osaki OS 4000T Pros and Cons
Pros:
Computer body scanning technology
2-Zero gravity positioning
Foot massage
Heat for the lower back
Forty-six airbags located throughout the chair
Full-size controller that is easy to use
User Height Range: 5'2" - 6'2"
Maximum User Weight: 260 lbs.
Cons:
Takes approx. 1 hour to assemble
User cannot be taller than 6'2" or shorter than 5'2"
User cannot weigh more than 260 lbs.
Conclusion
Both of these chairs are budget-friendly massage chairs that are built with value and comfort in mind, and both come with some similar features. Body scanning is included on each chair and is critical to its customization and automation programs.
For those that want more technological features like Bluetooth capability, the Kahuna is the best choice. However, if you just want to relax and don't need any special tech features, the Osaki is a great option.

Which chair you choose really depends on your preferences. Both have great features, so be sure to compare them in-depth before making your decision.
We hope you enjoyed this comparison and found it helpful. If you have any questions feel free to call us at 800-566-2798. Thank you for reading!