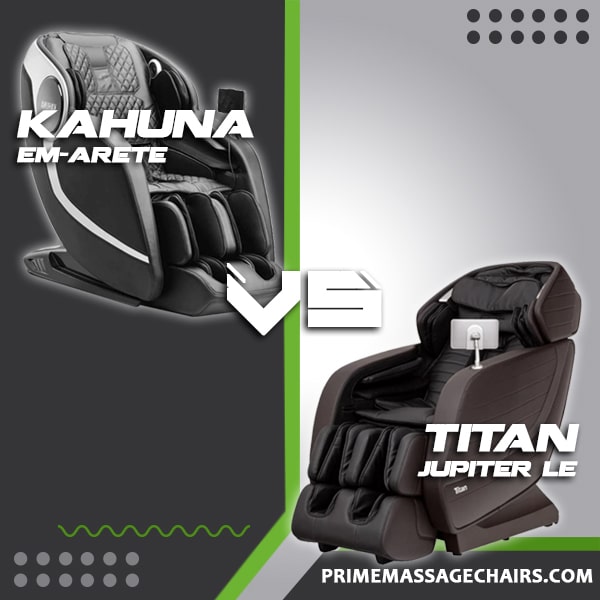 Massage Chair Comparison: Kahuna EM-Arete vs Titan Jupiter LE
In this article we're going to compare two very nice mid-level massage chairs, the Kahuna EM-Arete and the Titan Jupiter LE. Both of these chairs are equipped with some very popular features that users enjoy.

The Titan Jupiter LE is a full-featured massage chair suitable for any home. The chair features innovative body-scan technology, 3D massage rollers, voice control, and a Bluetooth-enabled audio system.
It offers great value and performance for users from 5'2" to 6'6" in height and a very attractive price point for budget-conscious consumers.
The Kahuna EM-Arete massage chair features twenty-four custom massage presets, an ergonomic SL-track designed to conform to your spine's natural curvature, and a host of exciting relaxation and comfort features for an immersive multi-sensory massage experience. It also comes preassembled and ready to use upon delivery.
Both massage chairs are available at a mid-range price point and would be a good choice for a homeowner who wants to spoil their family. Here's a comparison of the Kahuna Arete and Jupiter LE so you can see how both massage chairs compare.
What are the Top Features of the Titan Jupiter LE?
Auto Body-Scan Technology
Each massage in the Titan Jupiter LE begins with a body scan that will detect your shoulder height and map out the key target areas of your neck and back. The chair will then create a massage regimen customized for your natural size and shape.

The scan can be re-calibrated as necessary to further enhance your custom massage experience.
3D Massage
You'll enjoy five speeds, five different levels of compression from the airbags, and three different width adjustments. You can also adjust the speed and width of your 3D rollers in auto or manual mode at any time.
Ergonomic L-Track
The Jupiter LE features the advanced L-track design with massage rollers that target your natural curvature for precise massage coverage from your neck to your glutes.
Airbag Massage
The Jupiter LE features an advanced airbag system featuring eighty airbags. The airbag system offers one of the closest sensations to human hands, and the bags inflate and deflate smoothly and quietly to help you relax.
Infrared Heating
Heat therapy is a well-known way to increase blood circulation and ease muscular tension.

The Jupiter LE from Titan features heat in the back rollers, waist, seat, and leg areas. 
Voice-Activated Controls

One of its most popular next-generation features is the onboard voice recognition. You can say "Hello, Kiri" to wake up your massage chair, tell it what kind of massage you want, and then sit down and relax.
The Jupiter LE features zero gravity reclining for a sensation of weightlessness during your massage.
You can set the chair to slip into zero gravity mode automatically or you can make manual adjustments on the fly with the remote.
Space-Saving Construction
You'll only need 3.2 inches of wall clearance to set up your Jupiter LE and allow it to fully recline.
Bluetooth Audio System
You can connect your smartphone or mobile device through the built-in Bluetooth system and enjoy your favorite music or ambient audio as you relax.
Foot Massage Rollers and Airbags
You'll be able to pamper your feet with this dual-action foot massage. The foot massage rollers work together with airbags to fully massage the feet, ankles, and calves with adjustable speeds and intensities.
Extendable Comfort Footrest
The Jupiter LE can accommodate users from 5'2" to 6'6" in height with an extendable footrest that can be extended up to 12.6 inches. All you have to do is gently apply pressure with your feet to extend the footrest.
Touch Screen Tablet-Style Controller
The Jupiter LE includes an easy-to-use touch screen controller that allows you to browse through all the available settings and make adjustments in real-time.
Which Programs Come with the Jupiter LE Massage Chair?
The Jupiter LE combines kneading, tapping, knocking, and other Shiatsu techniques to create ten automatic programs.
Vitality: A quick eight-minute recharge massage
Senior: Twenty minutes of mild full-body massage for seniors
Power: A twenty-minute intense massage that's perfect for post-workout revitalization
Recovery: A twenty-minute restorative program
Pain Relief: Twenty minutes of deep tissue work that targets key pressure points for pain relief
Burmese Massage: A twenty-minute massage program inspired by healers from the Far East
Sleep: Twenty minutes of soothing massage before bedtime
Blood Circulate: Twenty minutes of vigorous massage to get the blood flowing
Waist Massage: Twenty minutes of core massage
Stretch: Twenty minutes of massage designed to stretch the muscles and loosen the joints
Titan Jupiter LE Pros and Cons
Pros
Body-scanning technology for a fully customized and interactive massage experience
3D Massage
L-Track technology
Infrared heat therapy
Intelligent voice control
Zero gravity positioning
Space saving technology
Bluetooth capable speakers
Easy-to-use touch screen controller 
Extendable footrest
Dual action foot massage
User Height Range: 5'2" - 6'6"
Maximum User Weight: 280 lbs.
Cons
User cannot be taller than 6'6" or shorter than 5'2"
User cannot weigh more than 280 lbs.
What are the Top Features of the Kahuna EM-Arete?
3D Massage Rollers
The Kahuna EM-Arete features 3D rollers and the next generation SL-track design that fits the natural contours of your spine.

Heat is a proven way to relieve muscle tension, and it offers additional health benefits such as improved circulation and blood flow.
Auto Leg Extension
The EM-Arete features an expandable leg extension that will automatically adjust to fit users from 5'1" - 6'3" in height.
Multiple Zero Gravity Settings
The massage chair offers three different zero gravity positions for the ultimate relaxation experience. You can also help to reduce tension and improve blood circulation by elevating your legs.
Touch Screen Tablet Remote
The EM-Arete features an intuitive touch screen remote where you can pick your massage type and intensity.

You can connect your smartphone to your chair and listen to your choice of music as you enjoy your fully immersive massage.
Which Programs Come with the Kahuna EM-Arete Massage Chair?
The EM-Arete has three categories of massage styles with eight massages for a total of twenty-four automatic presets.
Classic - All your standard classic presents are loaded and ready to go.
Specialty - Whether you're a salesman, office clerk, or driver, the massage chair offers eight different presets designed specifically for trouble areas affecting people in several professions and trades.
Elite Target - The elite target presets apply intense heat and pressure to common pressure points and trouble areas.
Kahuna EM-Arete Pros and Cons
Pros
Features an ergonomic SL-track design
3D massage technology
Arrives fully assembled
Touchscreen tablet remote
Reflexology foot rollers
Zero gravity positioning
Heat therapy
Bluetooth capable speakers
USB charging station
User Height Range: 5'1" - 6'3"
Maximum User Weight: 280 lbs.
Cons
User cannot be taller than 6'3" or shorter than 5'1"
User cannot weigh more than 280 lbs

Conclusion
The Titan Jupiter LE massage chair is available at an attractive price point, and it comes loaded with great comfort features. Titan offers a free three-year warranty and options are available for extended warranty and professional use options.
The EM-Arete from Kahuna occupies the same market segment and is available at the same mid-level price point. The massage chair also includes a free two-year parts and labor manufacturer's warranty with extended warranty options available.
Both massage chairs are a great buy and might actually be underpriced for the features you get. Neither is an ultra expensive massage chair, yet they are both nicely-equipped The Arete doesn't have the broad user height range that the Jupiter LE has, but both are very nicely equipped chairs.
So there you have it, we've laid out what we feel are the most important talking points regarding both the Kahuna EM-Arete & the Titan Jupiter LE.
We hope you enjoyed this comparison and found it helpful. If you have any questions feel free to call us at 800-566-2798. Thank you for reading!