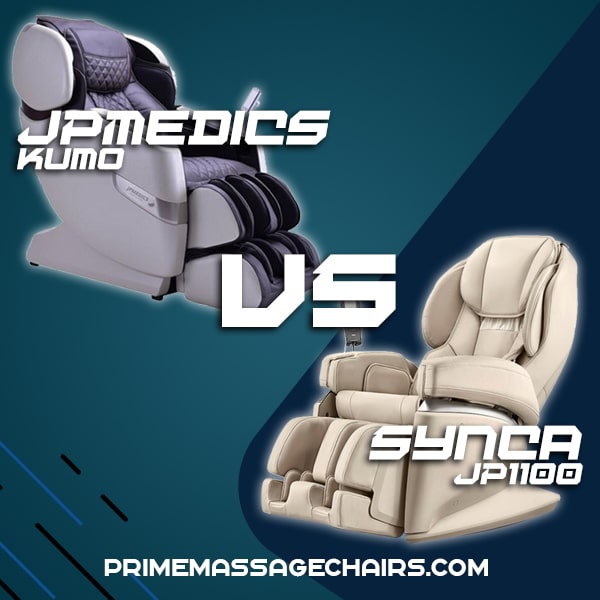 Massage Chair Comparison: JPMedics Kumo vs Synca JP1100
The JPMedics Kumo massage chair and the Synca JP1100 massage chair are two great options for on-demand massage at your convenience, and both are made in Japan. Both massage chairs offer superior comfort and performance and plenty of the features that you'd expect from high-end massage chairs.
Determining which chair is right for you is definitely a matter of personal preference, and it's always important to take a good look at the features of each model in a head-to-head comparison. Here's a look at both massage chair models to help you make an informed purchasing decision.
What Features Does the JPMedics Kumo Massage Chair Offer?
The JPMedics Kumo massage chair offers a great combination of style and functionality. The chair features a space-saving design that only requires five inches of clearance behind the backrest from the wall and a host of next-generation comfort features.                                                          
Innovative L-Track Design
The JPMedics Kumo features an enhanced forty-four-inch L-track design that matches your spine's natural curvature. You'll experience a full upper body massage experience for your neck, shoulders, lower back, and glutes every time you sit down in the Kumo.
4D Heated Massage Rollers
The Kumo from JPMedics features 4D massage to provide users with a massage that feels as close to real human hands as possible. The Kumo's 4D thermal rollers can travel one and a half inches apart and reach three inches deep to provide a variety of massage styles.
The rollers can also distribute targeted heat to the spine and common pressure points.
Advanced Back Scanning Sensor
The JPMedics Kumo features state-of-the-art technology to provide you with a customized massage experience unlike any other. The chair includes sensors that will automatically detect the size, shape, and curvature of your body for a comfortable custom fit.
Voice Control
The voice control feature on the Kumo works with both Google and Alexa. All you need to do is go to Google Play or the Apple Store to download the app, and you can connect the massage chair to your Amazon or Google speaker (not included).
Custom Airbag Compression
The JPMedics Kumo massage chair includes sixty strategically placed compression airbags that will inflate and deflate to provide several additional ranges and dimensions of relaxing and stimulating massage movements.
Heated Knee Relief
The Kumo combines a combination of air compression and heat therapy for a more precisely targeted knee and calf massage. The massage chair includes strategically located thermal airbags that adjust to cradle your legs and calves and apply even pressure and warmth.
Reflexology Foot Rollers
The feet get a custom massage experience of their own in the JPMedics Kumo.
The chair features tri-action foot rollers and air compression massage targeted to all the desired reflexology areas of the feet and ankles.
A.R.M. Micro-Processor
The Kumo senses your movement, and the onboard sensors alert your massage chair's microprocessor of your movements in real-time. This enables the chair to respond quickly and make all the necessary adjustments on the fly.
Which Programs Come with the JPMedics Kumo Massage Chair?
The JPMedics Kumo massage chair features eleven automatic massage  programs to choose from and over 500 different ways to customize your massage experience. The Kumo features an easy-to-use touch screen that helps you create a personalized massage using the massage technique that you prefer to use on trouble areas.
You can also save up to three different custom massage programs of your own. Once you get a program you like, all you need to do is save it and run it again next time.
JPMedics Kumo Pros and Cons
Pros
4D massage technology
Voice-activated programming and connectivity with Alexa and Siri
Bluetooth connectivity
Chromotherapy lighting
L-track full back coverage
Advanced back scanning sensor
Heated knee and calf therapy
Advanced reflexology foot rollers
Zero gravity reclining
Space saving technology
Touchscreen control panel
Made in Japan
User Height Range: 5'0" - 6'2"
Maximum User Weight: 265 lbs.
Cons
Takes approximately 1 hour to assemble
User cannot be taller than 6'2" or shorter than 5'0"
User cannot weigh more than 265 pounds
What Features Does the Synca JP1100 Massage Chair Offer?
The Synca JP1100 features advanced massage technology and it includes an intuitive touch screen controller. The JP1100 massage chair is Synca's top of the line model. Now let's touch on some of the top features below.
Deep Muscle Relief
The JP1100 massage chair features large twelve-and-a-half-centimeter massage ball to offer deep muscle tension relief.
The two massage balls move in every direction and offer kneading massage and deep tissue stimulation.
Dual Sensor Body Scan
The JP1100 features two body sensors that begin each massage session with a complete body scan. This enables the chair to put its advanced 4D massage technology to maximum use by tailoring your massage experience to your body's natural shape and size.
Adjustable-Flow Airbags
The JP1100 features twenty-eight powerful compression airbags to provide a pneumatic component to your massage. The airbags inflate and release in both quick bursts and gradual speed increases. The airbags include a proprietary triple-mode pneumatic system that can simulate multiple layers of intensity.
Reflexology
The massage chair includes a special roller and airbags to target reflexology pressure points and your plantar fascia muscles. The leg rest secures the feet, and the chair provides relaxing massage movements.
Dual Heaters
The JP1100 includes two heaters that can be adjusted separately or together. Heat can ease muscle tension, stimulate blood flow, and help improve your overall flexibility.
180 Degree Flat Recline
If you want to experience the sensation of weightlessness, the JP1100 includes the signature "near 180 degree flat recline" design.

You can stretch out for improved blood flow or to drift off to sleep and enjoy a refreshing nap while the chair does all the work.
Power Stretch
The "power stretch" feature is another way to get a great stretch. The chair will gently help you loosen up with safe stretches designed to effectively target those hard-to-reach areas.
Which Programs Come with the Synca JP1100 Massage Chair?
The JP1100 massage chair comes with twenty-one automatic massage therapy programs. You can choose between four thirty-minute programs and numerous sixteen-minute programs. The chair includes an easy-to-use color touch screen display with a highly intuitive user interface.
Synca JP1100 Pros and Cons
Pros
Dual sensor body scan
Two twelve-and-a-half cm massage balls to relieve deep muscle tension
180 degree flat recline
Focus on the feet with shiatsu reflexology
Heat therapy
Made in Japan
Full-Color touchscreen controller
Adjustable-flow airbags
User Height Range: 5'0" - 6'2"
Maximum Weight Capacity: 300 lbs.
Cons
Takes approximately 1 hour to assemble
User cannot be taller than 6'2" or shorter than 5'0"
User cannot weigh more than 300 lbs.
Conclusion
The JPMedics Kumo and the Synca JP1100 are two top-of-the-line massage chairs that offer a lot of attractive features. Both chairs come with a manufacturer's warranty and are easy to set up.
One of the key points of distinction is that the JP1100 doesn't include all the built-in entertainment features and voice control that the Kumo does, but both chairs offer a superior massage experience for a busy individual who doesn't mind spending a little more for a quality massage chair.

The Kumo is slightly more expensive than the JP1100, but the extra money can be worth it for the entertainment features and additional compression airbags, if those features are important to you. The Synca JP1100 is engineered to hold more weight and features more automatic programs. Also, the Synca JP1100 is an S-track (better for stretches) and the Kumo is an L-track (more massage roller coverage).
In the end, it comes down to what features you want in a massage chair, so make sure you look at all of the benefits of each chair before deciding.
Thank you for taking time to read this comparison, we hope you've found it helpful. If you have any questions feel free to call us at 800-566-2798. Thank you for reading!