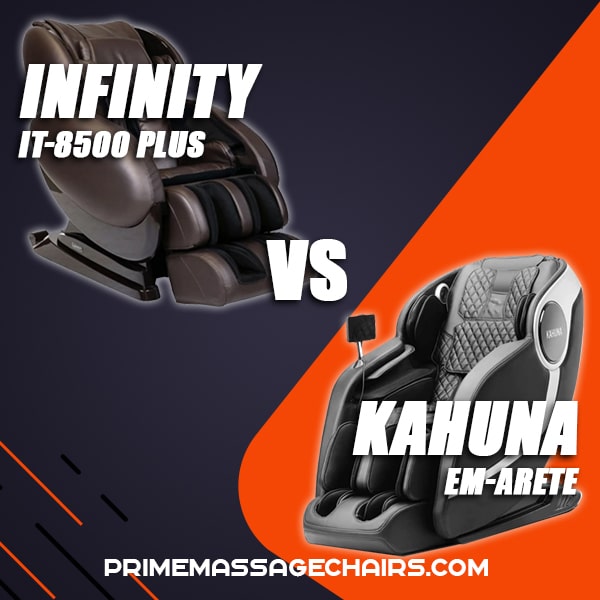 Massage Chair Comparison: Infinity IT-8500 Plus vs Kahuna EM-Arete
With the countless demands of everyday life, it's nice to come home to something that takes your cares, worries, and aches and pains away. That's why many people invest in a quality massage chair, and the result is a life filled with more relaxation and a greater ability to overcome daily stress.
There is a wide variety of massage chairs on the market, each one set apart by its unique features and benefits. The Infinity IT-8500 Plus massage chair and the Kahuna EM-Arete massage chair are both excellent options for different reasons.
By considering what you want out of your ideal massage chair and reviewing what each of these chairs has to offer, you'll be able to make a decision that gets you the ideal relaxation experience for your unique lifestyle.
Infinity IT-8500 Plus Top Features
Technology
The IT-8500 Plus model is an upgraded version of one of the most popular Infinity chairs. It offers more functionality than its predecessor, including Bluetooth capability, an LCD remote control, and the ability to use your smart device as a controller.
Rhythm Technique
This is an innovative setting that allows you to synchronize your massage experience to the rhythm of the music on your playlist of choice. With immersive speakers placed in the headrest, you can add an incredible amount of depth to your massage experience with music, soundscapes, or meditation tracks.
Body-Scan Technology
To deliver a more precise massage, the body-scan sensor system ensures that the rollers hit your unique pressure points. Each body is different, which means the pressure points aren't in the same location for every person. The body-scan system adjusts the position of the rollers to tailor them to your body.
Heat Therapy to Loosen Muscles
The IT-8500 Plus has a heat feature, which provide soothing treatment to the lumbar region. This allows the massage to have a greater impact since the muscles will already be primed for relaxation.
S-Track
This S-track method of guiding the massage rollers is ideal for matching your spine's natural shape. This ensures coverage of every tense area and allows the massage to effectively put your body back into proper alignment from the lumbar area all the way up to the neck.
Correcting the Spine
For people with deep-seated spinal issues, the spinal correction feature is a powerful method for stretching out and correcting those problems. The IT-8500 Plus's waist twist, on the other hand, is a less intense alternative for people experiencing milder back pain symptoms.
There is also a full-body decompression stretch, which involves a shoulder grip from the chair's airbags while it shifts into a reclined position to soothe and relieve your spine.
The Most Comfortable Massage Position
The IT-8500 Plus by Infinity puts users in the zero gravity position, which is widely known to be the most comfortable way to experience a massage. The key is positioning the knees so that they're elevated above the heart to produce a feeling of total weightlessness.
Meanwhile, your spine is decompressed, and your body is in the optimal position for the massage rollers to do their job.
Reflexology at Work

A common technique in reflexology involves using the thumb and finger, which is exactly what this chair replicates. Using foot rollers, important foot pressure points linked with other parts of the body are stimulated.
Compression Therapy
Compression therapy is delivered using airbags located throughout the chair. By inflating and deflating, the effect produced is extremely close to the sensation of being massaged by genuine human hands.
Infinity IT-8500 Plus Pros and Cons
Pros:
Lumbar heat
Bluetooth speakers
Body scan that locates your pressure points
Zero gravity positioning
Rhythm setting synchronizes the massage to your music
Spinal correction and waist twist
Reflexology
Apple & Android App Functionality
User Height Range: 4'11" - 6'6"
Maximum Weight Capacity: 300 lbs.
Cons:
2D Massage Rollers
Only 2 colors to choose from
User cannot be taller than 6'6" or shorter than 4'11"
User cannot weigh more than 300 lbs.
Kahuna EM-Arete Top Features
No Assembly Required
One thing that people love about the Kahuna EM-Arete is that it's delivered to their home fully assembled. One of the worst things to deal with when purchasing a massage chair is having to get all the parts out of the box, assemble the chair, and get it working properly. With the Arete, you can instantly begin your journey of relaxation.
Since the product comes already put together, you'll need to make sure you can get it through the door. At least thirty-two inches is required for the Arete to fit through a doorway, so make sure to carefully measure before placing your order.
A Personalized Experience
This chair features 3D massage rollers, which allow you to adjust the strength or intensity of your massage. Using an SL-track, the 3D rollers work their way from the back of the headrest down to the seat.
There are twenty-four pre-programmed automatic massage experiences to choose between. After activating the LCD controller, you options are Classic, Specialty, or Elite Target massages, with eight individual choices within each category.
Special Attention to the Legs
One of the Arete's standout features is the calf roller massage, which isn't something you see with many other massage chair models. These rollers use a rotating motion to effectively work out tension in the calves.
With the auto leg extension feature, this chair can accommodate a larger range of heights. By extending the foot and calf part of the chair and then retracting, the Arete can provide a massage that's fully optimized. 
Three Levels of Zero Gravity
The Kahuna EM-Arete massage chair ups the ante for zero gravity with three distinct positions for achieving that feeling of near-weightlessness. This allows you to find your preferred reclined position to maximize relaxation and the effects of your massage experience.
For Your Convenience
The Arete includes Bluetooth speakers that pair easily with a compatible smart device. There's a remote and cell phone holder as well as a USB charging station.
The remote control is a touchscreen tablet that makes it simple to select your massage type and desired intensity.
Kahuna EM-Arete Pros and Cons
Pros:

Three zero gravity positions
3D rollers
No assembly required
Automatic leg extension
Bluetooth capable speakers
Touchscreen tablet remote
Reflexology foot rollers
Heat therapy
USB charging station
User Height Range: 5'1" - 6'3"
Maximum User Weight: 280 lbs.
Cons:
Only 3 colors to choose from
User cannot be taller than 6'3" or shorter than 5'1"
User cannot weigh more than 280 lbs.
Conclusion
Both the Infinity IT-8500 Plus and Kahuna EM-Arete are excellent picks if you need a chair that will provide relaxation and relief to pressure points all along the body. If you want something that delivers a rhythmically synchronized experience and a twist to sort out even the most stubborn spinal misalignments, you might prefer the IT-8500 Plus.
On the other hand, if you want a chair that's ready to use right out of the box, the Kahuna EM-Arete may be a worthy option. It boasts a rare calf massage, three different levels of zero gravity, and 3D rollers. Between these chairs, you can find two superior massage experiences—each with its own distinct advantages.
We hope you enjoyed this comparison and found it helpful. If you have any questions feel free to call us at 800-566-2798. Thank you for reading!