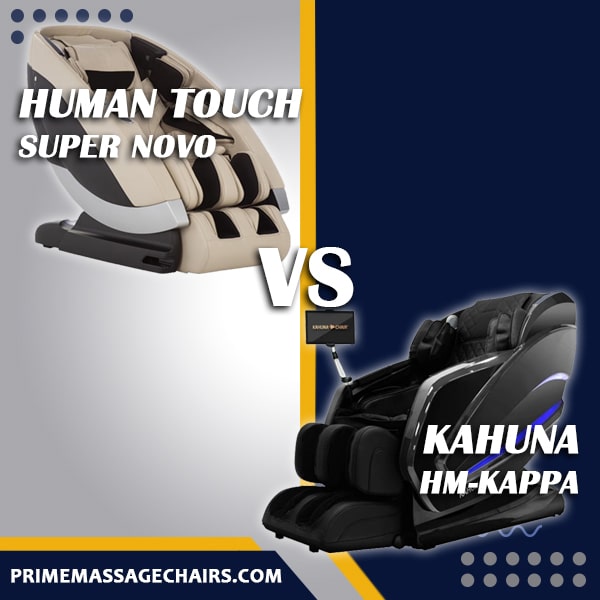 Massage Chair Comparison: Human Touch Super Novo vs Kahuna HM-Kappa
The Human Touch Super Novo and Kahuna HM-Kappa are both high end massage chairs and are equipped with an impressive array of features. These models are from well-known brands that know how to design a great chair.
Both massage chairs offer a premium massage experience with a lot of nice refinements, but you should get familiar with the features of both massage chair models before you make your purchasing decision. Here's a head-to-head comparison of the Human Touch Super Novo and Kahuna HM-Kappa.
What are some Top Features of the Human Touch Super Novo Massage Chair?
Virtual Therapist Feature
The Virtual Therapist feature is like having your very own massage therapist at home. During your first massage, the virtual therapist will ask you some basic questions to provide targeted therapy to your choice of trouble areas. The therapist will also store your global preferences so that you can jump right into your next session.
If you decide you want to use the Virtual Therapist with your Super Novo, you'll need to request your free Virtual Therapist Bridge, which is easy. You'll also need to have a Google Home, Amazon Echo, or similar device which you would need to purchase separately.
3D and 4D Massage Technology
You'll appreciate the intensity adjustments the Super Novo by Human Touch has to offer as well as the many massage programs. Being able to adjust the strength of the massage is important because your body can get used to a certain setting over time, therefore the need to increase the pressure of the rollers may arise.
SL-Track Massage
The Super Novo features an ergonomically engineered SL-Track design that will cradle your lower back and conform to the natural curvature of your spine. You'll enjoy an even and seamless massage from your shoulders to your thighs, and the SL track will ensure that the rollers give a nice consistent massage every time.
Extending Leg Massager
The heated extendable leg rest will stimulate and invigorate your legs from your feet to your knees. You can also adjust the intensity of the calf and foot massage.
Space Saving Design
You'll only need 2 inches of clearance from the backrest to the wall to set up your Super Novo. The space-saving design offers a lot of convenience for users who live in small homes or apartments.
Altec Lansing Sound
Built-in speakers have become a common feature on most home massage chairs, and Human Touch has partnered with the audio experts at Altec Lansing to provide a very nice surround sound audio experience for users of the Super Novo.
Altec Lansing is one of the top brands in audio, and these speakers are also Bluetooth-capable.
Which Programs Come With the Human Touch Super Novo Massage Chair?
You have your choice of 38 massage programs on the Human Touch Super Novo and the types of massages are Swedish, Shiatsu, Sports, and Thai.
Human Touch Super Novo Pros and Cons
Pros
Virtual Therapist capabilities
Altec Lansing sound system
Zero gravity positioning
Space saving design
SL-track massage
Extending leg massager
Foot Rollers
Easy to use remote
Lumbar heat
Bluetooth capable speakers
Comes with battery backup
User Height Range: 5'0" - 6'5"
Maximum User Weight: 285 lbs.
Cons
Higher price point
User cannot be taller than 6'5" or shorter than 5'0"
User cannot weigh more than 285 lbs.
What are some Top Features of the Kahuna HM-Kappa Massage Chair?
4D Massage
The Kahuna HM-Kappa massage chair includes high elasticity massage rollers that are almost double the size of standard massage balls featured on other massage chair models.
Body Scan Technology
The Kappa's body scanning technology customizes your massage experience to your body's natural curves. Body scanners will automatically locate your pressure points when you sit down in the chair so that it can provide you a targeted massage every time.
SL-Track Design
The Kahuna Kappa's 51-inch Hyper SL-Track roller system assists your back and guides the massage rollers along your natural curvature. The massage rollers will move smoothly from your neck down to your glutes to improve lower body circulation and blood flow.
Multiple Presets
The Kappa offers 15 different programs in a variety of massage styles that work together to offer a fully immersive massage experience.
Compression Airbags
It has 96 pressurized individual air cells that inflate and deflate and combined with the rollers provide a massage experience that simulates human touch.
Heated Relief
You have three different levels of heat therapy for your back, legs and feet. Heat offers a lot of great benefits during a massage and can contribute to better circulation and provide relief for chronic pain.
Zero Gravity Positioning
The Kappa features zero gravity reclining which will elevate your feet above your heart. The zero gravity position is thought to be good for circulation and the sensation of weightlessness can take stress off your bones and joints during your massage.
Space-Saving Design
The Kahuna Kappa massage chair was designed to help you maximize your living space. Your chair will be there to provide a massage any time you want one, even if you live in a small home, apartment or condominium!
Bluetooth Audio
The Kappa features Bluetooth-capabilities so you can connect your smartphone or mobile device to the audio system and listen to your favorite music as you relax.
Smart User Function
The smart user memory function will allow you to save your favorite settings such as heat, zero gravity recline position, back and foot roller speed and air intensity settings. This will make it much faster for you to slip into your favorite massage the next time.
Which Programs Come With the Kahuna HM-Kappa Massage Chair?
The Kahuna Kappa massage chair includes 15 massage presets that include daily regenerative and relaxation programs, deep tissue programs, yoga stretching and several restorative programs.
Kahuna HM-Kappa Pros and Cons
Pros
4D Massage
15 massage programs
Body scanning technology
Smart user memory function
Heat therapy
Zero gravity positioning
Space saving technology
SL-track
Bluetooth capable speakers
User Height Range: 5'0" - 6'2"
Maximum User Weight: Under 350 lbs.
Cons
Higher price point
Cannot accommodate users under 5 feet or over 6-foot 2 inches in height
Takes approximately one hour to assemble
Conclusion
The Human Touch Super Novo massage chair includes 3D & 4D massage, premium speakers and many more impressive amenities. The Kahuna HM-Kappa also features a 51-inch SL-Track roller system, as well as a smart user memory feature to help you customize your preferences.

Both massage chair models are well-built premium models with a lot of great features. The Super Novo features the Alexa-capable Virtual Therapist and a premium audio system, but it has a lower user weight limit than the Kahuna HM-Kappa. On the other hand the Super Novo can accommodate a taller person than the Kappa.
Both chairs are available at a similar price point, and users should carefully consider the package of features before making a final buying decision.
We hope you enjoyed this massage chair comparison and found it useful. If you have any questions give us a call at 800-566-2798. As always, thank you for reading!