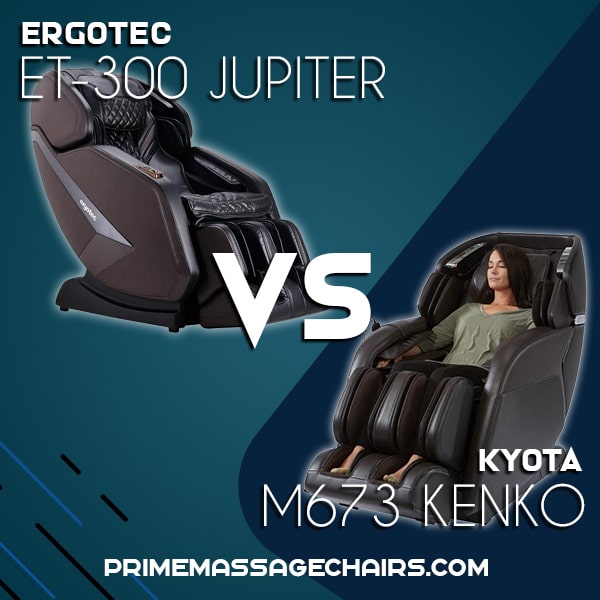 Massage Chair Comparison: Ergotec ET-300 Jupiter vs Kyota M673 Kenko
At first glance, the Ergotec ET-300 Jupiter and Kyota M673 Kenko are strikingly similar. They have a similar shape, they both have 3D rollers, and they offer similar features. However, before you buy the first chair that you see, it's important to analyze the subtle differences.
A massage chair is a big investment—not just because of the cost, but also because of the time and effort that you put into assembling your chair and finding the right location in your house. If you're investing that much effort into your chair, you need to make sure that the features are right for you.

Before you make a purchase, consider the height and weight of everyone who's going to use your massage chair. That might seem like a small detail, but all massage chairs have user height ranges and maximum weight capacities.
You should also consider space-saving technology, the number of programs, and the types of special features like zero gravity mode. No massage chair has everything, but if you know what you're looking for, you'll be able to find a chair that you look forward to using every day.
What Are the Main Features of the Ergotec ET-300 Jupiter?
Essentially, the Ergotec ET-300 Jupiter comes with everything you'd expect from a massage chair. It's lacking in advanced technology like vibration and light therapy, but it has all the basics like zero gravity mode and manual program options.
This chair also has an LCD remote that combines the convenience of push buttons with modern digital technology. It's a safe, relaxing choice that will make nearly everyone in your family happy.
Air Compression Massage
The ET-300 Jupiter comes with thirty airbags that offer an air compression massage during your session. In addition to your back and shoulders, these airbags also compress your arms, calves, hands, and the soles of your feet.
Ten Pre-Installed Programs
This chair comes with nine massage programs, plus a demo mode that demonstrates every program within five minutes. You can check out Swedish and Balinese programs as well as programs for stretching, relaxing, and massaging your back. You can also choose a gentle massage or a more in-depth session.
Space-Saving Features
Massage chairs aren't exactly known for being small and compact. Fortunately, this Ergotec massage chair comes with space-saving technology that makes it easier to find a place to store your massage chair. Even if you're fully reclined, you'll only need an inch of space between your chair and the wall.
Instead of wearing headphones or turning up the volume on your phone, you can use the surround sound Bluetooth speakers for an immersive massage experience. The Bluetooth speakers connect directly to your smartphone or tablet so you can play your favorite ambient sounds.
Armrest Controls
The Ergotec ET-300 Jupiter comes with an LCD remote as well as controls built right into the armrest. You can turn the massage chair on and off, enter zero gravity mode, and adjust other settings with this handy control panel.
Ergotec ET-300 Jupiter Pros and Cons
Pros:
L-track technology
3D technology
Helps you relax during your massage with zero gravity mode that mimics a feeling of weightlessness
Offers surround sound Bluetooth speakers for a crystal-clear audio experience
Comes with an LCD remote with push buttons and a digital screen, plus a remote holder on the side of the chair
Space saving technology
Uses lumbar heat therapy to relax the muscles in your lower back
Comes with basic controls built into the armrest so you don't have to get up and look for the remote
Offers ten pre-installed massage programs, plus manual controls
Designed to look attractive and sophisticated so it doesn't stand out in your house
Reflexology foot massage
User Height Range: 5'0" - 6'2"
Maximum Weight Capacity: 320 lbs.
Cons:
Takes approx. 1 hour to assemble
User cannot be taller than 6'2" or shorter than 5'0"
User cannot weigh more than 320. lbs.
What Does the Kyota M673 Kenko Have to Offer?
When you sit in the Kyota M673 Kenko, you'll feel like this chair was made specifically for you. This chair does offer a full-body scan and other customization options to give you a personalized experience.
For a comprehensive massage, the Kyota M673 Kenko targets frequently neglected areas like your arms, feet, and calves. Pick up the remote to adjust parts of the chair like the backrest and leg rest.
Like the Ergotec ET-300 Jupiter, the Kyota M673 Kenko isn't the most advanced chair in the world, but it's a good choice for people who want the most important features.
When you sit down in the chair, the Kyota M673 Kenko scans your body to make sure that you get a thorough massage session. This chair automatically adjusts the settings—you don't have to do anything but sit back and relax.
Arm Compression Therapy
Many massage chairs neglect other areas of your body like your arms and wrists. The M673 Kenko comes with an arm compression feature that improves blood circulation and massages your arms, hands, and wrists during your session. This is a great feature for people who type a lot or work with their hands.
Zero Gravity Technology
Many people find it hard to relax when they're sitting up straight or even reclining in the chair. The zero gravity feature offers a full recline that tilts all the way back like you're lying on a bed. If you listen to guided meditations during your session, this function can help you relax more fully into the meditation.
Lumbar Heating
If you have trouble relaxing your back muscles, try the lumbar heating function. This feature offers heating for your lower back, which helps you enjoy the rest of your massage. Lumbar heating works in conjunction with the 3D rollers to help you get the most out of your massage experience.
Treat yourself to a foot massage with the M673 Kenko's foot rollers and air compression technology. This feature will make it easier for you to spend hours on your feet each day.
Kyota M673 Kenko Pros and Cons
Pros:
3D massage technology
Uses a full-body scan to customize your experience and hit pressure points
Lumbar heat
Zero gravity positioning
Space saving technology
Calf massage system
Reflexology foot roller massage
Uses Bluetooth speakers to import music and sounds directly from your smart device
Comes with a handheld remote with a digital screen
User Height Range: 4'10" - 6'4"
Maximum User Weight: 300 lbs.
Cons:
Takes approx. 1 hour to assemble
User cannot be taller than 6'4" or shorter than 4'10"
User cannot weigh more than 300 lbs.
Conclusion
When it comes to these massage chairs, the differences lie in the details. If you don't have a lot of room in your house, you might want to invest in the Ergotec ET-300 Jupiter. Conversely, the Kyota M673 Kenko is better if you have tall people in your family.
These chairs have a lot of similar features, but a single detail could make your chair easier or harder to manage. These chairs also have strikingly similar designs.
The Ergotec ET-300 Jupiter has a modern, futuristic look with varying textures and dark color accents. While the Kyota M673 Kenko has a modern silhouette, this chair opts for a more minimalist look with a single color and few extra details.
If you want your massage chair to match the rest of your décor, the design can make all the difference. Before you make a decision, take some time to review the warranties, delivery options, and other features that many people don't think about.
Thank you for taking the time to read this comparison, we really do appreciate you. If you have any questions feel free to call us at 800-566-2798.