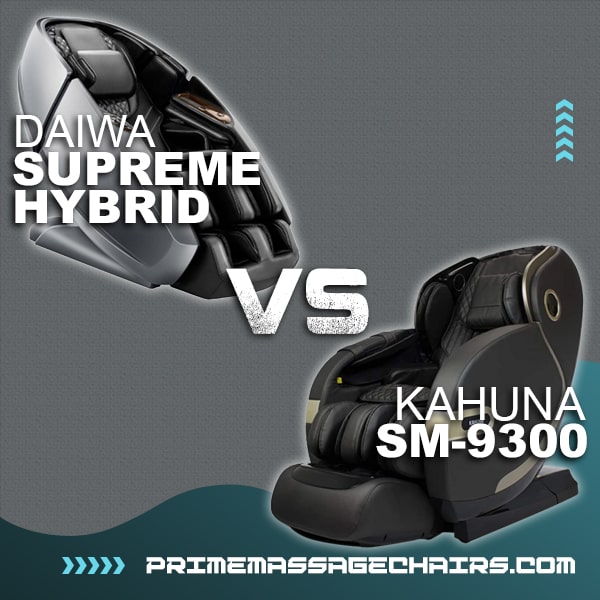 Massage Chair Comparison: Daiwa Supreme Hybrid vs Kahuna SM-9300
Trying to decide which high-end massage chair to buy? Both the Daiwa Supreme Hybrid massage chair and the Kahuna SM-9300 massage chair offer a lot of fantastic features and plenty of comfort. But which one is more worthy of your hard-earned money? Does one have a better overall design? Read this comparison review to find out.
What are some Top Features of the Daiwa Supreme Hybrid?
Let us start off by talking about the features offered on the Daiwa Supreme Hybrid massage chair. The Supreme Hybrid certainly looks futuristic, and its features reflect this. Here are our picks for some of the top features of the Daiwa Supreme Hybrid.
The HybriFlex Flexible Massage Track
What truly makes the Daiwa Supreme Hybrid a high-end, top rated massage chair is its HybriFlex Flexible Massage Track. This unique, bendable track presents users with the deepest and most natural muscle stretch available. No other chair on the market right now achieves this feat.

Its L-shaped track stems from the upper shoulder area down to the thighs. The inversion stretch it can give offers users a deeply therapeutic movement aimed at alleviating back pain and pressure.
A Wall-Hugging, Space-Saver Design
The Supreme Hybrid helps you maximize your living space with its space saving design. When reclining, the base actually swivels so that you only need the back of the chair to be 2 inches away from the wall. Other chairs can require much more space, so the Supreme Hybrid truly embraces a space-saving design.
The FullBodyReach™ MultiStroke 6-Roller System
Daiwa came up with a new FullBodyReach MultiStroke 6-Roller System for the Supreme Hybrid. The design actually separates the upper and lower massaging arms. This lets the upper one focus on the shoulders, neck, and upper back, utilizing the 3D rollers. Meanwhile, the lower arm takes care of the mid-back to the thigh area.
Upgraded Controllers​
Upgraded controllers bring the Daiwa Supreme Hybrid to the forefront of massage chair technology. Users can easily reach for the new touch-display remote. There is also a tablet screen that dynamically changes while you are using the chair.
A secondary remote can be found on the armrest console with physical controls that make adjustments with ease. The chair's built-in wireless charging and USB ports offer ways to keep your smartphone charged while you are using the chair.
Full Body Airbag Compression Massage
The Supreme Hybrid comes with a Full Body Airbag Compression Massage design. There are a total of 50 built-in airbags that utilize compression technology in order to massage your shoulders, arms, waist, legs, and feet all at the same time.
They are programmed to inflate and deflate in tandem with the chair's mechanics. The massage they give feels gentle enough but is effective at relieving pain and pressure in the targeted areas. 
Daiwa Supreme Hybrid Pros and Cons
Pros:
HybriFlex™ Flexible Massage Track
Auto body scan
Bluetooth Capable Speakers
Wall-hugger, space-saving design
Zero gravity positioning
FullBodyReach™ MultiStroke 6-Roller System
Heated knee massage
Foot Rollers
Upgraded controllers
Both wireless charging and USB ports
User Height Range: 4'8" - 6'6"
Maximum User Weight: 300 lbs.
Cons:
If you want a warranty longer than 3 years it can be pricey.
User cannot be taller than 6'6" or shorter than 4'8"
User cannot weigh more than 300 lbs.
What are some Top Features of the Kahuna SM-9300?
Now that we've talked about some of the best Daiwa Supreme Hybrid features, let's go over those found on the Kahuna SM-9300. Here are some of the top noteworthy features.
4D Massage Rollers
4D massage rollers are about as good as it gets in the world of high-end massage chairs.
The Kahuna SM-9300 is equipped with 8 rollers that are infrared heated and spaced apart just enough to hit all the body's pressure points. This allows you to find your ideal speed and pressure without a hassle.
Multiple Zero Gravity Positions
The Kahuna SM-9300's multiple zero gravity positions allow you to find the best reclining position to maximize your comfort. The zero gravity position is ideal for massage therapy because it allows the blood to flow more evenly through your body and encourages your mind to relax.
Voice Recognition
Voice recognition helps you do things from starting the chair (by simply saying "Activate Kahuna"), from standby mode to turning the heat on or off at your whim. This reduces your use of the controls and allows you to just focus on relaxing for the duration of your massage.
Auto Leg Extension
Are you on the tall side? The auto leg extension will be helpful. It adjusts for longer legs (and back again for the next, shorter user) and helps maximize the chair's ability to properly massage your legs. Users from 5'1" to 6'3" in height and up to 350 pounds can enjoy this incredible Kahuna massage chair.
Heated Foot Roller Massage
A heated foot massage at the end of a stressful day sounds nice doesn't it? A thorough foot massage can stimulate blood flow and possibly even help other parts of the body feel better.
The heated foot roller massage can loosen up the tense muscles in your feet and get those soles feeling nice and relaxed after a long day.
Kahuna SM-9300 Pros and Cons
Pros:
4D massage
Auto body scan
8 Rollers included with Infrared Ray Heating Mechanism
Multiple Zero Gravity Positions
Space saving technology
Full body air massage
Bluetooth speakers
Voice recognition
Auto leg extension
Heated foot roller massage
User Height Range: 5' 1" to 6'3"
Maximum User Weight: Under 350 lbs.
5 year parts & labor warranty is standard
Cons:
Only 2 colors to choose from.
User cannot be taller than 6'3" or shorter than 5'1"
User cannot weigh more than 350 lbs.
Daiwa Supreme Hybrid vs Kahuna SM-9300: Which Has the Better Programs?
Time to talk programs. You want to get the most out of your massage chair experience, so having the right programs matters. The Daiwa Supreme Hybrid comes with over 36 built-in massage program sessions that were designed by consulting massage therapists.
There are Mood-Based Massage Programs (Stress Relief, Royal Treatment, Refresh, and Recovery), Targeted Body Part Massage Programs (Back & Spine, Neck & Shoulder, Deep Shiatsu, and Lower Body), and Time of Day Massage Programs (Morning Buzz, Refreshing Nap, and Sweet Dreams).
This chair also comes with six massage techniques (Kneading, Tapping, Knocking, Shiatsu, Sync, and Rhythm) and has heating for the knee and lumbar areas.
The Kahuna SM-9300 massage chair has quite a few programs to choose from as well. It comes with six massage techniques: Kneading, Kneading + Knocking, Shiatsu, Tapping, Knocking, and Rolling. You also get treated to eight infrared heated massage rollers plus heating for your upper back, lower back, calf, and feet.
There are 12 automatic massage programs (Recovery, Relief, Yoga Stretching, Renew, Music Sync, End of Day, Special - Office Person, Powerful Day, Golfer Mode, Senior Mode, Dynamic Sports, and Healing). You can also choose from Full-Body and Fixed Point manual programs.
Conclusion
Both the Daiwa Supreme Hybrid and Kahuna SM-9300 will make you feel like you're being pampered, and let's face it, that's exactly what you're looking for. Both cater to your body's unique needs and both give a very nice massage.

You'll want to keep in mind their differences in warranty coverage before you decide to buy. Either way, you get some pretty good coverage for your new massage chair.
If either of these amazing massage chairs are in your price range you can't really go wrong with either, both give an exceptionally effective massage. Just make sure you're within the proper height and weight range and make sure you have room for whichever chair you decide to purchase.
Thank you for taking the time to read this comparison, we really do appreciate you. If you have any questions feel free to call us at 800-566-2798, thank you for reading!