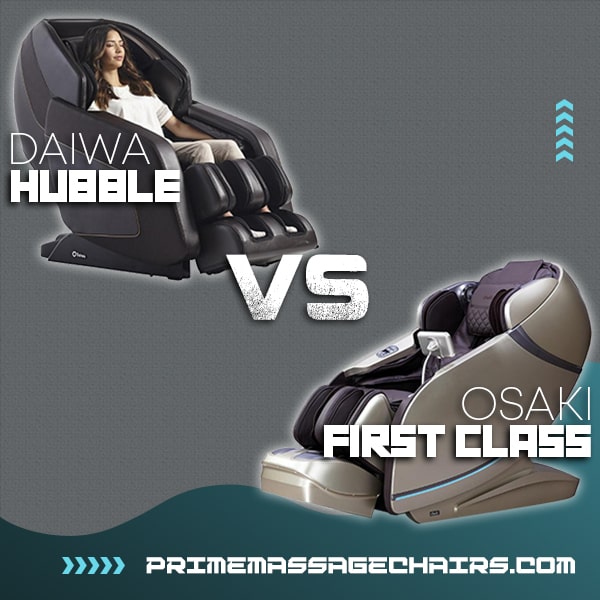 Massage Chair Comparison: Daiwa Hubble vs Osaki First Class
When you're trying to decide between a Daiwa Hubble and an Osaki First Class massage chair, it's important to ask yourself what kind of features you're looking for. Both massage chairs are similar in price, quality, and technology advancements.
However, each chair comes with a unique set of features that enhance your massage experience. No massage chair has it all, but what's the point in paying for features you don't need? The Daiwa Hubble and Osaki First Class are two high-quality chairs that cater to different lifestyles.

These massage chairs have certain features in common, like 3D rollers, an L-track design, and USB charging ports. In the end, your decision might come down to a single feature or two.
Whatever the case, you know you're getting a superb massage chair from one of the world's top brands. Here's a side-by-side comparison of the Daiwa Hubble and the Osaki First Class.
Daiwa Hubble Massage Chair Features
If you're looking for advanced features, the Daiwa Hubble has just about everything you could want in a massage chair. This chair can target your knees, upper shoulders, and additional body parts that other chairs tend to neglect.
Plus, if you don't feel like getting a massage, you can easily convert this chair into a recliner. Here's a rundown of the major features you'll get with a Daiwa Hubble.
Although they aren't the most advanced rollers on the market, 3D rollers offer more functionality and maneuverability than traditional 2D rollers. You can adjust these rollers to five different intensity settings to find your perfect massage.
Twenty-Seven Massage Programs
If you're looking for a quick massage, you can choose from one of twenty-seven pre-installed programs. Like some other Daiwa massage chairs, the Hubble offers programs that target certain areas of your body for ultimate pain relief. You can also check out the manual settings if you're looking for something more specific.
The Daiwa Hubble isn't just a massage chair—it's also a recliner. You can easily convert this chair into a recliner that looks great in your living room. This chair even has a pocket for your TV remote.
USB Charging Port
If you don't like being far from your smartphone or tablet, you can charge your device during your massage with the USB charging port. When you're done, your device will be fully charged and ready to go.
Daiwa Hubble Pros and Cons
Pros:
Offers 3D massage rollers with five different intensities
Offers an advanced surround sound system with Bluetooth capabilities
Comes with a USB charging port
Triple reflexology foot rollers
Offers an extra-relaxing zero gravity mode
L-track technology
Space saving
Therapeutic heat therapy
Uses adjustable shoulder pads to massage your upper arms and shoulders
Multi-language handheld remote
Automatic leg extension
User Height Range: 4'8" - 6'6"
Maximum User Weight: 300 lbs.
Cons:
User cannot be taller than 6'6" and shorter than 4'8"
Requires approx. 1 hour assembly
User cannot weight more than 300 lbs.
Osaki First Class Massage Chair Features
You can't beat the First Class for convenience and this is one of the most popular Osaki massage chairs on the market today. This chair offers a touch screen remote, a controller installed in the armrest, and an impressive two-stage zero gravity feature. It has a different set of features than the Daiwa Hubble, but it's a worthy investment for anyone who's looking for a relaxing experience. Here's what you can expect when you buy an Osaki First Class.
Touch Screen Remote
If you've ever had trouble using a massage chair, the Osaki First Class makes it easier than ever. The seven-inch remote comes with a full-color screen and easily accessible buttons. It's like using a tablet with your massage chair.
Other massage chairs have zero gravity mode, but the Osaki First Class offers an impressive two-stage version that makes you feel like you're floating in midair. You might not want to get up when your massage is over.
Five Different Massage Styles
With the Osaki First Class, you can choose from five different massage styles. The chair comes with Shiatsu and Swedish massage programs as well as options for flapping, grasping, and kneading. You can also choose from twenty-three pre-installed programs and a selection of custom settings.
If you can't relax without nature sounds or your favorite music, this chair has Bluetooth capabilities and top-of-the-line speakers installed right in the headrest. The sound is crisp, clear, and high-quality.
Armrest Controller
With a controller installed right in the armrest, you can control your chair without getting up or pausing your massage. The controller allows you to choose from different modes, adjust your chair settings, change the chair angle, and activate the leg and foot extensions.
Osaki First Class Pros and Cons
Pros:
Comes with 3D massage rollers that offer five different intensity levels
Starts with a body scan so the chair can target specific areas of your neck and back
L-track massage
Comes with an advanced two-stage zero gravity mode
Uses Bluetooth speakers to give you a relaxing surround sound experience
Comes with a convenient touch screen for easy system access
Has a controller built into the armrest for easy access
Features a USB charging station for your devices
Allows for air ionization therapy that treats Seasonal Affective Disorder (SAD)
Lumbar heat
Space saving
User Height Range: 5'0" - 6'0"
Maximum User Weight: 260 lbs.
Cons:
User cannot be taller than 6'0" and shorter than 5'0"
Takes approx. 1 hour to assemble
Maximum User Foot Size: US Mens Size 13
Conclusion
Overall, the Daiwa Hubble is the best option if you're looking for advanced technology. Your color options are limited, but you'll get just about everything you need in a massage chair—heat therapy, foot rollers, airbags, adjustable shoulder pads, surround sound speakers, and more.
You'll also get an impressive twenty-seven pre-installed programs, which is more than the Osaki First Class offers. This chair doesn't have all the convenience of the Osaki First Class, but it's still a great addition to your basement, living room, or recreation area.

The Osaki First Class comes in multiple colors and offers unparalleled levels of comfort and convenience. You can access the major settings right from the control panel installed in the armrest. The touch screen remote is incredibly easy to navigate, and you can save up to three massages in the system.
The Osaki First Class even features a revolutionary air ionization system that helps treat SAD during the winter. You can adjust the shoulder pads, turn on the heating system, and even charge your smartphone or tablet while you wait.
We hope you enjoyed this comparison and found it useful. If you have any questions feel free to call us at 800-566-2798. Thank you for reading!