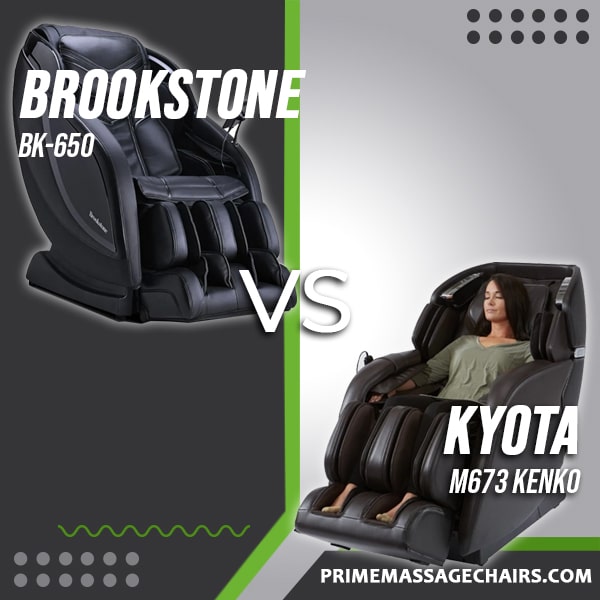 Massage Chair Comparison: Brookstone BK-650 vs Kyota M673 Kenko
In today's fast-paced, output-driven society, it's easy to forget to take care of the only body you'll get for this lifetime. And finding ways to treat yourself in a healthy way is often challenging when there are so many self-destructive vices out there.
Those who come home to a massage chair, though, have a luxury that makes their body and their life easier to keep up with. But with all the options out there, it's hard to find the perfect chair for you.
For those choosing between the Brookstone BK-650 and the Kyota M673 Kenko, two quality massage chair options, here are some of the basics that will help you make a well-informed choice.
Brookstone BK-650 Top Features
The BK-650 from Brookstone comes in three color options: blue/black, brown/black, or black. The black is a constant in the siding, headrest, and certain areas of the trim, which helps to create an overall neat and stylish, well-shaped chair design.
The chair includes a heated lumbar and a zero-gravity recline that work together to make your body open and ready to receive the best possible massage.
3D Massage Rollers
These give the massage heads the ability to travel vertically, moving in an upward and downward motion as well as horizontally and in and out. With these rollers, users are given as much control as possible over how deep their massage goes and how strong it gets.
L-Shaped Track
The L-track allows the 3D quad-style roller mechanism to move in a smooth gliding motion across the entire length of your back. The rollers go from the base of the neck, then follow your spine, and finishes by wrapping down beneath the glutes.
Body Scanning
The body scan is instrumental in helping to provide this chair with its unbridled capabilities. It enables the massages it gives to be highly accurate, hitting all the spots it needs to in order to relieve as much tension as possible.
At the same time, this scan makes sure not to hit the places that cause pain to the shoulder blades and other sensitive areas. This scan is also instrumental in ensuring smooth and even pressure application throughout the massage so every muscle receives an optimal experience.
Airbag Massage
With the use of an air compression massage, different parts of your body are compressed in extremely relaxing waves. This is a great way of stimulating your circulatory system, which helps make for a quicker recovery time when dealing with injuries.

Your hands, arms, feet, calves, and shoulders all receive their own special treatment from this compression system. There are a total of 46 airbags that are a part of this system, working various parts of your body to total relaxation.
Foot Rollers
The feet aren't left out of this massage experience, either. With the help of a system of spinning rollers, the chair's mechanisms work along the soles of the feet with an extremely gentle kneading motion. It takes no time at all for tension, aches, and pains to disappear from even the most worn-out feet.
Voice Activation
This Brookstone BK-650 also features vocal commands. By syncing your chair with an Alexa or Google device (not included), you can be completely hands-free while your main focus is relaxation. These systems must be purchased separately, and you have to make sure you download the corresponding app before trying to use the voice activation system.

The speakers that this chair is equipped with are Bluetooth-friendly, pairing up easily and seamlessly to your smartphone. This gives users the capability to listen to exactly what they want to while your body is treated to an incredible massage experience.
Brookstone BK-650 Pros and Cons
Pros:
Body scanning
L-track technology
3d massage rollers
Zero gravity reclining
Optional voice control
Bluetooth compatible speakers
Lumbar & calf heat
Chromotherapy lighting
Touchscreen Tablet Remote
User Height Range: 5'0" - 6'3"
Maximum User Weight: 320 lbs.
Cons:
Only a few colors to choose from
User cannot be taller than 6'3" or shorter than 5'0"
User cannot weigh more than 320 lbs.
Takes approximately one hour to assemble
Kyota M673 Kenko Top Features
With the M673 Kenko from Kyota, you're given black or brown as your two simple but elegant color choices. The heated lumbar and space-saving design are just two of the main highlights of this massage chair experience.
3D Massage
Users love this chair's massage rollers for their realistic and authentic-feeling imitation of the patterns and behavior of a massage given by a real person. It covers all the axis - from up and down, in and out, and side to side — and every motion feels as genuine as possible and not just like a programmed machine.
This chair's 3D system makes for the smoothest possible massage from your neck, to your shoulders, and extending down to the glutes.
Full-Body Scanning
This type of advanced analysis is instrumental in getting the best massage for you and not somebody else. Every body is unique, so the full-body scan provides you with a fully customized experience.
Lumbar Heat
Heat is something that many people rely on to get their muscles to fully relax. This chair's built-in heating pad loosens up the muscles and maximizes the benefits of your massage.
True Zero Gravity Reclining
This is the technology developed by NASA that involves raising up the calves above the user's heart. In so doing, the cardiovascular system can benefit from the relieved tension, and the spine can potentially benefit from the relief from pressure.
This position enhances everything about your massage, which is no surprise since numerous experts consider it to be the best possible position to be in when you receive a massage.
Space-Efficient
This is a chair that doesn't take up the entire room. The advanced space-saving technology allows users to place the headrest as close as four inches away from their wall and still be able to recline fully.
Calf Massage System
Don't worry - your calves are not forgotten with this chair. The calf massage system has a far greater length than most other chairs on the market. This system combines the use of node pressure points with an air massage to relieve the knees of tension and pressure all the way down to the feet.
Foot Rollers With Reflexology
These rollers give your feet a complete treatment accentuating the pressure points of reflexology, which are believed to activate your body's natural ability to heal itself through the immune system. Compression therapy is added as well to create the perfect storm of relaxation for your feet.
Kyota M673 Kenko Pros and Cons
Pros:
3D massage rollers
Body scan technology
Lumbar heat
Accu-shoulder compression
True zero-gravity position
Space saver
Foot rollers with reflexology
Easy-to-use remote
Bluetooth-capable speakers
User Height Range: 4'10" - 6'4"
Maximum User Weight: 300 lbs.
Cons:
Only 2 colors to choose from
User cannot be taller than 6'4" or shorter than 4'10"
User cannot weigh more than 300 lbs.
Takes approximately one hour to assemble
Conclusion
The Brookstone BK-650 and Kyota M673 Kenko offer unique benefits to their users. Both are excellent massage chair options that provide superior relaxing experiences.
Those who are looking for something that saves space, provides an unbeatable arm compression massage, and puts you in a truly weightless position might be better off with the Kyota M673 Kenko massage chair. If you value hands-free voice commands and heat in more places, then the Brookstone BK-650 massage chair may be right for you.
We hope you enjoyed this comparison and found it helpful. If you have any questions feel free to call us at 800-566-2798. Thank you for reading!