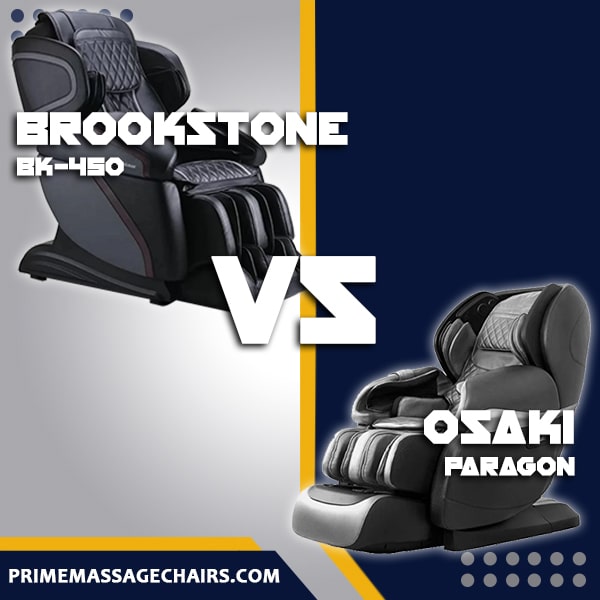 Massage Chair Comparison: Brookstone BK-450 vs Osaki Paragon
Some people prefer to keep it simple. If you're one of those people, you might like the Brookstone BK-450 massage chair. The Brookstone has just about everything you need in a massage chair with no extraneous features.
While some massage chairs look bulky and awkward in your living room, the Brookstone BK-450 has an attractive design that reminds you of designer furniture. It's advanced but streamlined and simple enough for just about anyone to use. The only downside is that it doesn't have the most advanced rollers—you'll get 3D rollers instead of the more advanced 4D version with the Brookstone.
Conversely, the Osaki Paragon massage chair comes loaded with technologically advanced features. If you've never owned a massage chair before, you might find the Osaki Paragon to be a little overwhelming. But if you're a massage chair enthusiast, the Osaki Paragon offers plenty of ways to upgrade your routine.
One of the most popular features is the voice recognition technology that makes it easier than ever to customize your experience. If you're still not sure which option is right for you, here's a rundown of the features that each massage chair offers.
What Makes the Brookstone BK-450 a Quality Massage Chair?
Sometimes, a simple but efficient massage chair is all you need. Here's what makes the Brookstone BK-450 a good chair for personal use.
Convenient Hand-Held Remote
You won't enjoy your session if you have trouble operating your chair in the first place. Fortunately, this Brookstone massage chair comes with a convenient hand-held remote that resembles a TV remote with a digital screen. Anyone can operate this chair even if they're not great with technology.
They're not quite as advanced as 4D rollers, but these rollers do have four different intensity options. The 3D rollers are a good option for first-time users who might find 4D rollers to be a little overwhelming.
Attractive Design
The Brookstone BK-450 looks less like a classic massage chair and more like an attractive piece of furniture. You'll enjoy sitting in this chair even if you don't use the massage function.
Everyone who sits in this massage chair has a unique body shape. The Brookstone BK-450 uses body-scanning technology to customize each massage to the contours of your body. Even if you gain or lose weight over time, you'll still enjoy the perfect massage.
Brookstone BK-450 Pros and Cons
Pros:
L-track technology
3D massage rollers
Body scan technology
Zero gravity positioning
Foot rollers
Heat therapy
LCD remote control
Uses air compression to improve blood circulation
User Height Range: 5'0 - 6'2"
Max Weight Capacity: 320 lbs.
Cons:
User cannot be taller than 6'2" or shorter than 5'0.
User cannot weigh more than 320 lbs.
Why Should You Invest in the Osaki Paragon?
The Osaki Paragon is a good massage chair for people who want the latest and greatest technology. It doesn't have every feature on the market, but it has a lot of advanced features that make this chair worth your investment.
It doesn't get much better than 4D rollers. These advanced rollers can move in virtually any direction to give you a high-intensity massage. Better yet, you can adjust these rollers to your preferred speed.
Voice Recognition Technology
This Osaki massage chair comes pre-programmed with nine different voice commands. You can adjust your massage, turn on zero gravity mode, and turn off the chair without picking up the remote.
Your legs work just as hard as your back does. Over time, they can develop sore muscles, inflamed joints, and chronic pain issues. The Osaki Paragon offers calf rollers and airbags that massage your legs during your session.
Bluetooth Speakers
If you have trouble relaxing, try using the Bluetooth speakers to play a guided meditation, nature sounds, white noise, soothing music, and anything else that helps you relax into your massage. The Osaki Paragon even syncs your massage to the music that you play.
Osaki Paragon Pros and Cons
Pros:
Comes with advanced 4D rollers
Heated back rollers
L-track technology
Body scan technology
Zero gravity positioning
Relieves foot pain with heated foot rollers
Space saving technology
Bluetooth capable speakers
LED remote with remote pocket
Offers voice recognition technology for easier use
User Height Range: 5'0" - 6'2"
Maximum User Weight: 280 lbs.
Cons:
Takes approx. 1 hour to assemble
User cannot be taller than 6'2" or shorter than 5'0
User cannot weigh more than 320 lbs.
Conclusion
If you're an experienced massage chair user or a new user who wants to jump right in, treat yourself to the Osaki Paragon massage chair. Otherwise, you might want to start off with the Brookstone BK-450.
They're both high-quality massage chairs, the Brookstone BK-450 is a reliable chair that everyone in your family can enjoy. The Osaki Paragon comes with 4D rollers that add more intensity to your massage sessions.

Both chairs have a distinct, eye-catching design that's hard to miss. The Brookstone BK-450 looks more like a recliner while the Osaki Paragon has a strikingly futuristic appearance. In general, if you're wondering which massage chair is best there are several models to choose from and it will depend on your specific needs.
If you plan on keeping the chair in your living room or another visible area, the appearance is nearly as important as the programs and features. Before you make your decision, try to imagine each chair in your living room and think about how it complements⁠—or clashes with⁠—your décor.
We hope you enjoyed this comparison and found it helpful. If you have any questions feel free to call us at 800-566-2798. Thank you for reading!