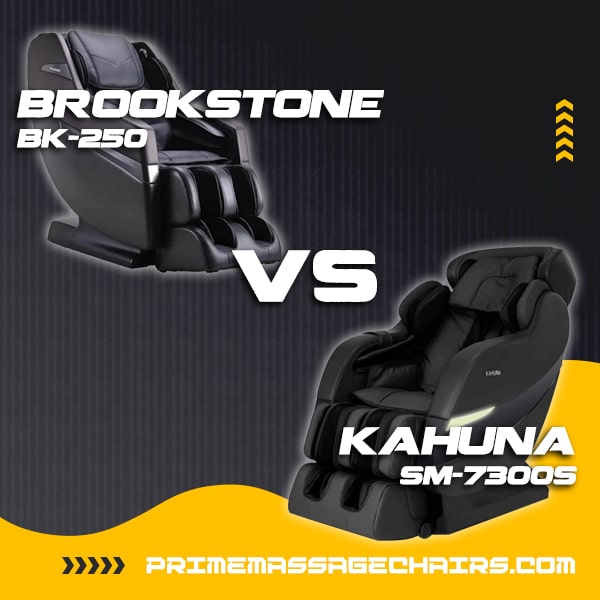 Massage Chair Comparison: Brookstone BK-250 vs Kahuna SM-7300S
We've decided to do a comparison between two massage chairs from well established brands, the Brookstone BK-250 and the Kahuna SM-7300S and we hope you enjoy it.
It's a tough choice, so to make it a little easier for you, we've created this comparison guide that takes you through the unique features of each chair.
Seeing the details laid out can help you decide if either chair is right for you. Now let's dive in and discuss the similarities and differences between these two massage chairs.
Key Features of the Brookstone BK-250 Massage Chair
The BK-250 from Brookstone comes with an impressive assortment of features, but for now, let's address the key features that probably drew you to this massage chair in the first place.
L-Track Technology
The 2D roller mechanism follows the curve of your spine and addresses each major muscle group, starting at your neck and ending at your glutes.
Body-Scan Technology
The body-scan technology ensures that you receive pressure in all the right areas and get the massage that's meant for your body.
One-Touch Zero Gravity
With just one button press, the chair will recline into a position that puts your knees above your heart to take pressure off your spine. The zero gravity position is thought to be the ideal position to enjoy a massage.
Foot Rollers
Rollers gently knead your feet to provide a relaxing foot massage that's perfect for aching or tired feet.
Air Compression Massage
Air compression is applied to stimulate your circulatory system, which can help you recover from injuries or eliminate toxins inside your body.
Automatic Massage Programs
Five auto massage programs come with the chair: Relax, Stretch, Upper Back, Lower Back, and Demo.
Heat Therapy
Heat targets the lumbar area of your back to help relieve pain by relaxing your muscles.
Bluetooth Speakers
The chair comes with built-in speakers so you can connect your compatible device and listen to your favorite tunes while you relax.
Pros and Cons of the Brookstone BK-250
Pros
L-track technology
Body scan technology
Zero gravity positioning
Heat therapy
Bluetooth capable speakers
Foot rollers
LCD remote control
User Height Range: 5'0" - 6'2"
Maximum Weight Capacity: 320 lbs.
Cons
2D massage rollers
Limited colors to choose from
User cannot be taller than 6'2" or shorter than 5'0"
User cannot weigh more than 320 lbs.

https://cdn.shopify.com/s/files/1/2444/6637/files/Check-Price-button.jpg?v=1620258082
Key Features of the Kahuna SM-7300S Massage Chair
Just like the BK-250, the SM-7300S from Kahuna massage chairs is packed full of fun and relaxing features. Here are a few of the top features of the massage chair you should pay close attention to while doing your research:
Bluetooth Capable Speakers
You can listen to your favorite music while relaxing in your chair by simply connecting your phone or another compatible device.
SL-track with Six Wheels Roller System

This massage chair follows the natural curves of your spine to provide a relaxing massage.
3 Levels of Zero Gravity Reclining
Zero gravity settings allow your weight to be spread across the chair, which relieves stress on your body.
Space-Saving Technology
The massage chair only needs to be three and a half inches from the wall while you use the zero gravity settings.
Auto Smart Body Scan
The scanner detects your body size to provide you with a custom massage. An accurate body scan is needed to ensure you get the massage meant for your body.
Heated Therapy
Heat therapy can be used on your lower back and legs for maximum relaxation. A nice warm massage at the end of a long day can help alleviate tension and stress.
Air-Cell Massage Technology
The airbags inflate separately to encourage better blood circulation and provide a full body air massage from the shoulders to the feet.
Yoga Stretching Program

Your legs and shoulders are held by the chair as it reclines in the opposite direction to provide a stretching sensation. While it does offer a stretch program, this is an L-track chair (so is the BK-250) and most S-track massage chairs offer a better stretch due to the design of the track.
Pros and Cons of the Kahuna SM-7300S
Pros
The Kahuna 7300S comes with Dynamic, Sv-Chiro, Active, and Yoga stretching programs.
There are three different zero gravity levels for you to choose from.
Space saving technology
Bluetooth capable speakers
Auto smart body scan
Heat therapy
SL-Track with 6 Wheels Roller System
The 7300S can accommodate users of heights between five feet and six feet, five inches.
This chair can hold a user up to 320 pounds.
Cons
2D massage rollers
Only 2 colors to choose from
Assembly is required (takes approximately an hour)
User cannot be taller 6'5" or shorter than 5'0"
User cannot weigh more than 320 lbs.
Main Similarities Between the BK-250 and the SM-7300S
These two massage chairs have a lot of good things in common. Here are a few of their most notable similarities:
Both the Brookstone and the Kahuna use a 2D roller type.
Both chairs come with at least one zero gravity option.
Both massage chairs are made of synthetic leather.
Both options have automatic and manual programs available.
Both massage chairs have a weight limit of 320 pounds.
Both chairs have heat features for the back area.
As you can see there are several similarities between these two chairs.
Main Differences Between the BK-250 and the SM-7300S
When it comes to important differences, there are a few you should be aware of before you make your choice. Even the smallest details can make a difference when you're choosing between two massage chairs, so let's jump in and explore them.
The Kahuna comes with eight more automatic programs than the Brookstone.
The Brookstone chair is thirty-one pounds lighter than the Kahuna chair.
The Kahuna can sit three and a half inches from the wall, while the Brookstone needs six inches.
The Kahuna can accommodate users up to six feet, five inches while the Brookstone only goes up to six feet, two inches.
The Kahuna offers more stretching programs than the Brookstone.
The SM-7300S has three levels of zero gravity while the BK-250 has only one.
Both chairs offer a variety of useful features, and we're not here to say that one is better than the other. Both are entry-level massage chairs, and it's up to you to weigh the similarities and differences so you can make the choice that's right for you.
Conclusion
Now that you have more information about each chair, it should be a little easier to make your decision. Remember to consider factors like how much space you need for your chair, what features will be the most useful for you, which type of programs you need, and how the massage chair will fit into your existing routine.
Keep the differences between the chairs in mind too as you do your research, they can make a big difference when it comes to your user experience.
A massage chair is a big purchase for most people, and you should take your time making a final decision. This isn't a purchase that you'll make every day so it's worth doing the research and getting the right chair the first time.
We hope you enjoyed this massage chair comparison and found it useful. If you have any questions feel free to call us at 800-566-2798.