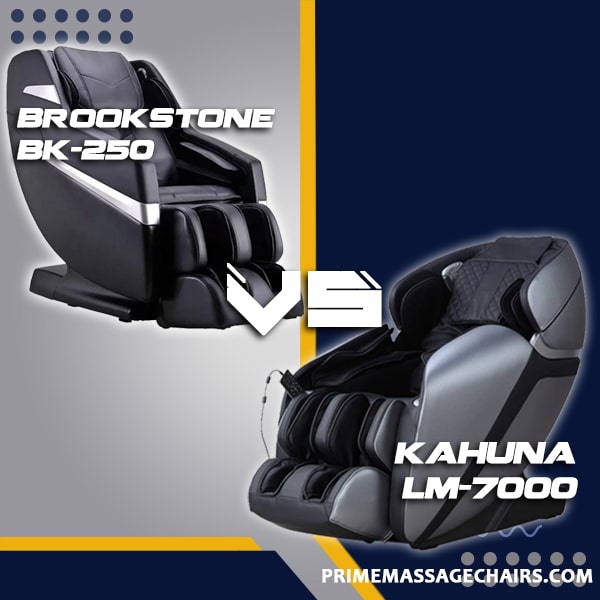 Massage Chair Comparison: Brookstone BK-250 vs Kahuna LM-7000
Trying to find the right massage chair can feel like a daunting task. There are tons of options on the market, and some are indeed better than others. To simplify things a bit, let's focus on the Brookstone BK-250 massage chair and how it compares to the Kahuna LM-7000 massage chair.

This review will go over which features each massage chair comes with, which one has the most abundant and functional programs, and their overall pros and cons. Be sure to read on until the end so you can go into your buying decision feeling confident and excited about your new massage chair.
Which Features Does the Brookstone BK-250 Offer?
Let's kick things off by talking about the Brookstone BK-250 and which features it has to offer.

Let's go deeper into a few of the BK-250's top-rated features: L-track technology, body scan, air compression massage, zero gravity, and reflexology foot massage.
The L-Track
The BK-250 is designed with L-track technology. The idea behind L-track technology is that it follows along the curvature of your spine. The truth is that everyone's spine is a little different. Some people have longer spines, and some people have more curvature of the spine due to conditions like scoliosis and other spinal deformities.
The L-track utilizes the chair's 2D quad-style roller mechanism to smoothly roll across every single muscle group, starting from the base of the neck and working all the way down to the area just beneath your glutes. In other words, this targets all the key muscle groups surrounding the spine.
The body scan technology that Brookstone put into the BK-250 works alongside the L-track by ensuring that the massage rollers hit all of the critical areas around your spine without causing any pain across your shoulder blades. Body scan technology also helps the rollers apply consistent amounts of pressure to those muscle groups along your spine.
Air Compression Massage
The BK-250's air compression massage function sends waves of full-body air compression to help stimulate the body's circulatory system. Not only can this potentially help remove harmful toxins from the body, but it can speed up the recovery process.
This soothing air compression massage feature extends to your shoulders, arms, hands, calves, and feet. In other words, this gives you full-body relaxation.

The BK-250 has a one-touch zero gravity design that lifts the knees up above the heart, relieving pressure from the spine. This is meant to create a more even massage. With just one quick press of the button, you can get the BK-250 to recline into just the right position for you.
Reflexology Foot Massage
If you know anything at all about reflexology, then you know how the application of pressure on different parts of the feet can alleviate pain throughout the body and promote deeper relaxation. The ancient practice of reflexology has whole-body benefits, even improving your sleep and your circulation.
The BK-250 has massage rollers that go along the soles of your feet and apply pressure in order to create a more complex foot massage that benefits the rest of your body.
Which Features Does the Kahuna LM-7000 Offer?
Time to switch over to discuss the features offered on the Kahuna LM-7000. While its price is below the Brookstone BK-250, it does have quite a few of the same features. It also comes with a two-year parts and labor warranty.
When it comes to our top five favorite features on the Kahuna LM-7000, we happen to like the airbag and roller system, fixed SPOT target manual massage, Bluetooth speakers, heated massage, and the anti-stress massage function.
The Airbag and Roller System
Kahuna has outfitted the LM-7000 with an airbag and roller system that has airbags placed at the knees and shoulders to secure your legs and upper body better for the massage rollers. There are also foot rollers that give you an acupressure-style massage on the soles of your feet.
Fixed SPOT Target Manual Massage
While the automatic massage programs are helpful, the manual ones give you the ability to focus on particular areas. The fixed SPOT target manual massage allows you to select your type of massage and set it for a particular problem area as well as the massage intensity. Wherever you need to release the most tension, you can set it for that spot.
Bluetooth Speakers
Listen to your favorite tunes as you sit and relax with the built-in Bluetooth speakers. Simply pair them up with your smartphone, and you can enjoy listening to anything you can access from your phone. The speakers have a clear sound quality and will not get in the way during the massage.
A heated massage allows for increased release of tension from targeted muscle groups. It feels relaxing and gets to just the right temperature. All it takes is the click of a button, and the system will heat up quickly.
Anti-Stress Massage
The LM-7000's anti-stress massage is a strong upper neck and shoulder massage system that has a full range of motion. The anti-stress massage starts at the shoulder blades. Then, it works upward in order to relieve stress from the cervical spine.
What Programs Are Available for Each Chair?
When it comes to programs, the Brookstone BK-250 comes with five automatic programs as well as manual ones. There are no memory programs. Massage techniques include shiatsu, kneading, clapping, tapping, Swedish, rolling, and dual action. Spot and partial massages are also included.

The Kahuna LM-7000 offers twelve total automatic programs, including yoga stretching, renew, deep tissue, beauty, and sleep aid. Both lower and upper body massages have auto programs. Any of the manual massages can be accessed via voice control. The commands are easy to use, and the system does a good job of recognizing them.
Brookstone BK-250 Pros & Cons
Pros:
Foot Rollers
L-track technology
One-touch zero gravity activation
Body scan gives you a personalized massage
Heat therapy
Bluetooth capable speakers
LCD remote control
User Height Range: 5'0" - 6'2"
Maximum Weight Capacity: 320 lbs.
Cons:
User cannot be taller than 6'2" or shorter than 5'0"
User cannot weigh more than 320 lbs.
Kahuna LM-7000 Pros & Cons
Pros:
Arrives fully assembled
Three zero gravity modes
Twelve automatic programs
Voice control makes the chair easier to use
Heat therapy
Bluetooth capable speakers
USB charging station
Foot rollers
User Height Range: 5'1" to 6'2"
Maximum User Weight: 280 lbs.
Cons:
User cannot be taller than 6'2" tall and shorter than 5'1"
Not suitable for users over 280 pounds
Conclusion
When trying to decide between the Brookstone BK-250 and the Kahuna LM-7000, the choice might seem difficult at first. They both have a lot of desirable features and provide relaxing experiences time and time again.
The Kahuna has a deep tissue massage function that can help alleviate a lot of muscle aches and pains. The three zero gravity modes further enhance your experience and let you customize your massage to a high degree.
The BK-250 is also a smart choice since it has the L-track technology and the body scanner, which also serves to customize your massage.
We hope this article has helped you see more clearly which massage chair will work best for you. Thank you for taking the time to read this comparison, we really do appreciate you. If you have any questions feel free to call us at 800-566-2798.