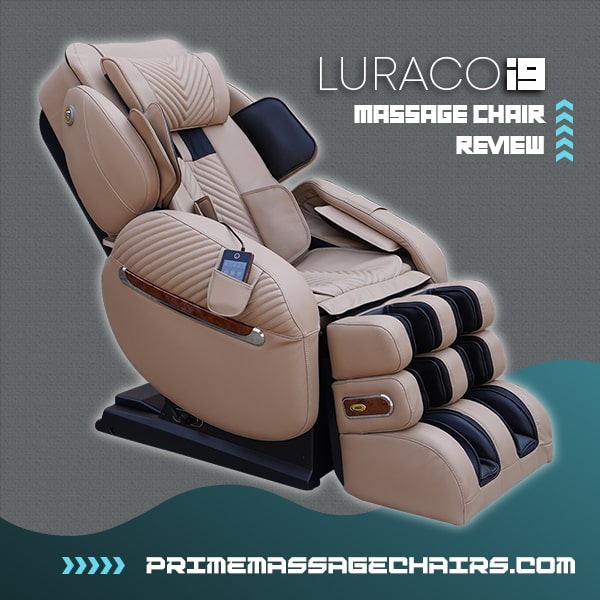 Luraco i9 Medical Massage Chair Review
If you're looking for a way to relieve the stress from day-to-day life with a versatile product made in the USA, then the Luraco iRobotics 9 massage chair may be a great choice for you. Boasting a broad range of features, this medical massage chair can be ideal for getting the kinks out while you unwind from a busy day.

This chair is the result of extensive research and development coming together to create innovative new ways of massaging and relaxing users. This Luraco i9 massage chair review will discuss the benefits of this chair so you can make an informed buying decision.
We really like all the features and benefits of the i9, the fact that it's made in the USA, the rigorous quality testing each chair must go through, and the car-quality leather. With that being said let's discuss some additional features below.
What Makes the Luraco iRobotics 9 Massage Chair So Great?
The Luraco i9 is made in the USA. Arlington, Texas, is where the research and development team is headquartered, and that's where the product ships from when you order it.
You can also be sure that the Luraco team put the same care and attention to detail in this model as they do with all their other products. The development of the i9, with all its included features, took the company quite some time. The result is a massage chair experience that is highly advanced and boasts superior results.
The research and development that Luraco has undertaken to craft the pioneering technology behind this chair have led to seven U.S. patents, with several more patents in the works. One of these is the Split L-Track, which takes the best of both worlds from the existing S-track and L-track designs of previous massage chairs.
Provides Needed Relief
The iRobotics 9 chair is a great way to find relief from stress, but it can also be ideal for working out chronic musculoskeletal issues. These often occur from working jobs that require you to sit at a desk for hours at a time. Of course, before you sit in and try any massage chair it's always recommended to consult your doctor, and get approval, if you have any pre-existing medical conditions.
Whether it's your upper back, lower back, or arms that tend to get sore by the end of the day, the i9 uses its advanced technology to try and make you feel your very best.
A massage from this chair can also be great for those with extremely physically demanding jobs that put excessive strain on certain parts of the body. The muscular relaxation and relief from stress and tension may help prevent serious injuries from developing later down the line.
Extended Warranty
If you order from us, this massage chair comes with a free extended 5-year manufacturer warranty for your added peace of mind. Down the road, if you were to have any problems with the chair, you'll be able to talk to the manufacturer and resolve the issue.
Inclusive Height and Weight Range
One of the key advantages of this particular model is that it works just as well for taller people as it does for those on the shorter end of the spectrum. The i9 is suitable for people as tall as six feet, ten inches and as short as four feet, seven inches.
It can also support a weight of up to 300 pounds, making it possible for more people to enjoy this chair's impressive benefits. It's important to note that you need a minimum of thirty inches between the wall and the front of this chair. The same clearance is also needed for the backrest.
Only twelves inches of clearance are needed for the armrest closest to the wall. Without the proper amount of clearance, you won't be able to enjoy the full benefits of reclining in this chair, and you might risk damaging it.
User-Friendly
A touch screen interface makes everything about this product extremely user-friendly.
You don't have to become an expert in massage technology to experience its benefits. With a few quick and simple taps on the controller screen, you can personalize your experience to get the exact massage that you need.
Luraco i9 Review: Top Features
Armrests Provide Easy Entry
The sliding armrests make it easier to get in and out of the chair.

This is ideal for users who have limited mobility, such as the elderly or those with physical challenges.
Heat Therapy
To complement the relaxing effects of a massage, heat applied to the hands, feet, and lower back can further soothe the muscles. Heated massage is known to help relieve tired and sore muscles, adding to the overall enjoyment of the massage.
Improved Airbags
With the modified airbag locations, the i9 provides a superior full body air massage that you would expect from a premium massage chair. The airbags work together with the massage rollers to give users an enjoyable and therapeutic experience not soon to be forgotten.
Other Features
Memory to save five users' settings
Five levels of massage intensity in six independent areas
Zero gravity reclining allows for a heightened state of relaxation
Luraco i9 Pros and Cons
Pros:
Comfortable for users of a wide range of heights
Made in the USA
Genuine car-quality leather
Easy entry armrests
Heat therapy (hands, lower back, feet)
Zero gravity reclining
Body Scanning
3D massage rollers
Noise reduction technology
Bluetooth capability
Touchscreen controller
Patented split l-track
Arm rollers
Patented foot and calf rollers
9 preset programs
User Height Range: 4'7" to 6'10
Maximum User Weight: Up to 300 lbs.
Cons:
Higher price point but that's to be expected
Requires wide clearance from the front, back, and sides of the chair
User cannot be taller than 6'10 or shorter than 4'7"
User cannot weigh more than 300 lbs.

Conclusion
The Luraco i9 medical massage chair uses innovative technology to provide a unique massage experience with superior results. It's suitable for a wide range of users and boasts features that put it in a league of its own. All of its advanced capabilities are accessed using an easy-to-navigate interface.
We feel the iRobotics 9 massage chair is one of the very best on the market today. With that being said, there's no way to know for sure if this is the right chair for you unless you physically sit in the chair and try it for yourself, we always recommend trying before you buy.
We hope you've enjoyed our Luraco i9 medical massage chair review and found it useful. If you have any questions feel free to give us a call at 800-566-2798. Thank you for reading!