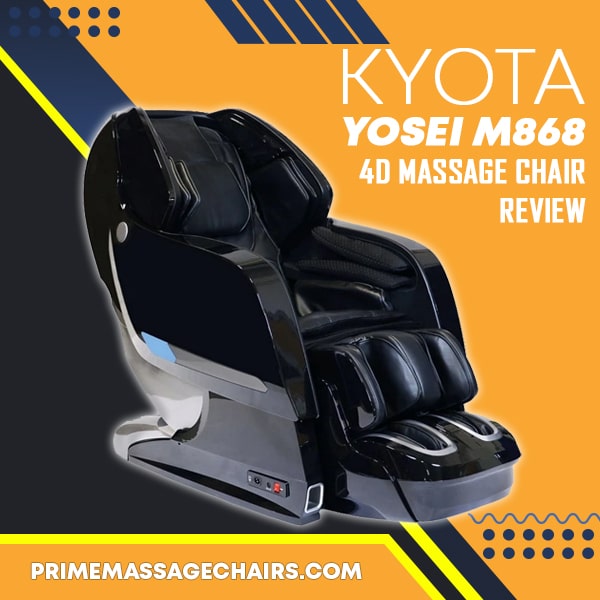 Kyota Yosei M868 4D Massage Chair Review
When you first see the Kyota Yosei M868 4D massage chair, you may think it looks like a massage chair from the future. This chair features a shiny exterior, textured fabrics, and a pod at the bottom where you can rest your feet.
To complement the futuristic look, the Kyota Yosei M868 comes with high-tech features like 4D rollers, air ionization technology, and chromotherapy lighting.
If this sounds intriguing, read this Kyota Yosei M868 massage chair review to learn what you need to know about this fully-equipped chair.
Some people like the versatility of 4D rollers but find them to be a little overwhelming. Fortunately, the  Kyota Yosei M868 allows you to adjust the intensity to your ideal level. You can also turn on other features like the foot rollers, lumbar heat, and spinal correction to enhance your massage.
You can even save your settings in the chair so you can activate your favorite program instantly. In this Kyota Yosei M868 review, you'll learn about some of the top features with the pros and cons.
What Makes the Kyota Yosei M868 a Quality Massage Chair?
The Kyota Yosei M868 is just as impressive as it looks. Here's a rundown of the most valuable features.
Adjustable 4D Rollers
The 4D rollers alone are an impressive addition, but you can customize the rollers with five different intensity levels. Your first instinct might be to start with the highest intensity, but this may be a little overwhelming if you haven't had a massage in a while.
Try starting with the lowest intensity and gradually advancing until you find the right setting for you.
Air Ionization Feature
Deep breathing is one of the most common relaxation techniques. If you're having trouble taking a deep breath, turn on the air ionization feature to freshen the air around you.

The Kyota Yosei M868 even collects information about the air quality and displays it on the remote.
Spinal Correction
Sometimes a massage isn't enough. The Kyota Yosei M868's spinal correction feature stretches and compresses your spine to ease tension and reduce back pain. You could use this feature to prepare for your massage or relieve back pain at the end of the day. It may also help you improve your posture.
Music Syncing
Playing music through the Bluetooth speakers can help you relax, but it can also distract you if the music doesn't sync up to your massage.
The Yosei M868 from Kyota comes with a rhythm feature that syncs the music to your massage program. You'll feel like you're melting into the chair when your massage and music line up.
Chromotherapy Lights
Experience the power of mood lighting with chromotherapy lights that make use of the entire color spectrum. Certain colors can help you relax, get to sleep, relieve pain, and reduce your racing thoughts.
Foot Rollers
No massage chair is complete without a set of foot rollers and the Kyota Yosei has you covered. Please note that the maximum user foot size is a US men's size 13 due to the enclosed nature of the foot massager.
These rollers mimic the feel of human hands that massage your pressure points and relieve tension on the bottom of your feet.
Kyota Yosei M868 Pros and Cons
Pros:
Has zero gravity mode to make you feel weightless during your session
Comes with Bluetooth speakers and a rhythm feature that syncs up the massage to your music
Offers five different intensities for the 4D rollers
Comes with advanced foot rollers that massage the pressure points on the bottom of your feet
Uses chromotherapy lighting to improve your mental health with the power of colors
Space saving technology
Uses an innovative spinal correction feature that compresses your spine
Comes with vents that ionize the air around you during your massage
Comes with USB charging port
User Height Range: 5'0" - 6'6"
Maximum User Weight: 300 lbs.
Cons:
Maximum User Foot Size: US Men's Size 13
User cannot be taller than 6'6" or shorter than 5'0"
User cannot weigh more than 300 lbs.
Conclusion
The Kyota Yosei M868 offers the perfect combination of advanced features and classic functionality. To start, you'll get 4D rollers with five intensity levels and several pre-installed programs. You can stretch your spine, massage your neck, heat your lower back, and improve the circulation in your feet—all in one session.
For extra relaxation, turn on the chromotherapy lights and enjoy the power of mood lighting. You might even find that you breathe more easily when you use the air ionization feature. After all, the more relaxed you are, the more you'll get out of your massage.

Mental relaxation is just as important as physical relaxation. If you're having trouble letting go of the day's stress, use the Bluetooth speakers to play your favorite music and ambient sounds. The Kyota Yosei M868 can even sync up its massage to the rhythm of your music.
Some people might find all the features to be a little overwhelming, but the Kyota Yosei M868 is great if you're looking for a top of the line chair that has virtually everything. The futuristic design also makes this chair an excellent conversation piece.
If you'd like to talk to us about the Kyota Yosei M868 (or any other chair) feel free to give us a call at 800-566-2798. Thank you for your reading!