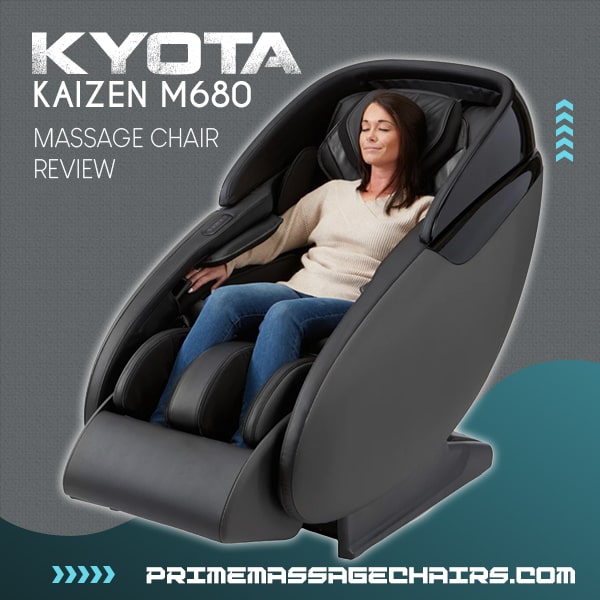 Kyota Kaizen M680 Massage Chair Review
The Kyota Kaizen M680 is a full body massage chair that comes with many desirable features — Bluetooth speakers, foot reflexology rollers, heating functions, zero-gravity recline, and more. However, its defining characteristic is the 3D/4D massaging mechanism on its L-shaped track.
So does this function really add another level to your massage experience? To learn more about this feature as well as the other amenities, read through our Kyota Kaizen M680 massage chair review below. 
What are some Top Features of the Kyota Kaizen M680 Massage Chair?
Ultimately, the M680 offers a luxurious, spa-like experience that can be used comfortably in any room of your home thanks to its space-saving design.
The Kyota Kaizen M680 massage chair has a slew of standard features that rivals what other brands offer in their higher-end models. The following are some of the top features and functions that you can use on the M680.
6-Node 3D Back Mechanism
As previously mentioned, the M680 massage chair's most notable feature is probably its 6-node 3D back mechanism. These massage rollers will roll up and down starting at your neck and traveling down to your glutes.

As the rollers proceed, they will compress the muscles by employing tapping and kneading motions. This helps to relieve tension from your sore, tired, and achy muscles; it offers a great way to wind down after a long day at work or after an intense workout.


Zero Gravity Recline
Accessing the zero-gravity recline is easy via the quick access controls. With a push of a button, the chair will recline back to raise your feet over your heart.
This position will provide a "near-weightless" sensation that promotes increased circulation and improved spinal decompression. You get three levels of zero-gravity reclining with the M680.
The M680 is also built with Zero Wall Fit™ Space-Saving Technology, which means the chair will slide forward as you recline. You'll just need 2 inches of wall clearance to lean back into the full zero-gravity position.
TrueFit Body Scanning
The Kaizen M680 massage chair comes with body scanning technology and software that will let it pinpoint your unique shape and size. This allows the chair to better customize a massage that fits right to your body.
The rollers can hit the muscles in the right places and not go off-kilter, leaving some spots unattended. While other massage chairs do offer body scanning, the TrueFit body scanning system does a very thorough job.
Targeted Arm Therapy
Not every massage chair caters to your arms, but the Kyota Kaizen M680 massage chair does. This targeted arm therapy can alleviate your arm, wrist, and hand tension while improving circulation in those areas.
Simply kick back and take pleasure in how the chair's massage functions mimic human hands rubbing your sore arm muscles.
Another standout feature is the exclusive Advanced Kneading Arm Mechanism. If you do a lot of typing or manual work that leaves your hands and wrists tired, you'll appreciate the arm massage therapy.
Complete Calf Kneading and Oscillation
The Kyota Kaizen M680 massage chair comes with rollers that can knead along your calves. There are some helpful kneading rollers in the back of the leg areas and orbital oscillation along the sides of the calves. Together, these rollers work to relax tired and stiff calf muscles.
The roller and oscillation functions work by imitating human hands and how they smoothly but firmly work along the calves to ease pain and tension.
This can potentially help with circulation in your lower legs, which is essential if you are on your feet all day. At the same time, there are also air cells that work to compress your tired muscles.
10 Auto Programs
The Kyota Kaizen M680 comes with 10 automatic programs as well as manual programs that you can customize to your liking. The user-friendly automated and choreographed programs only require the push of a button to get started.
The auto programs include:
Relax
Renew
Recovery
Stretch
Upper Body
Lower Body
All Air
Night
Waist Hip
Quick
Kyota Kaizen M680 Pros and Cons
Pros
3D/4D Massage Mechanism
L-track design
Heated hands, back, and feet
Kneading palm and forearm massagers
Foot rollers
Zero gravity reclining
Space saving technology
Bluetooth-compatible speakers
Made with synthetic leather upholstery that is easy to clean
Easy-to-use color remote
Easy access control panel
User Height Range: 5' 0" - 6' 2"
Maximum User Weight: 330 lbs.
Cons
Only 2 colors to choose from - black or brown
User cannot be taller than 

 6' 2" or shorter than 5' 0"

User cannot weigh more than 

330 lbs.

Maximum User Foot Size:

US Men's Size 13
Conclusion
As our Kyota Kaizen M680 review shows, this massage chair is very nicely equipped and the modern looks don't disappoint.
While there are only two colors to choose from (black or brown), we feel that most consumers won't let the lack of color options get in the way and will see the value this chair brings to the table.
We like the fact the M680 comes with Heat Therapy in multiple locations, as well as the popular Zero Gravity recline. The Bluetooth-compatible speakers come in handy when you want to sit back and enjoy a massage while listening to your favorite music.
Amenities aside, the Kaizen M680 brings a lot to the table and the value for money is definitely there. At the moment, not many massage chairs offer arm rollers and airbags like this chair does. This is a cherry on top of the already impressive massage it offers its users.
We hope you've enjoyed this article and found it useful. If you have any questions or would like to talk to us about the Kyota Kaizen M680 massage chair, you can reach one of our experts at 800-566-2798.