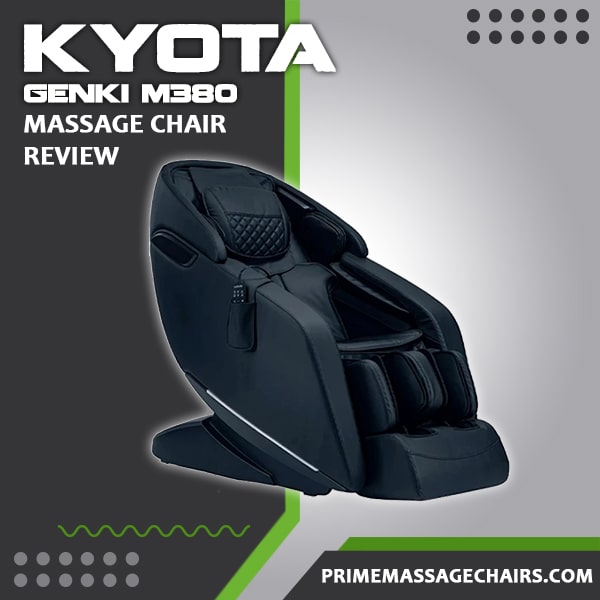 Kyota Genki M380 Massage Chair Review
The Kyota Genki M380 massage chair is easily one of the most advanced chairs on the market. This chair has the usual features that you'd expect from a high-end massage chair, like 360-degree rollers and zero gravity mode. However, it also comes with innovative features like Bluetooth speakers and chromotherapy lighting.

If you're looking for a basic, stripped down chair, the Kyota M380 likely isn't the best option for you. But if you want a luxurious massage chair experience, you can bring the Kyota M380 into your house and try out a new feature every day of the week. One of the few downsides is that this chair comes with 2D rollers, which have a limited range of movement.
Other chairs on the market have 3D and 4D rollers, but you might not get the same unique features that you will with the Kyota Genki. Learn more in this Kyota Genki M380 massage chair review.
What Makes the Kyota Genki Unique?
At this point, shoppers expect certain features when buying a luxury massage chair. However, the Kyota Genki comes with extra features you might not have tried before. Here's a look at what makes this chair so impressive.
Voice-Activated Commands
If you're in the middle of a relaxing massage, you don't want to get up and find the remote to change the settings. In fact, you probably don't even want to lift your head.
The Kyota Genki comes with multiple voice commands built into the system. When you need to adjust your chair, you can issue a voice command without lifting a finger.
Chromotherapy Lighting
With the Kyota M380's chromotherapy lighting feature, you can enjoy a little color therapy during your massage session. If you've ever taken an art class, you know that every color in the rainbow has a different effect on your mood. Try experimenting with the chromotherapy lighting option to add a relaxing ambiance to your massage.
Bluetooth Speakers
Enjoy some music or relaxing nature sounds with the Kyota Genki's advanced Bluetooth speakers. This chair also comes with a USB charging port, so you can charge your phone or tablet while you relish in your massage.
Ability to Save Your Massage Programs
If you're looking for a quick massage experience, you can choose one of the eleven preloaded programs. Each program targets a different part of your body or provides a certain type of relief.
However, if none of those programs do the trick, you can adjust the program with the manual settings. You can even save three manual programs in the system, so you don't have to readjust the settings every time.
Foot and Calf Rollers
Who doesn't enjoy a foot massage? The Kyota Genki comes with Shiatsu rollers that massage your feet and provide relief if you've been standing all day.
This chair also comes with a calf massage feature that kneads, compresses, and oscillates against your muscles. With this chair, you can massage your back, shoulders, and neck as well as your calves and feet.
Kyota Genki M380 Pros and Cons
Pros:
Uses 360-degree massage technology to make the 2D rollers more versatile
Comes with voice-activated technology that lets you control the chair without getting up
Calf oscillators
Reflexology foot rollers
Chromotherapy lighting
Zero gravity positioning
Space-saving technology
Bluetooth capable speakers
USB charging port
Maximum User Weight: 330 lbs.
User Height Range: 4'8" - 6'5"
Cons:
User cannot be taller than 6'5" and shorter than 4'8"
Maximum user foot size: US Men's Size 13
Only available in black color
Conclusion
Overall, this Kyota Genki M380 review concludes that this is one of the most innovative massage chairs on the market. One of the few drawbacks is the inclusion of 2D rollers, which are a little dated compared to 3D and 4D rollers. However, the chair uses a special 360-degree movement system to make up for the 2D rollers' limitations.
This chair also has a limited selection of programs, but if you're trying to relax at the end of a long day, you probably don't want to sift through dozens of programs anyway. Simply choose a program, sit back, and enjoy a truly unique massage experience.

The Kyota Genki M380 massage chair's voice controls make this chair incredibly convenient and easy to use. You don't have to push a button to change the settings. In fact, you don't even have to get up. Just make sure you speak clearly so the chair can recognize your voice commands.
You can also check out unique features like chromotherapy lighting and relaxing foot rollers. The Kyota Genki M380 isn't the first chair to offer lumbar heating, but it adds a lot to your overall experience.
We hope you've enjoyed this review and found it useful. If you have any questions feel free to call us at 800-566-2798. Thank you for reading!