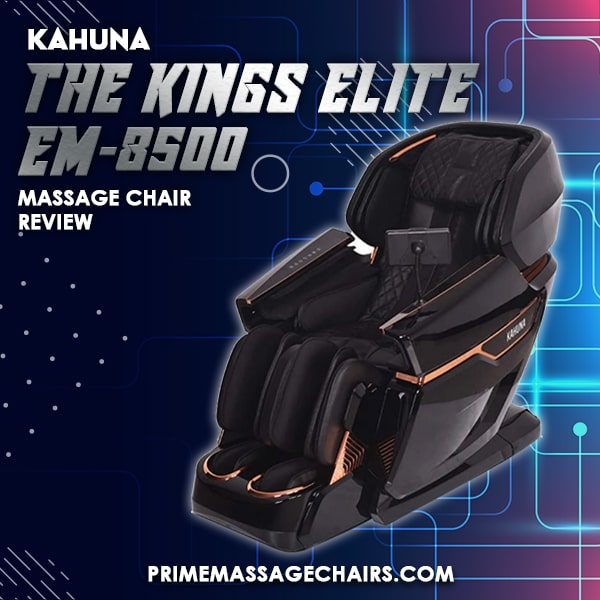 Kahuna The Kings Elite EM-8500 Massage Chair Review

The Kahuna EM-8500 didn't invent the major massage chair features, but it upgraded these features to make them as accessible as possible. When you get home after a long day of work, you don't want to fiddle with your massage chair's controls for twenty minutes.
The EM-8500 comes with a range of simple, easy-to-use features that you can access within minutes. You can even program your favorite massages directly into the chair so you can get started with the simple touch of a button.

Most massage chairs include different types of massages in their programs. The Kahuna EM-8500 offers different massage styles, but it also comes with programs specifically made with certain people in mind. You can browse their selection of programs for drivers, office workers, restaurant servers, and other specific occupations.
This chair also has programs for seniors and stay-at-home parents, so there's something for everyone in your family to enjoy. In this Kahuna The Kings Elite EM-8500 massage chair review, you'll learn more about the different features that set the EM-8500 apart from the competition.
What Makes the Kahuna EM-8500 Unique?
You can count on most massage chairs to have the same basic features: massage rollers, heat therapy, several programs already preloaded into the system, etc. The Kahuna EM-8500 has all of these features, but it also has special features that make this chair uniquely accessible and easy to use.
Easy Program Access
If you find a program that works particularly well, you can save it to your favorites list and access it with a few taps of a button. No need to spend thirty minutes adjusting the settings and searching for your favorite program; you can save it in the system and access it whenever you need it.
Specialty Programs for Different Lifestyles
Most chairs come with different programs, but how many have programs tailored to your lifestyle? The Kahuna EM-8500 has programs specifically designed for servers, office workers, drivers, salespeople, gamers, seniors, athletes, and stay-at-home parents. This chair also has programs for morning massages, night massages, stress relief, recovery after a long workout, and more.
Built-In Controls
You need to change the settings, but you don't want to interrupt your session by getting up and searching for the remote. The EM-8500 has controls built right into the chair so you can adjust the settings at a moment's notice. You can pause the massage, choose a different program, switch on zero gravity mode, or activate heat therapy with the press of a button.
What Additional Features Does the EM-8500 Offer?
In addition to these innovative features, the Kahuna EM-8500 comes with classic massage chair features for a full, all-encompassing experience. Here's what you get when you invest in a Kahuna EM-8500 massage chair.
4D Massage Rollers
4D rollers are the most advanced rollers in the massage chair industry. Unlike 2D and 3D rollers, they can move in virtually any direction—just like a pair of real human hands. The 4D massage rollers can pinpoint sore muscles and reach those problem areas in your back and shoulders.
Heat Therapy
Heat therapy helps you relax into the massage and eases the tension in your aching muscles. Simply turn on the heating system during your massage for a truly relaxing experience.
Zero Gravity Function
If you're finding it difficult to relax, turn on the zero gravity mode and recline the chair to a horizontal angle. You can lie flat on your back and relax fully into the massage while the 4D rollers knead your sore muscles.
Space-Saving Design
When your chair's not in use, you can take advantage of space-saving technology to free up as much space in your living area as possible.
Kahuna The Kings Elite EM-8500 Pros and Cons
Pros:
Uses 4D massage rollers for an advanced, in-depth massage experience
Offers heat therapy to help relax sore muscles
Comes with zero gravity mode that allows you to recline the chair at a horizontal angle
Space saving technology
Arrives fully assembled
Offers twenty-four preprogrammed massages designed for different needs, age groups, and lifestyles
Bluetooth capable speakers
Maximum Weight Capacity: 250 lbs.
User Height Range: 5'1" to 6'2"
Cons:
Doesn't come with a USB charging port for your devices
User cannot be taller than 6'2" and shorter than 5'1"
Maximum user foot size: US Men's Size 13
Conclusion
Ultimately, the Kahuna The Kings Elite EM-8500 is one of the most accessible chairs on the market. It's not loaded with advanced features like other brands, but it's specially designed to make your session as easy and relaxing as possible. Whether you want to try a different massage every time or stick with the same comfortable routine, the EM-8500 massage chair puts it all within your reach.

The EM-8500 is one of the most high end massage chairs in the Kahuna lineup and comes with classic massage chair features like heat therapy and zero gravity mode. It's easy to use, easy to store, and offers 4D massage rollers, which are some of the most powerful and innovative rollers in the industry.
When you sit in a chair with 4D rollers, you'll feel like you're getting a massage from a real person. If you find yourself spending a little too much money on spa days and massage therapy, try bringing this massage chair into your home.
We hope you enjoyed this Kahuna The Kings Elite EM-8500 Massage Chair Review and found it useful. For more information feel free to give us a call at 800-566-2798.