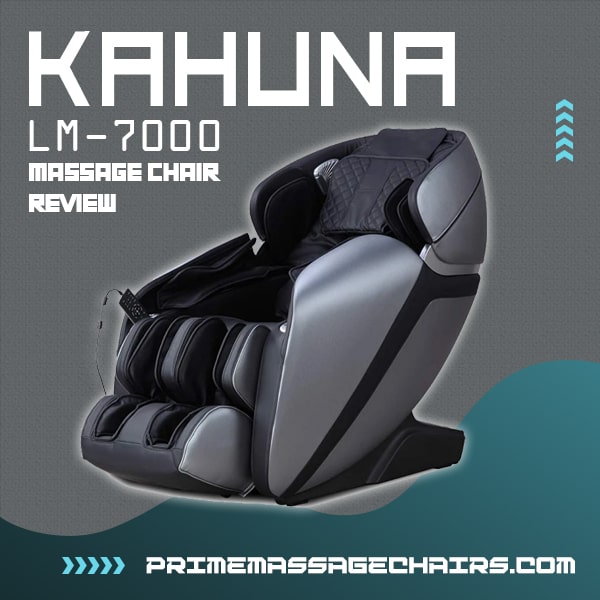 Kahuna LM-7000 Massage Chair Review
While some massage chairs focus on chronic pain, the Kahuna LM-7000 massage chair is dedicated to helping you relax, relieve tension, and enjoy a good night's sleep. This chair does help with chronic pain issues, but it also has specific programs for relaxing, recovering after a workout, getting to sleep faster, and even stretching your muscles.
Instead of focusing on various massage techniques, the Kahuna LM-7000 focuses on why you need a massage chair in the first place. 
This chair doesn't necessarily come with the most advanced features, but if you're looking for a chair that helps you relax, you probably don't need a lot of extra frills anyway. 

The Kahuna LM-7000 does offer three zero gravity positions, which is hard to find in massage chairs. You'll also find convenient features like a smartphone holder, a USB charger, and a remote control holder.
Check out this Kahuna LM-7000 review to see if this massage chair is right for you.
Is the Kahuna LM-7000 Massage Chair a Good Investment?
If you have trouble relaxing, you might need physical stimuli to relax your body into a meditative state. That's what you get with the Kahuna LM-7000. You can feel weightless with the zero gravity positions, experiment with relaxing massage programs, and enjoy heat therapy for extra comfort.
You don't even have to assemble the chair when it arrives—the Kahuna LM-7000 is preassembled and ready to go as long as it fits through your doorway.
Twelve Relaxing Massage Programs
The automatic massage programs featured on the Kahuna LM-7000 were chosen because they help you relax. If you want to stretch your muscles, use the Yoga Stretching program, which is perfect for a tired body. This chair also has programs for relaxing, de-stressing, and getting to sleep at night.
If you've had a long day or just got back from the gym, you can check out the Renew and Recovery programs. This chair also comes with manual settings that let you target certain areas of your body.
Voice-Control Technology
Do you hate reaching for the remote? Simply use the Kahuna LM-7000's voice-control technology to adjust the settings without getting up. You can adjust the roller speed, change the massage technique, target specific areas, and more.
Relaxing Heat Therapy
What's a massage without a little heat therapy? The Kahuna LM-7000's heated massage technology can help your muscles relax, especially on cold days. This is also a great way to enter a relaxed state before you go to bed at night.
Bluetooth Speakers
Listen to your favorite music, guided meditations, or ambient soundscapes with the advanced Bluetooth speakers. If you have trouble relaxing in silence, this could help you get in the zone. These speakers are compatible with smart devices like phones and tablets.
Three Zero Gravity Modes
Most massage chairs with zero gravity features only have one mode, but the Kahuna LM-7000 comes with three zero gravity modes. You can adjust the chair until you're perfectly comfortable and ready to start your massage. Zero gravity mode provides a "weightless" sensation that makes you feel like you're floating in space.
Foot Rollers
Your feet need a massage just as much as the rest of your body does. The Kahuna LM-7000 comes with foot rollers that improve circulation at the bottom of your feet and relax sore muscles so that you'll be ready for another day.
Smartphone Charging Station
If you connect your smart device to the Bluetooth speakers, you can use the USB charging station to keep your battery fully charged during your session. This chair also has a handy remote control holder attached to the side.
Kahuna LM-7000 Pros and Cons
Pros:
Foot rollers
Bluetooth capable speakers
USB charging station
Arrives preassembled
12 auto programs
Uses voice-control technology to make your session even more relaxing
Comes with heat therapy to help you sink into the massage
Offers three zero gravity modes
User Height Range: 5'1" to 6'2"
Maximum User Weight: 280 lbs.
Cons:
User cannot be taller than 6'2" or shorter than 5'1"
User cannot weigh more than 280 lbs.
2D massage rollers
Conclusion
One downside of this chair is that it comes with 2D massage rollers, which means the rollers cannot go in and out, they can only go up and down and side to side (like a cross). However, if you're trying to relax with your massage chair, you might find that you don't need a high-intensity massage anyway.
The 2D massage rollers get the job done and still provide a relaxing experience. Besides, this chair comes with other advanced features like a USB charger and Bluetooth speakers.
Most of this chair's massage programs are focused on soothing your nerves and easing muscle tension. Some programs even work in tandem with other relaxation techniques, like working out or attending a yoga class. Unlike a spa session, there's no limit to the number of times you can use this chair.
You can use it any time of day whenever you have trouble calming your mind. It might not be the most advanced chair in the industry, but it was made with a specific group of people in mind—and that might include you.
If you'd like to talk to us regarding the Kahuna LM-7000 or any other massage chair you can reach us at 800-566-2798. Thank you for reading!