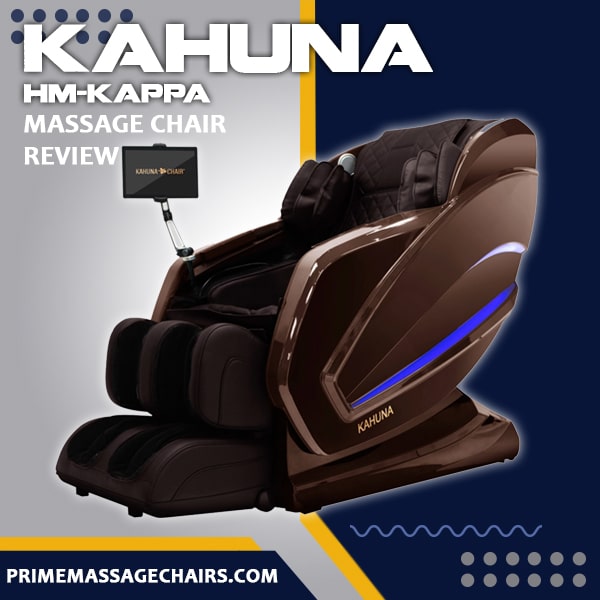 Kahuna HM-Kappa Massage Chair Review
The Kahuna HM-Kappa massage chair offers the ultimate in comfort, relaxation, and style for busy professionals who are looking to take their relaxation to the next level. The Kahuna HM-Kappa includes a host of next-generation comfort features that will allow you to truly relax in the comfort of your home.
The HM-Kappa offers an advanced 4D massage, and its large state-of-the-art massage rollers travel along an ergonomically designed 51.2-inch Hyper SL-track that cradles and supports your body. You can sit back and relax as the rollers travel along and massage away your troubles.
The Kahuna Kappa massage chair comes with free shipping to customers in the lower forty-eight contiguous states, and most orders will ship out of the warehouse in three to five business days. The Kahuna Kappa is a luxury massage chair for customers looking for great value, and it includes a lot of desirable relaxation and comfort features.
Here's a detailed Kahuna HM-Kappa review that discusses some of the great features you'll enjoy should you purchase this massage chair for your home.
What are some Top Features of the Kahuna HM-Kappa Massage Chair?

When you sit down in your Kahuna Kappa massage chair, you'll enjoy high elasticity massage balls that are almost double the size of the standard massage balls offered on most luxury massage chairs.
Body Scan
The Kahuna Kappa's body-scanning technology offers a custom massage experience tailored to your unique body type. We're all shaped differently so a good body scan is important to get your massage off on the right track for maximum effectiveness.
Ergonomic SL-Track
The Kahuna Kappa includes the all-new 51.2-inch Hyper SL-track roller system built to provide an effective an enjoyable massage. A long roller track means more massage roller coverage, and the Kappa doesn't disappoint here. 
Multiple Massage Styles
The Kappa's oversized massage balls and compression air cells combine to offer your choice of fifteen different automatic massage programs. The massage styles offered include kneading, Shiatsu, tapping, knocking, and rolling massage, and they all combine to give you a variety of great options.
Air Cell Massage System
The Kahuna Kappa includes ninety-six individual air cells that offer a massage experience that promote circulation and increase oxygen levels.

The Kappa features three different heat levels for your upper and lower back, legs, and feet. Heat therapy has a lot of health benefits, including improved circulation and pain relief, and it also helps to soothe and relax your tired muscles at the end of a busy day.

Elevating your feet above your heart has a lot of great health benefits, and the Kahuna Kappa massage chair features zero gravity positioning. You can easily drift into the zero gravity position using your touch screen remote control, and you'll experience the sensation of weightlessness as you relax and drift off to sleep.
Space-Saving Technology
If you live in a small apartment, house, or condominium, space is always at a premium. The Kahuna Kappa massage chair features a space-saving design that you'll learn to appreciate.

You can connect your smartphone to your chair's built-in audio system using your Bluetooth connection. As you relax, you can listen to your favorite ambient audio or catch up on your favorite podcasts.
Smart User Memory Function
If you're a power user, the smart user function is a great way for you save your favorite settings. Browse through all the automatic massage therapy presets and pick your favorites. Customize your settings and save your changes.
The next time you sit down in your chair to enjoy a massage, you can use your touch screen interface to start your favorite saved massage. You'll always have a consistent massage experience, and you can customize and save your user settings on the fly at any time.
Which Programs Come with the Kahuna HM-Kappa Massage Chair?
The Kahuna Kappa features fifteen auto massage presets for a variety of different applications. You can use daily programs for regeneration and relaxation and deep tissue programs for recovery after a workout. You can also enjoy yoga stretching and several programs geared toward athletic users.
Kahuna HM-Kappa Pros and Cons
Pros
A 4D massage that simulates the feeling of human touch
Advanced body-scanning technology for a custom massage experience
Mobile app control available
Smart user memory function
Heat therapy
Zero gravity positioning
Space saving technology
Hyper SL-track
Bluetooth capable speakers
Foot rollers
User Height Range: 5'0" - 6'2"
Maximum User Weight: Under 350 lbs.
Cons
The HM-Kappa cannot accommodate users under five feet or over six feet, two inches in height
Requires approx. 1 hour to assemble
User cannot weigh more than 350 lbs.
Conclusion
The Kahuna HM-Kappa massage chair offers state-of-the-art technology and elegant design. The body-scanning technology helps you customize your massage experience, and the 4D massage technology offers a greater range of motion.
The air cells ease away your tension. You'll also be able to incorporate three levels of heat into your massage and enjoy your favorite ambient music or nature sounds using the bluetooth capable speakers.
Overall, this chair can be a great purchase for those looking for a high-end massage chair. Is this the right chair for you? Take a good look at what the chair has to offer and take into consideration things like the user height range and maximum weight capacity and make an informed decision.
We hope you've enjoyed our Kahuna HM-Kappa massage chair review and found it useful. If you have any questions feel free to give us a call at 800-566-2798. Thank you for reading!