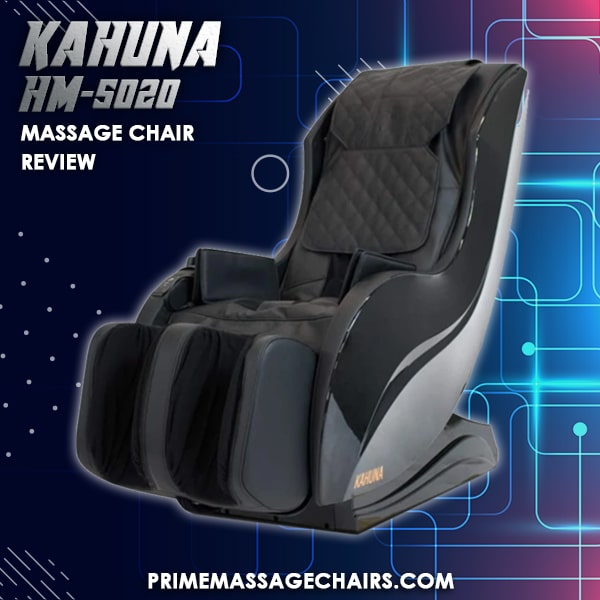 Kahuna HM-5020 Massage Chair Review
The Kahuna HM-5020 is a massage chair that comes with heat therapy, zero gravity reclining and a compact design that was made to fit into most living spaces without much hassle. It even comes fully assembled, so you don't have to stress over putting it together.
This massage chair has some pretty impressive features and for a budget-friendly price. This Kahuna HM-5020 massage chair review will go over some of the top features so you know what you're getting should you decide to purchase one for yourself.
Key Features of the Kahuna HM-5020
The Kahuna HM-5020 is packed full of features that make it a great option for some people. For now, let's talk about a few main points you'll find relevant if you're planning to buy a massage chair.
Six Auto Programs
The chair comes with six automatic massage programs built right in, so you can start enjoying it right away. The six programs are:
Fatigue relief
Relax
Pain relief
Rock rotating
Neck and shoulder
Lower back
These programs each offer a unique massage experience intended to provide comfort and relief to different areas of your body.
Heat Therapy
The back area of the massage chair is heated, which will help maximize the benefits you'll get from your massage. It's also a great feature for colder days where you just want a little heat while you relax.
Variety of Massage Mechanisms
The chair has a variety of manual settings that can be used to achieve a custom massage and enhance your stress relief experience. There are six manual settings, and they are:
Five levels of roller speed
Sole roller
Air intensity
Massage method
Massage width
Massage area
With so many options, there's sure to be something that's right for most users.
True Zero Gravity
You can activate the customizable zero gravity position at any angle. It also has a quick zero gravity position if you don't want to spend time choosing one on your own.
Foot And Hip Massages
Choosing this option will cause the airbags to firmly grip you during the massage while also surrounding your feet and lower legs to create a more soothing massage.
Dual Rollers for Calves or Soles
The HM-5020 comes with dual rollers that massage your calves or the soles of your feet, ensuring you get the proper massage in the area you want it most.
Customizable Massage Options

With three different levels of width adjustments and five different massage techniques, this chair comes with a variety of customization options. The five different massage techniques are:
Kneading
Tapping
Shiatsu
Combination
Knocking
Besides the five massage techniques, there are speed and airbag adjustments as well.
Overall Design
The Kahuna HM-5020 was designed to be slender and easy to transport from room to room. It comes with an LCD screen remote, a shortcut key panel that has a USB port so you can charge your phone, and a remote control holder.
These design features make the chair extra user-friendly, and it's clear it was created with comfort in mind.
Specifications of the Kahuna HM-5020 Massage Chair
When it comes to technical specifications, you may have a few questions. With that in mind, here's a breakdown of the stats you may need when making your decision.
Brand: Kahuna
Model: HM-5020
Roller Type: 2D
Roller Length: 51.2 inches
Roller Track Type: SL-track
It includes body-scan technology, foot rollers, zero gravity, a heated back, manual programs, airbags, and a USB port.
Upright Dimensions: 57"L x 26.5"W x 47"H
Reclined Dimensions: 73"L x 26.5"W x 33"H
User Height Range: five feet to six feet, two inches
Maximum User Weight: 300 pounds
Weight Of Chair: Approximately 200 lbs.
Specifications can be helpful when you're making a purchasing decision, as they offer an easy way to compare different models and brands. Keep these in mind as you review your various options.
Kahuna HM-5020 Pros and Cons
For those looking for a quick review of the HM-5020, we've devised this pro and con list.

Pros:
Zero gravity positioning
Heat therapy
Sleek & slender design that can help save space
Built-in USB port
4-Roller sl-track
Arrives fully assembled
LCD remote controller
Dual rollers on calves or soles
User Height Range: 5'0" to 6'2"
Maximum User Weight: 300 lbs.
Cons:
2D massage rollers
Only 2 colors available
No bluetooth speakers
The maximum height range for the chair is six feet, two inches, so if you're taller than that you may need to go with a different model.
User cannot weigh more than 300 lbs.
Conclusion
Now that you've read this Kahuna HM-5020 review and gone over the unique features of this massage chair, you can begin comparing it to similar models to see what will work best for you. It's a big decision, so take your time and do your research. The right chair will be there when you're ready.
While you're researching, don't forget what makes the HM-5020 different. It has a less restrictive weight limit, offers a zero gravity experience, is lighter and more compact than most massage chairs, and comes with a host of options and modes so you can have the massage you desire.
We hope you've enjoyed our Kahuna HM-5020 massage chair review and found it useful. If you have any questions feel free to give us a call at 800-566-2798. Thank you for reading!