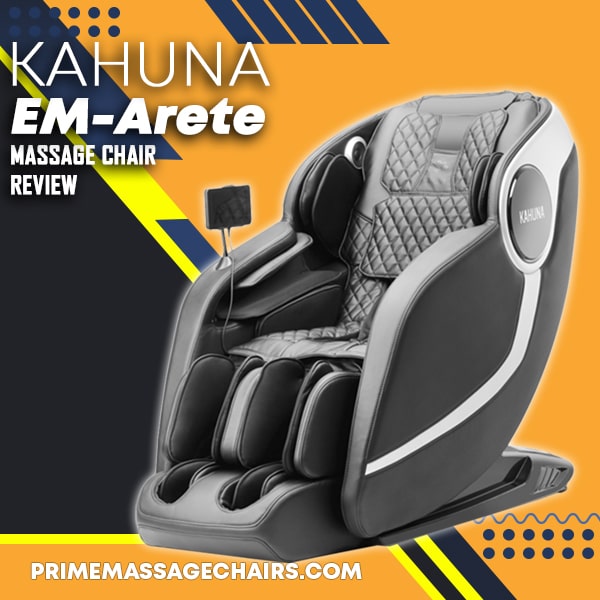 Kahuna EM-Arete Massage Chair Review
After a long, hard day, coming home to a relaxing massage probably sounds like the most ideal way to unwind. With the Kahuna EM-Arete massage chair in your home, you can do that. But which features does this massage chair include, and how many different programs are there to choose from?
Read through this Kahuna EM-Arete massage chair review to learn about the ins and outs and pros and cons of this attractive massage chair.
Wha are some Top Features of the Kahuna EM-Arete Massage Chair?
The types of features included in a massage chair are important since you want to obtain the utmost comfort and relaxation. From the Arete's 3D massage rollers to its reflexology foot rollers, a number of different features can help you rejuvenate at the end of a long day. Here are some of our favorite features found on the Kahuna EM-Arete.
3D Massage Rollers
While 4D rollers are typically reserved for the more expensive massage chairs, the moderately-priced Arete benefits from a series of 3D massage rollers. These rollers allow you to adjust the intensity and strength of your massage at your whim.
The longer you sit in the chair, the harder or softer you may need the massage to be, that's why the adjustability matters. The more adjustability you have, the more effective your massage can be.
Calf Roller Massage
Your calves store a lot of tension in their muscles since you need them for walking around every day. The calf roller massage can help relieve muscle soreness and decrease swelling in your calves - something that occurs after being on your feet for hours at a time.
Many massage chairs do not have this feature, but the Kahuna EM-Arete allows you to reap its benefits. To maximize its effectiveness on your calves, this chair has a rotating triangular calf roller massage. This type of massage roller reaches different areas of your calves to smooth out the built-up tension and soreness.
Bluetooth Speakers
Want to unwind and mellow out to your favorite songs? The Kahuna EM-Arete lets you do that, courtesy of its Bluetooth speakers. All you have to do is sync your smart device with the chair via the touchscreen tablet remote (another cool tech feature that you can enjoy on the Arete), and you can listen to your favorite relaxing tunes for as long as you'd like.
Each speaker is positioned on one side of your head - not too close and not too far. You can simply adjust the volume from the touchscreen tablet if you need to, and finding the controls on the screen does not take much time.
Zero Gravity Positioning
The Kahuna EM-Arete massage chair is designed with zero gravity positioning, which is a reclined position known for its therapeutic effects. There are three levels of zero gravity positioning for this massage chair. Just make sure you have the back of the chair at least a few inches away from the closest wall, then recline back.
Reclining is one of the most relaxing positions for a massage, and having multiple positions means you can find your ideal reclining position without hassle.
Reflexology Foot Rollers
In case you're unfamiliar with reflexology, here's a super-condensed crash course: Reflexology is a type of massage that involves applying pressure to the feet, hands, and ears. Theoretically, all body parts are connected to the body's systems and vital organs.
This holistic approach to healing stems from Chinese medicine and has been adapted to the Arete. The EM-Arete has foot rollers that are designed to simulate reflexology foot massages. Relax and unwind as your feet get some much-needed attention, and the rest of your body might also benefit.
What Programs Come With the Kahuna EM-Arete Massage Chair?
The Kahuna EM-Arete massage chair comes with a grand total of 24 automatic massage programs. Here's how you access them. First, turn on your LCD remote, then select from one of the following three main menus: Classic, Specialty, or Elite Target.
Classic gives you eight options to choose from: Renew, Refresh, Recovery, Stretch, Morning, Night, Anti-Stress, and Energize. If you pick Specialty, you can access an additional eight: Salesman, House Wife, Office Clerk, Game Player, Driver, Sports Man, Server, and Senior. If you decide to try Elite Target, you get to select from yet another eight options: Neck, Neck & Shoulder, Back Relief, Waist, Waist & Hip, Leg Feet, Upper Body, and Lower Body.

The chair's built-in body scan technology will enhance your massage experience by scanning your body size and shape. There are also a slew of manual programs to choose from, allowing you a vast amount of control over your massage experience.
Kahuna EM-Arete Massage Chair Pros and Cons
Pros:
Arrives Fully Assembled
3D massage rollers
SL-track
Reflexology foot rollers
Zero gravity positioning
Heat therapy
A USB charger is built into the Arete.
Comfortable and highly durable synthetic leather upholstery is used.
Automatic leg extension allows for users of various heights to feel comfortable in the Arete massage chair.
A touchscreen tablet remote makes programs easy to access.
User Height Range: 5'1" - 6'3"
Maximum User Weight: 280 lbs.
Cons:
User cannot be taller than 6'3" or shorter than 5'1".
Only holds users weighting up to 280 pounds.
Minimum doorway clearance needed is 32".
Conclusion
Anyone buying the Kahuna EM-Arete massage chair for personal use gets the added benefit of having it covered under a free two-year parts and labor manufacturer warranty. That means you can focus more on relaxing without the worry of wasting your money if the chair should break down.

Overall, the Arete is a comfortable, budget-friendly massage chair that comes with a lot of standard features meant to maximize relaxation. Put some of your favorite music on, recline the chair back to your preferred position, try one of the 24 automatic programs available on the Kahuna EM-Arete and enjoy.
We hope you've enjoyed this review and found it useful. If you have any questions feel free to call us at 800-566-2798. Thank you for reading!