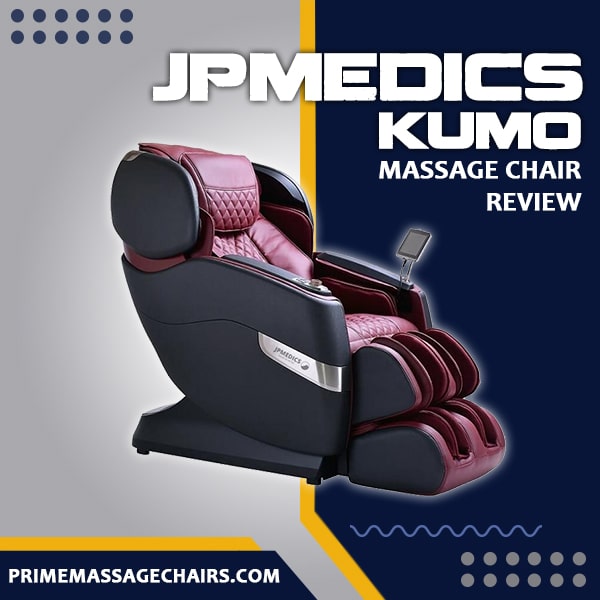 JPMedics Kumo Massage Chair Review
JPMedics is one of the top companies for health and wellness massage technology. JPMedics knows how to craft a massage chair that will meet the needs of the average individual as well as those with chronic pain. With multiple levels of intensity, the JPMedics Kumo massage chair truly allows you to customize your experience.
Whether you need a soft massage or one that will work deeper into your muscle tissues, the JPMedics Kumo can do it. Advanced technology is the name of the game here. Take a look at some of the high-tech features in this JPMedics Kumo massage chair review.
JPMedics Kumo Massage Chair Top Features
Need full spinal and leg coverage? The JPMedics Kumo massage chair has an enhanced 44-inch L-track that reaches all of your trigger points and 4D heated rollers as well.
Made in Japan, the Kumo is considered one of the best massage chairs on the market, and for good reason. There are quite a few useful major and minor features that come on the Kumo chair, but here are some of the best ones.
The L-track spans forty-four inches, which means even taller adults will get full-body coverage. This L-track will give you a lower back massage as well as massage your neck and shoulders, your mid-back, and even your glutes. Pick out where your body needs the most work and let the L-track work the tension out of your trigger points.
This Kumo chair comes equipped with 4D thermal rollers. These rollers are not something you will find on a traditional massage chair and help make this chair high-tech. These rollers have a three-inch outward protrusion and travel at one and a half inches apart—a design meant to hit all of your body's acupuncture points.
The rollers give off heat that simulates the warmth of a massage therapist's hands working along your back.
The 4D rollers have sensors built into them, giving them state-of-the-art technology. The Kumo will automatically detect your body's curves, size, and shape. This allows the chair to create a precise massage customized specifically for your body type.
And, since this chair has a lot of length and the capacity to hold someone weighing up to 265 pounds, this system can work with many body types.
The JPMedics Kumo will work great on your feet. Reflexology involves working into the tissues of the feet in order to alleviate pain and irritation in specific parts of the body linked with the feet. The Kumo chair has an advanced reflexology feature that includes tri-action foot rollers.
These rollers offer two levels of Shiatsu foot rolling in conjunction with an immersive air pressure massage that will work deep into the tissues of your feet. It is worth trying even if you do not experience a lot of pain in your feet, and this is not a feature you will find on a lot of lower-end massage chairs.
Chromotherapy with Bluetooth Speakers
Another feature that many traditional chairs leave out is chromotherapy. Chromotherapy is essentially the use of colored lights to help heal the mind and body. Different colors serve different purposes.
The Kumo comes with chromotherapy LED lights that can be set to any one of the seven modes in order to promote detoxification, enhance your mood, and boost your metabolism. Bluetooth speakers integrated into the chair allow you to wirelessly connect and play music from your smartphone.
Which Programs Come with the JPMedics Kumo Massage Chair?
The JPMedics Kumo massage chair comes with a lot of handy programs to choose from, and it all depends on what your body needs. Just use the simple fluent touch-screen display (which has a multi-language controller to switch between English, Japanese, Chinese, Korean, and Vietnamese) to access your desired program. You can also use the smart dial on the armrest to control program intensity.

There are eleven auto massage programs on the JPMedics Kumo and 500 customizable options. You can switch between certain techniques, too: Shiatsu, Knead, Tap, Swedish, Clap, and Rolling. The sixty airbags can have their intensities adjusted, and there is a stretch program you can use to help alleviate back pain.
JPMedics Kumo Massage Chair Pros and Cons
Pros:
L-Track design
4D heated rollers
An easy-to-use touch-screen remote
Reflexology foot rollers
Air compression massage
Chromotherapy
Bluetooth-compatible speakers
Heated knee therapy
Space-saving design that only needs to be five inches from the backrest in any given position
Zero gravity positioning
User height range: 5'0" - 6'2"
Maximum user weight: 265 lbs.
Cons:
Cannot be taller than 6'2" or shorter than 5'0" to use the chair effectively
Higher price tag
Assembly required, takes approximately 1 hour
Conclusion
There is relatively little to dislike about the JPMedics Kumo massage chair. It's pricey, but it is still cheaper than a few other high-end models that come equipped with the similar technology.

This Japanese-manufactured chair treats its users to a high-end massage experience. If you're looking for a very nice massage experience in the comfort of your home this chair may be just what you're looking for.
We hope you've enjoyed this JPMedics Kumo review and found it useful. If you have any questions feel free to give us a call at 800-566-2798. Thank you for reading!