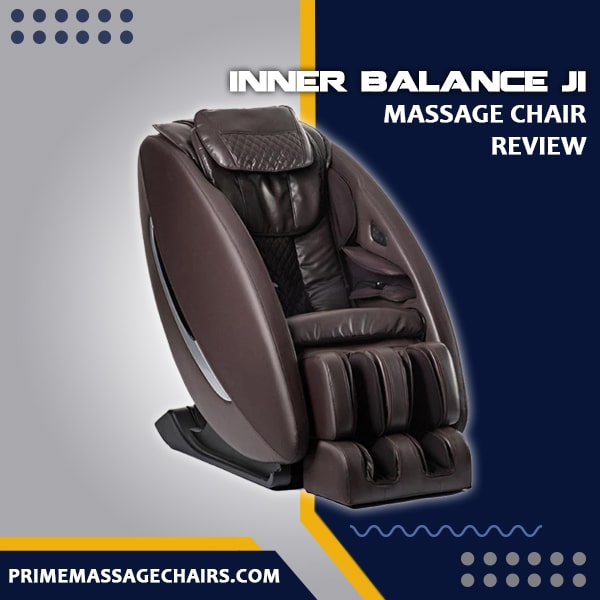 Inner Balance Ji Massage Chair Review
As the name suggests, the Inner Balance Ji massage chair is all about improving your mental health. Most people think of a massage as a luxury that you enjoy once or twice a year, like a trip to a fancy restaurant. However, a massage isn't just a fun way to pass the time.
Enjoying a regular massage could help improve your mental health, achieve inner balance, and enjoy physical benefits along the way. If you have trouble unwinding after a long, stressful day, read this Inner Balance Ji massage chair review to see if this chair is right for you.

The Ji from Inner Balance has a stylish, pod-like design that arrives at your house fully assembled. You can choose from two striking colors: black or brown. Despite the futuristic design, the Inner Balance Ji offers a classic massage chair experience.
What Are the Inner Balance Ji's Main Features?
The Inner Balance Ji comes with plenty of features that help you center and ground yourself at the end of the day. Here's a rundown of what makes this chair a good addition to your living space.
Three Zero Gravity Modes
When you're in zero gravity mode, you'll feel like you're floating weightlessly in space. This mode positions you on your back and elevates your legs during the massage.

If you're looking for a specific setting, the Inner Balance Ji comes with three zero gravity modes that you can experiment with.
Six Pre-Installed Programs
With the LCD remote, you can choose your favorite program and get started in minutes. The Inner Balance Ji comes with six pre-installed programs that offer different features and massage styles. Over time, you might find that some programs help you relax while others make you feel energized and ready for the rest of the day.
What works for you won't necessarily work for another person. To ensure that you get the best experience, the Inner Balance Ji scans your body and adjusts the settings accordingly. You'll get a massage that actually targets certain areas of your body instead of just giving you a generic session.
Heat Therapy
For extra relief, the Inner Balance Ji massage chair offers targeted heat therapy for your calves and lumbar region. Heat therapy helps you relax, eases sore muscles, and can even warm you up on a chilly day. If you suffer from back pain, the Inner Balance Ji's heat therapy function could make it easier for you to get through the day.
Your feet are incredibly important—and, unfortunately, they're often neglected. Treat yourself to a foot massage with the Inner Balance Ji's foot rollers. The rollers massage the bottoms of your feet to relieve pain and soreness that you might experience after a long day at work.
LCD Remote
Get your session started by pressing a few buttons on the LCD remote. This handy remote features push buttons as well as a crisp LCD screen. You can choose a massage, change your settings, activate different features, and more with the handheld remote.
Inner Balance Ji Pros and Cons
Pros:
Offers three zero gravity settings for a more personalized experience
Body scan technology
Uses foot rollers to massage the bottoms of your feet, ease sore muscles, and improve blood circulation
Comes with a handheld LCD remote that's easy to operate
Arrives fully assembled
Space saving technology
SL-track technology
Heat therapy
User Height Range: 5'0" - 6'2"
Maximum Weight Capacity: 285 lbs.
Cons:
User cannot be taller than 6'2" or shorter than 5'0"
User cannot weigh more than 285 lbs.
Conclusion
The Inner Balance Ji is lacking in a few areas—it only comes with 2D rollers, doesn't have a USB charger, and isn't bluetooth compatible. However, if you don't need anything fancy, the Inner Balance Ji is a great choice for your first massage chair.

When you choose a program, you can set your timer from fifteen minutes all the way to thirty minutes. This versatile feature allows you to enjoy quick massages as well as relaxing, end-of-the-day experiences. Sometimes a quick massage is all you need to regulate your stress levels.
If you'd like to talk to us about a massage chair, feel free to give us a call at 800-566-2798. Thank you for reading!