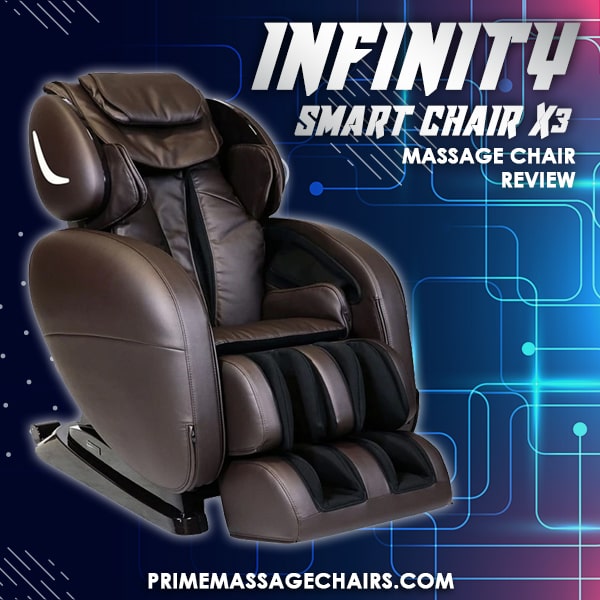 Infinity Smart Chair X3 Massage Chair Review
A massage chair is one of the premier luxury lifestyle products on the market today. It helps you experience a sublime massage session in the comfort of your home.
The Infinity Smart Chair X3 is one of the most advanced, intuitive, and customizable massage chairs available. Packed with a variety of personalization features, it lets you set up a massage session that is exactly to your liking.

The Infinity Smart Chair X3 massage chair is equipped with advanced technology that allows you to choose from a series of auto preset massages or manually program your own session. It is ergonomically designed with an S-track backrest to fit your spine.
It treats you to different types of massage techniques such as shiatsu, kneading, or tapping. This Infinity Smart Chair X3 massage chair review will inform you of all the advanced features of the chair as well as its pros and cons, so you can make an informed purchase decision.
What Are the Features of the Infinity Smart Chair X3?
Airbags and Rollers
Airbags have been strategically placed within the chair for a thorough massage. The rollers have a wide range of movement that allows them to mimic human hands and switch between light and deep-tissue massage intensities.
The roller units in the footrest replicate a finger and thumb reflexology technique to target pressure points in the soles that connect to various parts of the body. The inflate-deflate action of the airbags feels like a massage therapist.
Manual Programming
The manual settings allow you to adjust six different parameters to design your own unique program each time.
Mode allows you to select a massage type: kneading, tapping, knocking, shiatsu, sync, or rhythm.
Part allows you to choose the back area to be massaged: whole, partial, or point.
Width allows you to further customize the massage area by selecting wide, medium, or narrow.
Speed allows you to personalize your massage speed using a scale of one to six.
Roller Speed allows you to adjust the roller speed from one to three or stop the rollers.
Zero allows you to choose the zero gravity position, which is a completely relaxing reclining position. The knees are raised above the heart to create a feeling of weightlessness and let the spine loosen up. This setting lets the rollers access hard-to-reach points of the back.
Auto Presets
Using Auto Mode, you can select a purpose for your session or a body area to focus on.
Sports Refresh is a post-workout massage that is designed to soothe and ease tired, tense muscles after an intense exercise session. It improves circulation and aids in muscle recovery.
Extension is a Thai massage technique that involves intense kneading and stretching of the arms, legs, and waist to improve flexibility.
Rest and Sleep promotes sleep by gradually winding down from a strong massage to a light one and then to nothing.
Working Relief is designed to relieve stiffness from long sedentary hours spent at a desk.
Neck and Shoulder relieves neck and shoulder tension and aches. The chair massages those areas for eighty percent of the duration of the session.
Waist and Spine eases tension in the lumbar area, where the rollers work for eighty percent of the duration of the massage.
3D Massage
Three customizable 3D preset modes offer massages designed for specific purposes. You can also adjust the force or intensity of the massage on a scale of one to five.
Deep Shiatsu is a preset where the chair performs a deep tissue shiatsu massage on the back for ten minutes.
Healthy Breath is a massage that promotes slow and steady breathing in a relaxed rhythm for five minutes.
Massage Extend lets you prolong the session by an extra five minutes.
Airbags
You can program the airbags to massage specific areas by selecting Arm and Shoulder, Back and Waist, Leg and Foot, Buttock, or Full. You can also program the airbag force or intensity of the massage from one to five for varying degrees of massage pressure.
Ergonomic Design
The S-track design of the backrest ensures that the chair perfectly fits and accommodates your spine for accurate alignment from your neck to your lumbar region. The plush chair keeps you comfortable during even the most intense session. The reclining range allows you to adjust from a seated position to completely prone.
Body Scanning
The body scanning technology adjusts the rollers and airbags to pinpoint all the hard-to-access pressure points for a thorough massage. The chair accommodates a wide height range, from four feet eleven inches to six feet four inches, and adjusts the rollers to each individual. The maximum weight the chair will accommodate is 300 pounds.
Chromotherapy
Chromotherapy is the visual use of color for mental, physical, and spiritual relaxation and mood enhancement. The chair has colored LED lights in the headrest. When turned on, they can augment the massage experience by promoting relaxation.
They are most effective in a dimly lit room. These lights can stimulate, relax, or relieve stress and create a healthy hormone response for mood enhancement.
Lumbar Heat
Localized heating units in the lumbar region of the backrest produce heat to loosen tense or knotted muscles. This soothes your muscles as well as preparing them for the massage.
Mobile Connectivity
While the chair has a wired controller, it can also be controlled via an app on your iPhone or Android smartphone. It connects to the mobile device via Bluetooth so that you can play audio from your device to the immersive speakers in the headrests. The Rhythm mode allows you to synchronize the massage to the rhythm of the music.
Infinity Smart Chair X3 Pros and Cons
Pros
Extremely customizable with a myriad of options for massage area, intensity, type, and duration
Airbags that mimic human hands through inflation and deflation
Bluetooth connectivity with Apple and Android devices
Foot reflexology
Chromotherapy to augment the massage experience
Lumbar heat option
Accommodates a wide range of heights and weights
Body-scanning technology that adjusts the chair and massage components to each individual body
Cons
Controller is wired
No charging station for smartphone
Heating only for lumbar
No vibration mode

Conclusion
The most attractive feature of the Infinity Smart Chair X3 is that it is highly customizable. A wide range of personalization options allows you to choose six types of massages and to target specific areas. You can control the airbags and rollers to a large extent or let the automatic preset massages take over for you.

This massage chair is available in black or brown. It is sleek and plush for the highest degree of style and comfort. The assembly is simple and detailed in an intuitive step-by-step guide. With extra features like foot reflexology and chromotherapy, it offers you a well-rounded massage session for total relaxation. 

This Infinity Smart Chair X3 review will help you make an informed decision as you decide about your purchase. From a mild massage to help you unwind and sleep to a deep tissue massage to work away the knots in your muscles, the Infinity Smart Chair X3 provides you with the ideal massage to suit the state of your body and your mind.
We hope you've enjoyed this review and found it useful. If you have any questions feel free to call us at 800-566-2798. Thank you for reading!