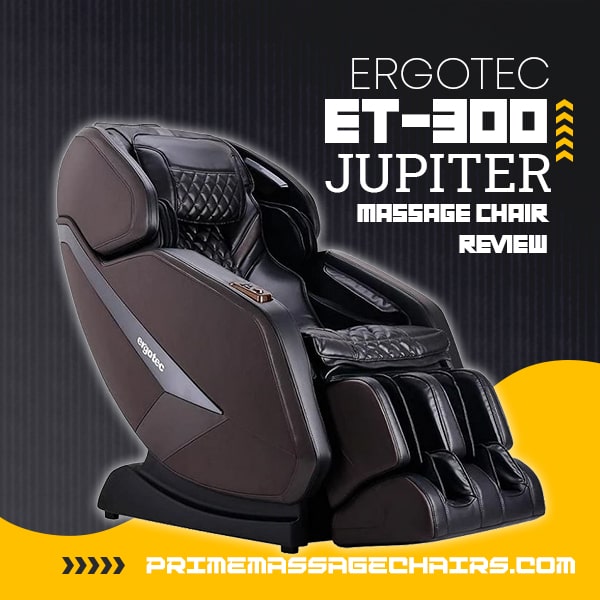 Ergotec ET-300 Jupiter Massage Chair Review
If you're in the market for a good 3D L-track massage chair, the Ergotec ET-300 Jupiter shouldn't be overlooked. It offers high tech features without the high-end price tag, but what makes it stand apart from the competition? From its modern exterior style to its 3D technology, the Jupiter has a lot to offer.
Whether it has the right features for you, however, is what warrants this Ergotec ET-300 Jupiter massage chair review. Read on to learn more about the chair's standout features, which programs it comes equipped with, and how the pros and cons balance out.
Top Features of the Ergotec ET-300 Jupiter Massage Chair
There are quite a few features on the Ergotec ET-300 Jupiter massage chair. This space-saving chair offers an immersive experience for the user. Its L-track design, 3D technology, reflexology foot massage, air compression massage, and intuitive remote control help the Jupiter stand out.
L-Track Design
The ET-300 Jupiter utilizes an L-track design that conforms to the shape of your spine. Whether you have normal spinal curves or a condition like scoliosis that creates abnormal curvature of the spine, the Jupiter will attempt to form its massage around your unique spine and give you a massage that can help alleviate pain.
The L-track starts its massage at the base of your neck and shoulders (where your trapezius muscles are) and works its way down to the glutes and the backs of your thighs. The point is to hit all the usual trigger points where people hold their stress.
3D Technology
The Ergotec ET-300 Jupiter utilizes 3D technology, which allows you to control the intensity of your massage. The massage rollers have five depth levels for variance between soft- and deep-tissue massages.
Also, there is a quad-style massage robot that can perform Swedish massage, tapping, kneading, kneading and tapping together, and clapping. The overall effect is that you get to create your own massage style.
Reflexology Foot Massage
The reflexology foot massage uses airbags built into the sides and along the back of the feet and legs. When these airbags inflate, they replicate a reflexology foot massage, targeting your most troublesome points. A pinpoint massage comes courtesy of the foot rollers on the bottom of the footrest.
Air Compression Massage
The air compression massage function covers the base of your neck down to your shoulders, arms, and hands. It will apply just the right amount of pressure through its thirty airbags to relieve aches and pains. The compressions are gentle and rhythmic to induce relaxation of the muscles and the mind.
Intuitive Remote Control
One of the handy features that comes with the Jupiter is the remote control. It has its own built-in LCD screen with a clear readout that is easy to use. It will display information on each massage action.
Simply tap through the chair's seven relaxing back massage techniques and ten auto massage programs.
Which Programs Come with the Ergotec ET-300 Jupiter Massage Chair?
Speaking of programs, the Ergotec ET-300 Jupiter massage chair comes with quite a few. There are a total of ten auto massage programs to choose from. The Relax program gives you a deep-tissue massage that can help prepare you to go to sleep. There is a Balinese-style massage program, which is a type of Indonesian massage that stimulates the pressure points and can help bring you mental and physical harmony. Of course, Swedish style is also available.

Some programs also let you focus on your upper or lower back. The Gentle program will keep things slow and light, but Vigorous will really work deep into your muscles. Speed+ allows you to use the speed-adjustment button to control the kneading, tapping, kneading-tapping, clapping, and Swedish massage functions.

Additionally, this chair supplies heat to the lumbar area of the spine in order to help relieve lower back pain and muscle tension. The heat pads loosen up the muscles so that the rollers can then work into a deeper massage.
Ergotec ET-300 Jupiter Massage Chair Pros and Cons
Pros:
Has a lot of features for the price
3D massage rollers
L-track design
Zero Gravity recline
10 auto massage programs
30 airbags
LCD remote
Space-saving design
Heated lumbar
Bluetooth-compatible speakers
User height range of 5'0" - 6'2"
Maximum weight capacity of 320 pounds
Cons:
People 6'3" and taller will not fit in this chair
Does not include vibration
Very limited color options
Assembly required & takes about an hour
Conclusion
All in all, the Ergotec ET-300 Jupiter massage chair may be a smart pick for buyers who cannot splurge on a super high-end chair. For the price, the Jupiter is rich with features that cater to your needs. Just keep in mind that this chair is not meant for anyone under 5'0" or over 6'2" tall, or anyone over 320 pounds.

If you're looking for a massage chair that has a lot of value for the price, the Ergotec ET-300 Jupiter may be the chair for you.
We hope you've enjoyed this review and found it useful. If you have any questions feel free to call us at 800-566-2798. Thank you for reading!