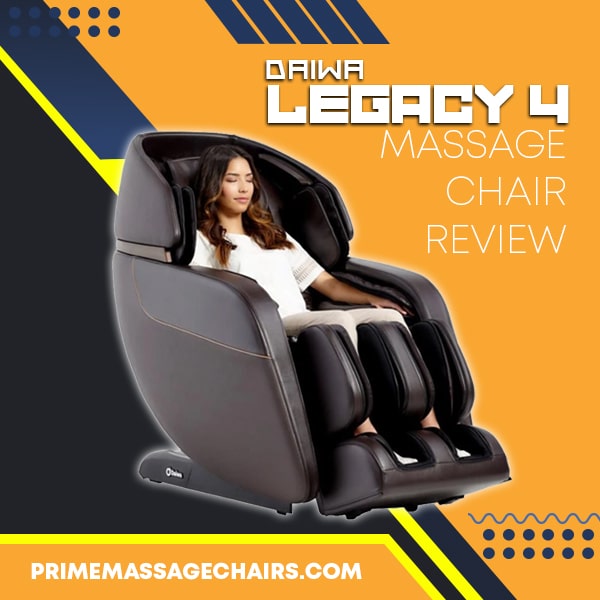 Daiwa Legacy 4 Massage Chair Review

The Daiwa Legacy 4 is designed to provide an intensive, full-body massage with plenty of attention to the areas that matter most to you.
If your back and knee joints are aching after a long day, you can sit down, turn on the massage chair, and forget about your worries for the next several minutes. This chair, which is available in black and chocolate, is meant for chronic pain sufferers and casual users.

In addition to the full-body massage, the Daiwa Legacy 4 massage chair offers advanced features like an extendable pillow, a leg extension, and multiple foot rollers.
In this Daiwa Legacy 4 massage chair review, we'll provide a more in-depth look at its pros and cons.
What Features Does the Daiwa Legacy 4 Offer?
The Daiwa Legacy 4 was designed to be a powerful chair that combines advanced technology with a modern look. Here's what you get when you invest in the Legacy 4:
Heated Leg Massage
Knees, calves, and leg joints are a source of chronic pain for thousands of people. Unfortunately, some massage chairs stop at your lower back and don't provide heat, compression, or massages for the lower half of your body.
The Daiwa Legacy 4 comes fully equipped with a heated leg massage system that compresses your leg muscles, heats your sore joints, and relieves tension and inflammation.
Foot Rollers
The Daiwa Legacy 4 comes with foot rollers that knead the soles of your feet. This feature is ideal if your feet are sore from standing all day. The Legacy 4 also comes with an automatic leg extension that adjusts an extra 5.5 inches for tall users.
3D Massage Rollers
The Daiwa Legacy 4's 3D massage rollers move in and out to simulate the feeling of human hands massaging your muscles. Those rollers make direct contact with your pressure points, improving blood flow throughout your body and easing muscle soreness after a long workout.
Unlike 2D rollers, 3D rollers are specially designed to move against the shape of your body.
Extendable Pillow
If you're looking for extra comfort, the Daiwa Legacy 4 comes with an extendable pillow built into the headrest. This provides an added layer of padding between the user and massage rollers. When not in use, it tucks away nicely.
Zero Gravity Mode
For the ultimate in relaxation and pain relief, you can recline your Daiwa Legacy 4 to a horizontal angle. This improves blood flow, releases pressure on your joints, and makes you feel like you're floating in space.
The Legacy 4 offers two zero gravity positions, which is fine for most users.
Device Charging Station
The Daiwa Legacy 4 isn't just fun and relaxing—it's also a useful addition to your home. You can use the USB charging port to charge up your tablet or smartphone during your session. This is ideal for people who like to listen to music while they're enjoying a massage.
3D SmartScan
Before your massage begins, the Daiwa Legacy 4 runs a 3D SmartScan to learn about the shape of your body. This allows the chair to provide a customized experience that's tailored specifically to your body type.
Daiwa Legacy 4 Pros and Cons
Pros:
Offers a heated leg massage system that massages your knees, ankles, and calves.
Relieves foot pain with the innovative foot rollers.
Made with forty-eight airbags that provide a comfortable and relaxing massage experience.
Utilizes 3D massage rollers to massage your entire body and tackle hard-to-reach areas.
Comes with an extendable pillow for added comfort.
USB charging station allows you to charge your smartphone or tablet during your massage.
Made from high-quality synthetic leather.
Comes with an added pocket that allows you to safely store your smartphone, keys, wallet, and other belongings.
Offers several preprogrammed massages as well as manual massage options.
Transitions smoothly between different massage programs.
Broad user height range of 4'8" - 6'6".
Maximum weight capacity of 300 pounds.
Cons:
Assembly is required and takes approximately 1 hour (unless you order white glove delivery & setup).
Only offered in 2 colors, black or chocolate.
Comes with a higher price tag.


Conclusion
The Daiwa Legacy 4 is one of the better massage chairs that you can buy for personal use. It has plenty of customization options, including the automatic leg extension, a 3D SmartScan, and gives you the ability to choose manual massage settings.

Massage chairs tend to get a lot of use over the years. Fortunately, the Daiwa Legacy 4 massage chair is made of high-quality synthetic leather that stands up to regular usage. You can even stash your smartphone in the side pocket or charge your tablet with the USB charging station.
Overall the Legacy 4 is a very nice massage chair and fits a wide variety of users. We hope you've enjoyed our Daiwa Legacy 4 review and found it useful.
If you have any questions feel free to give us a call at 800-566-2798, thank you for reading!