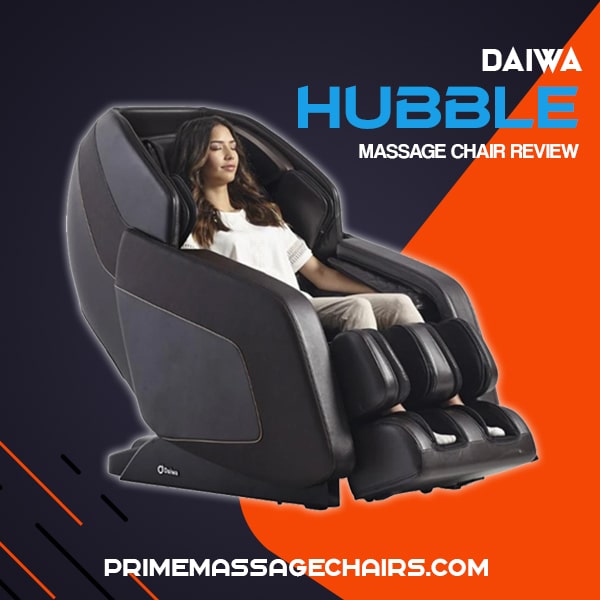 Daiwa Hubble Massage Chair Review
If you're paying thousands of dollars for a massage chair, you're not looking for a basic, repetitive massage experience that you could get at the local salon. The Hubble model from Daiwa, a respected manufacturer noted for its long-lasting chairs, checks most of the important boxes for massage enthusiasts.

In this Daiwa Hubble massage chair review, you'll learn about the advanced features that come with one of the most popular chairs on the market. This chair comes with a 3D roller system, zero gravity mode, heated knee massages, Bluetooth functionality, and everything else you need for a relaxing massage experience.
Daiwa Hubble Massage Chair Overview
Below is a rundown of what you can expect when you invest in a Daiwa Hubble.
3D Massage Experience
The Hubble utilizes 3D technology that can take your massage experience to the next level by adding an extra dimension to the roller movements. The 3D massage chair rollers simulate the feeling of having a real person massage your back muscles.
They can also conform to your body shape and reach problematic areas that a 2D chair might not be able to reach. 
Multiple Programs and Settings
The Hubble comes with nine preprogrammed massage experiences, each with three different settings. For a more personalized experience, you can also choose from one of six customized settings.
The preprogrammed massages focus on different parts of your body and offer different intensities, ranging from a gentle massage to a full deep tissue workout.
Custom Massage Programs
When you've figured out your perfect massage settings, you don't want to spend ten minutes re-adjusting the settings every time you sit down in the chair.
The Daiwa Hubble allows you to program two custom massage experiences directly into the system. Simply press a few buttons to revert the chair back to your customized settings.
Heated Knee Massage
Suffering from knee pain? The Daiwa Hubble offers a heated knee massage that eases pain, relieves inflammation, and massages your aching knee joints. You can adjust the heat to suit your needs and comfort level.
Zero Gravity Mode
The Daiwa Hubble's zero gravity mode allows you to recline the chair and feel weightless as you enjoy your massage. Lying on your back can help you relax and sink more deeply into the massage experience and you may even fall asleep. You may find relief from sore joints, aching muscles, and chronic back pain.
Bluetooth Capabilities
If you need some music to help you relax, you can connect your Bluetooth device directly to the chair and enjoy crisp, clear audio from the surround sound speakers. You can even choose a manual massage that moves the rollers in sync with your music.
The Daiwa Hubble also comes with a charging station that allows you to refresh your phone battery while you enjoy your massage.
Daiwa Hubble Pros and Cons
Pros:
Comes with a total of twenty-seven preprogrammed massages, plus six manual massages.
Allows you to program two customized massages into the system.
Uses 3D rollers to give you a full-body massage that mimics the feeling of visiting a massage therapist.
Offers heating elements for your back and knees to relieve chronic pain and soothe aching joints.
Zero gravity mode allows you to lie back and feel weightless during your massage.
Made with a shoulder pad height adjustment feature.
Offers three foot rollers that massage your feet and improve blood circulation.
Space-saving design which helps you maximize your living area.
Broad user height range of 4'8" - 6'6"
Maximum weight capacity of 300 pounds.
Cons:
Only two colors to choose from, black or brown.
Assembly is required & takes about an hour (unless you order white glove delivery).
No voice command capabilities.
Conclusion
When you first sit down in the Hubble, you might notice the soft, synthetic leather that cushions your body during the massage. The 3D rollers knead your muscles from your neck all the way down to the top of your thighs while the heated knee massagers and foot rollers take care of the lower half of your body.
To complete your massage, the Daiwa Hubble comes with forty-eight airbags that are strategically placed at various points of the chair. Sit back, relax, and enjoy a full-body massage at the end of a long day.

One of the few downsides is that the Daiwa Hubble only comes in two colors: black and chocolate. Fortunately, these neutral colors blend in with most homes' existing décor. The Daiwa Hubble offers a sleek, compact design that takes up as little space as possible in your home.
We hope you've enjoyed our Daiwa Hubble review and learned some things about this chair along the way. If you have questions feel free to call us at 800-566-2798. Thank you for reading!