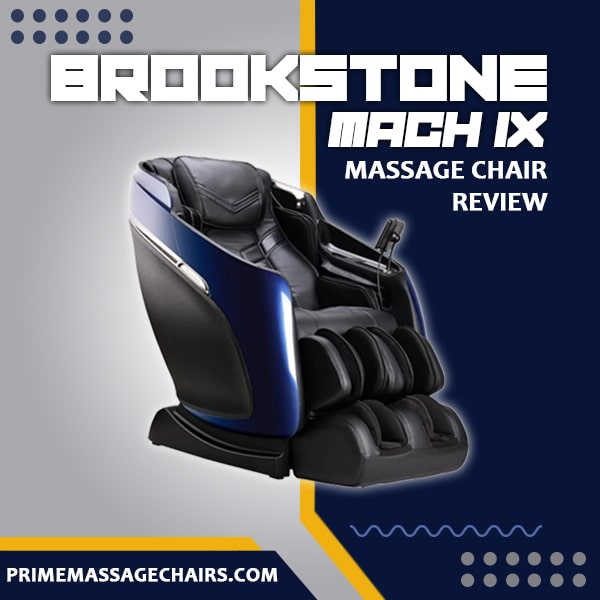 Brookstone Mach IX Massage Chair Review
With the Mach IX, Brookstone combines technology with superior dynamic control to give users the ultimate in therapeutic comfort. It's the ideal massage chair for those who like all the bells and whistles. In this Brookstone Mach IX review, we'll discuss the chair's many features and who will get the most use out of them.
Brookstone Mach 9 4D Technology
The Brookstone Mach IX comes equipped with a 4-D L Track Microchipped Robotic VarioMotion that is preprogrammed to give full-body massages. There are 12 automatic programs featuring six relaxing massage techniques, which is what you would expect from one of the best massage chairs on the market.
Users can lie comfortably in one of two zero-gravity positions, which are ideal for relieving joint pain.
When it comes to air compression and heat therapy, the Mach IX really shines. It employs 44 air compression chambers that can be independently adjusted with three levels of intensity.
You can program the heat to target the lower lumbar region of the spine as well as the knees and calves for therapeutic pain relief.
The therapeutic selections include full-body, leg and calves, and partial-body massages. Your feet will not lack complete care, either, as this chair boasts sole rollers with toe and foot compression to relieve tension and leg cramps. When you need to stop and leave your chair to pick up a newspaper or answer the door, simply pause your massage session. Afterward, press play to continue.

If you like to listen to music or other audio while relieving body tension, the Brookstone Mach 9 makes it easy.
You can pair any Bluetooth-enabled devices with the chair. Since it's also Alexa-compatible, just use voice commands to get a 4-D massage started.
While the Brookstone Mach IX boasts the latest in technology, its display screen does a great job of presenting all your options. Just press the power button on the armrest and turn on the on-screen display. Increase or decrease the depth with the power button by either turning it to the left or the right. Use the finger roller to quickly start a new program.
Your 12 therapeutic options include: 
Vigorous
Relax
Stretch
Gentle
Chinese
Japanese
Balinese
Demo mode
Swedish
Thai
Spine care
Joint care
Easy Adjustments
On the remote screen, you will have options to change settings, just like on your TV. Select timer, brightness, and languages like English, Spanish, or French.


You can adjust turn on/off the touch sound of your Brookstone Mach IX massage chair and adjust the brightness for easy visibility in daytime and late-night use. On the screen, you can change your massage session from stretch to knead.
Dynamic Control
Use the dynamic control dial to choose your chair position.
The dynamic control dial has several options you can choose from:
Adjust your massage chair to make the seat sit upright as you take care of your legs and calves or lay outright for kneading pressure.
Customizing Your Massage
Brookstone designed the Mach IX to offer customized massages for your body type. This is done via the back-scanning sensor, which automatically detects body size, shape, and curves. Once you select your preferred massage therapy for the day, the sensor will scan your full body for treatment. 
You can gently increase or decrease the intensity during a therapy session. Within the stretch option, the on-screen guide displays options for leg or foot massage treatments. While all these controls may seem daunting at first, they are ideal for users who have specific massage preferences.
Wireless Charging Pad
The Mach IX has plenty of convenient gadgets like the wireless charging pad, which is located on the chair arm. While releasing the tension from your muscles, you can charge your mobile phone so it's ready at a moment's notice.
It is this attention to detail that makes the chair special beyond just providing massages.
LED Chromotherapy Lighting
For many people, lighting plays a crucial role in enhancing the mood during a massage. The Mach IX's LED chromotherapy features embrace this idea. You will find lighting on the Bluetooth speakers. You can choose blue lighting for 12 minutes during a nighttime treatment.
The light flashes at mini-second intervals for ease and comfort on the eyes.
Color selections include:
Blue
White
Red
Green
Cyan
Yellow
Purple
Polychrome 
Brookstone Mach IX Specifications
Even with all these features, this chair only needs 1 inch of space behind the backrest at any position. The full product dimensions are 62.6 x 31.9 x 46.2 inches. It weighs 253 pounds and has a maximum weight capacity of up to 320 pounds.
As for its look, the Mach IX has a space-age appearance. It conforms to body positions while the trims give off a shiny and superior finish with a gunmetal look. The polyurethane material is soft and plush, making it very pleasant to touch. This chair is available in blue/black, brown/espresso, and silver/gray.
Brookstone Mach 9 Pros and Cons
Pros:
The 4-D technology gives the user a full multi-sensory experience.
Bluetooth Capable Speakers
Space-Saving Technology
Zero Gravity Positioning
Heat Therapy
You can choose from multiple massage therapies.
Quick controls and Alexa compatibility make the Mach IX easy to use.
High maximum weight capacity of 320 pounds.
Free 3 Year Parts & Labor Manufacturer Warranty
Cons:
As a high-end massage chair, it comes with a heftier price tag.
All the additional features may not be necessary for those who want a simple massage chair. 


Conclusion
If you are looking for a beautifully designed chair with zero-gravity positioning, the Mach IX is worth the price tag. The fast-acting acupressure air massage relieves tension from the head to the neck, shoulders, and lower back. These features are priceless for those looking to alleviate pain or who just enjoy relaxing massages at a moment's notice.
While this chair is targeted toward consumers who need regular massages, the whole family can use it. However, if you or anyone else has pre-existing medical conditions, the right thing to do is consult a doctor before using it just to be safe.
If you'd like to talk to us about the Brookstone Mach IX (or any other chair) feel free to give us a call at 800-566-2798.
We hope you've enjoyed this article and thank you for reading!