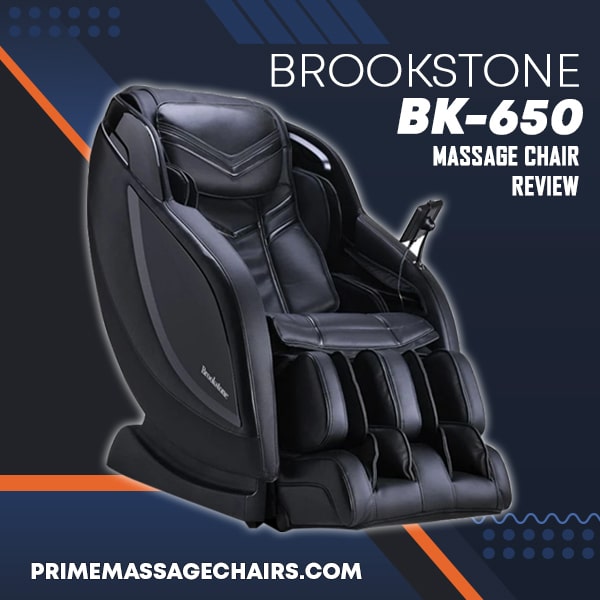 Brookstone BK-650 Massage Chair Review
The Brookstone BK-650 is a nicely-equipped massage chair that combines 3D rollers and pneumatic compression airbags to deliver a state-of-the-art massage at an attractive price point. It features advanced body scan technology to tailor fit your massage to your body's natural dimensions and an L-track design to guide the massage rollers smoothly along your natural contours.
Our Brookstone BK-650 massage chair review will discuss the top features as well as touch on the pros and cons. With that being said let's get into the details.
What are some Top Features of the Brookstone BK-650 Massage Chair?
Body Scan Technology
The Brookstone BK-650 massage chair features advanced body scanning to ensure a custom fit for users from 5 feet tall up to 6 feet 3 inches tall with a maximum weight capacity of 320 pounds.
When you sit down for a massage in the BK-650, the chair will perform a body scan and automatically adjust for a custom fit.
L-Track Technology
The Brookstone BK-650 includes a quad roller mechanism that's directed along your spine's natural curvature along the L-track. The roller track is engineered to cradle the user in a comfortable position and keep the massage rollers in constant contact with your body from your neck down to your lumbar region and glutes.
3D Massage Rollers
The BK-650 features 3D massage rollers with maximum flexibility and coverage.
The rollers move in three distinct directions, up and down, side to side, and in and out, and you have multiple intensity levels to choose from. This is important because over time your body will get used to the massage strength and you may want to increase it.
Air Compression Massage
In addition to the 3D massage rollers, the BK 650 also features 46 airbags. The airbags inflate and deflate during your massage to provide gentle and even compression.
Air compression therapy is a great way to stimulate the digestive and circulatory systems and gently ease away tension.
Foot Rollers
The BK-650 includes spinning massage rollers for the bottoms of your feet. If you spend all day standing up at work or do a lot of walking, the spinning rollers will help you get some richly deserved relief.
Heat Therapy
The Brookstone BK-650 includes lumbar and calf heating elements to apply gentle and even heat during your massage.
Heat is a great way to ease muscular tension and potentially improve blood flow. It also helps loosen you up and relax more as the massage rollers and airbags ease your tensions away.
Zero Gravity Mode
The Brookstone BK-650 massage chair features one touch zero-gravity reclining for your comfort and relaxation.
Elevating your knees above your heart is a great way to improve your blood flow and circulation, and this position is generally thought to be the most effective position to enjoy a massage.
Bluetooth Speakers and Voice Control
You can connect your smartphone or compatible device to the BK-650 via Bluetooth and enjoy your favorite music or podcasts as you relax.
The BK-650 also offers voice connectivity with your Google or Alexa-enabled devices (not included). All you have to do is download the Cozzia Voice Commands app from Google Play or the Apple Store and pair the massage chair to your device.
Chromotherapy Lighting
The BK-650 features chromotherapy lighting to give you an additional dimension of stimulation. You can browse through eight different LED light patterns and enjoy a calming environment during your massage.
Touchscreen Tablet Control
The Brookstone BK-650 massage chair includes an easy-to-use touchscreen tablet control that you'll appreciate. This well thought out controller will make it easy for you to navigate through the programs and functions.
Brookstone BK-650 Pros and Cons
Pros
Body scan technology to ensure a good fit for each massage
L-track technology
3D massage rollers
Foot rollers
Heat therapy
Zero gravity positioning
Bluetooth audio connectivity and optional voice control
Chromotherapy lighting
Touchscreen tablet control
User Height Range: 5'0" - 6'3"
Maximum User Weight: 320 lbs.
Cons
Takes approximately one hour to assemble
User cannot be taller than 6'3" or shorter than 5'0"
User cannot weigh more than 320 lbs.
Conclusion
With the Brookstone BK-650 you'll enjoy the combination of rollers and airbags, along with a host of other potentially beneficial features as discussed above.
Equipped with Bluetooth, light therapy, and zero gravity reclining, the BK-650 has the potential to improve your overall quality of life. The foot rollers can also help relieve built up tension in your feet.
This massage chair offers a lot of value at an affordable price point, we also like the way it looks and feel it would be right at home in most residential settings.
We hope you've enjoyed our Brookstone BK-650 review and found it useful. If you have any questions feel free to give us a call at 800-566-2798. Thank you for reading!