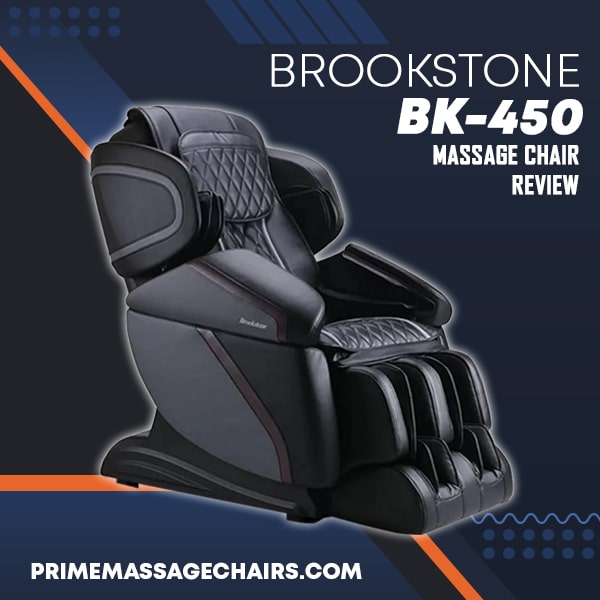 Brookstone BK-450 Massage Chair Review
Essentially, the Brookstone BK-450 is everything you could want in a massage chair. It offers all the major features without making you pay for extra features that you don't need. The 3D rollers offer a relaxing deep-tissue massage that goes well beyond the limits of 2D rollers.
You can use the body scan function to get a personalized massage and even enjoy a pleasant foot massage at the end of your session. Instead of going to the spa, you can experience a luxurious massage right in your own home.

If you're looking for a massage chair with all the latest features, the BK-450 might not be the best option for you. However, it's a great utility chair for someone who is just starting out and wants a reliable massage chair that won't break down every few months.
Instead of overwhelming you with dozens of settings, the Brookstone BK-450 massage chair offers a selection of preprogrammed sessions that you can activate within minutes. Check out this Brookstone BK-450 massage chair review to see if the BK-450 is the right chair for you.
What Features Does the Brookstone BK-450 Offer?
The Brookstone BK-450 offers all the classic features that you've come to expect from a massage chair, plus a few extras. You'll have everything you need when you bring the BK-450 into your home.
Old-school massage chairs usually come with 2D rollers. As the name suggests, 2D rollers can only move in a few limited directions. You'll still get a relaxing massage, but it won't replicate the feeling of seeing a massage therapist.
The 3D rollers in the Brookstone BK-450 enhance your experience by adding more depth and dimension to the rollers' movements. You'll sink into a massage that eases tension and relieves muscle soreness instead of just relaxing your body.
Body Scanning
One of the downsides of traditional massage chairs is that you can't get a personalized experience. The Brookstone BK-450 massage chair changes that by performing a body scan before you begin each session. This allows the chair to personalize the massage according to your body type. Instead of a "one-size-fits-all" massage, everyone in your family can enjoy a different experience.
Automatic Programs
No need to adjust the settings—the Brookstone BK-450 has automatic massages already loaded into the system. Each massage uses different techniques like kneading, rolling, and clapping to create an eclectic massage experience. You can even try global techniques like a Swedish or Shiatsu massage to see what other countries have been raving about.
If your body aches, you might reach for a heating pad. The BK-450 operates on the same principle. Using the power of heat therapy, this chair can relax tight muscles and help you feel better after a long workout. The soothing heat also enhances your massage experience.
You stand on your feet all day long. They need a little relief, too! When your feet start to ache, take advantage of the Brookstone BK-450's foot rollers that loosen sore muscles and improve blood circulation.
If you want to kick back and relax, you can switch on zero gravity mode and recline the chair all the way back. You'll lie on your back with your knees above your chest, improving circulation and making you feel like you're floating in midair. The chair reclines automatically when you hit the zero gravity button.
Brookstone BK-450 Pros and Cons
Pros:
Comes with 3D massage rollers for an enhanced massage experience
Automatically reclines into zero gravity mode with the push of a button
Heat therapy
Comes with foot rollers for a relaxing foot massage
Uses body scanning technology to personalize your massage experience
Uses air compression technology to stimulate your blood circulation
Comes with LCD handheld remote
Offers a basic set of automatic programs
Max Weight Capacity: 320 lbs.
User Height Range: 5'0 - 6'2"
Cons:
User cannot be taller than 6'2" and shorter than 5'0"
Assembly required
Doesn't have Bluetooth Speakers
Conclusion
The Brookstone BK-450 massage chair doesn't have all the latest features like 4D rollers and USB charging ports. However, that's not necessarily a bad thing. If you're just looking for a functional, reliable chair, you don't need to spend several thousand dollars on features you don't need.
The Brookstone BK-450 has everything you need for a relaxing, personalized massage experience any time of the day. Once you've found your favorite program, you'll probably find yourself settling into a routine in the weeks ahead.

While most massage chairs come in one or two basic colors, the Brookstone BK-450 offers stylish two-tone designs that actually look good in your living room. You won't get the same number of options that you would with other chairs, but sometimes you just want a quick massage experience that doesn't involve twenty minutes of changing the settings.
This chair is also great for friends and family members who have never owned a massage chair and want to try it out for themselves. All you have to do is sit back, press a few buttons, and forget about your worries for the duration of your session.
We hope you've enjoyed this Brookstone BK-450 massage chair review and found it helpful. If you have any questions feel free to give us a call at 800-566-2798. Thank you for reading!