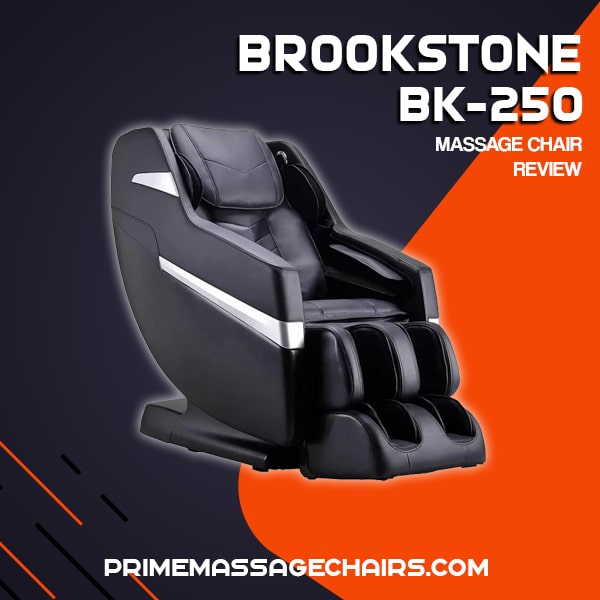 Brookstone BK-250 Massage Chair Review
The Brookstone BK-250 is essentially everything you may be looking for in a massage chair. Foot rollers, air compression, zero gravity mode: it's all the extra features that you want, plus the basic massage functionality.
A good massage chair can stretch your muscles, improve your blood circulation, and help you recover after a workout. Some people even use massage chairs to build strength because it helps them recover faster. With this Brookstone BK-250 massage chair review, you'll be able to tell if this unique chair is right for you.
When you buy a Brookstone BK-250 massage chair, you'll get five basic programs combining different techniques. Never had a Shiatsu or Swedish massage? This is your chance to relax with these innovative massage programs.
Other options include tapping, rolling, kneading, and clapping. Plus, you can add a foot massage to your session for even more relaxation. These features might cost extra at a spa, but when you buy a massage chair, you can get all the features you want for free. To learn more, check out this comprehensive Brookstone BK-250 review.
What Are the Main Features of the Brookstone BK-250?
The Brookstone BK-250 is ready to serve you and your family members for years to come. Here's a look at some of this chair's top features.
Zero Gravity Mode
With the push of a button on the remote, this chair immediately enters zero gravity mode. This mode is a full recline that makes you feel like you're floating weightlessly in space.
You could enjoy a massage or simply relax and meditate in this unique position.
Lumbar Heat Therapy
Most people experience lower back pain at some point in their lives. Instead of ignoring it and trying to push through, you can ease your sore muscles with the Brookstone BK-250's lumbar heat therapy.
When you relax your lower back muscles, you'll find it easier to relax the rest of your body.
Air Compression Technology
In addition to the 2D massage rollers that target your back, the Brookstone BK-250 uses air compression technology that massages your shoulders, feet, calves, arms, and other parts of your body. This chair targets areas of your body that other chairs might neglect.
Five Pre-Installed Programs
The Brookstone BK-250 features four massage programs as well as a demo for new users. Each program uses different techniques like kneading, clapping, tapping, and rolling as well as Swedish and Shiatsu massages.
Body Scanner
This chair scans your body to ensure that the rollers hit sore muscles and pressure points. Body scanning technology also keeps the massage consistent, so the rollers won't hit certain areas of your body and ignore others.
This works in conjunction with the different massage programs and settings.
Brookstone BK-250 Pros and Cons
Pros:
Offers lumbar heating for your lower back region
Scans your body to give you a personalized massage session
Activates zero gravity mode with one touch of a button
L-track technology
Comes with a handheld LCD remote that's convenient and easy to use
Streams your favorite music with advanced Bluetooth speakers
Reflexology foot massage
Air compression massage
Heat therapy
User Height Range: 5'0" - 6'2"
Maximum Weight Capacity: 320 lbs.
Cons:
2D massage rollers
User cannot be taller than 6'3" or shorter than 5'0"
User cannot weigh more than 320 lbs.
Conclusion
Some people dismiss massage chairs as a luxury for rich people. What these people don't realize is that massage chairs can actually improve your health in the long run. Think about how good you feel after a trip to the spa or a massage therapist.
What if you could feel like that all the time? You'd probably notice massive improvements in your mental and physical health, making it easy for you to accomplish your goals and stay focused on your daily tasks. Plus, your friends and family members will probably enjoy your chair just as much as you do.

The Brookstone BK-250 isn't the flashiest chair in the world, but it offers a variety of features that come with an array of health benefits.
Need to recover from a long workout? Use this chair to speed up your recovery process so you can hit the gym again. For extra benefits, enjoying a massage can also improve your mental health, giving you more clarity and improved memory. Your health is important, so why not take a few minutes for yourself every day?
We hope you've enjoyed our Brookstone BK-250 Massage Chair Review and found it useful. If you have any questions you can reach us at 800-566-2798. Thank you for reading!